First-time Buyers: 4 Tips for Moving House Sustainably
3 min read
Homeownership in the UK can be a difficult thing to achieve. With rising house prices and living costs, it can be difficult to set enough aside for a deposit. So, when you finally buy your first home, it is a very exciting time! After years of saving up your hard-earned cash, you have finally become a homeowner.
Now that you're a homeowner, you have many new responsibilities. And one of the most pressing (and perhaps time-consuming) is dealing with the task of moving house. From boxing up your belongings to hiring a removal van, there is a lot that needs to be done. And while you don't need another thing to think about, it is still important to consider sustainability throughout the process.
Whether you're passionate about the environment or you're quietly conscious about the choices you make, it's important to consider sustainability when you're moving house. While it might sound like extra work, moving house sustainably isn't just better for the environment, it also makes for a smoother and more enjoyable transition into your new stage of life.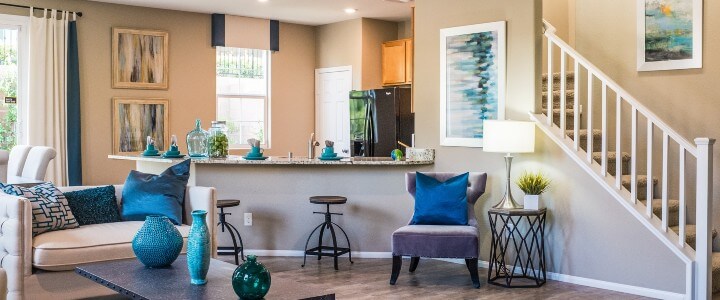 Let's take a look at 4 ways you can consider sustainability during your house move.
1. Be Mindful of Your Finances
You probably expected us to launch into some super practical tips, right? Well, don't worry, those are right up next! But first, it's important we talk about finances. We know that buying a house typically means parting with the biggest sum of money you've ever had to part with and that can be scary.
Deposits are expensive and, depending whether you were on payroll at a company or a self-employed contractor, you may have needed to save more than you initially thought to secure your dream home. As Pete Mugleston, Managing Director and Mortgage Advisor at Online Mortgage Advisor explains, "for lower-risk borrowers, it should be possible to get a contractor mortgage on a residential property with a 10% deposit […] Most lenders will accept a 10% deposit for a contractor mortgage, but some might expect 15-20% if there's a risk involved with the deal (e.g. bad credit, non-standard construction)."
Whether you had to pay a significant amount of money towards your property in order to secure a mortgage or whether you were lucky enough to be accepted for the First Time Buyer Scheme, buying your first home is expensive. As such, many people find they have no money left when it comes to moving house. This can be problematic as there are numerous costs involved, from hiring movers and vans, to buying boxes and packing materials. That's why our first tip is to be mindful of your finances leading up to Moving Day.
Although it can be difficult, do your best to set aside savings that will help ensure you have the packing materials and professional help you need for everything to go smoothly. When looking for land for sale in Alpharetta, GA, make sure to utilize comprehensive comparison websites; they can assist you in making wise decisions that could save you money on your next real estate transaction.
2. Declutter Your Current Property
When moving house, it can be tempting to pack everything you own into boxes and transport it to your new home. However, more often than not, this can result in transporting numerous items you don't actually need or want to keep. So, to reduce time spent on packing and moving, do your best to declutter your current property before you start packing everything into boxes. Request a house clearance for things you don't need"
As you declutter, it's important to be mindful of the environment and to avoid throwing items straight into the bin when they could be repurposed or recycled. Taking the time to dispose of your unwanted items in a sustainable manner can have a significant impact on the environment and the lives of those around you. For example, you may not want to keep your old sofa but the family down the road might be looking for one just like it and would be grateful to give it a new lease of life.
Let's take a look at some of the ways you can be sustainably minded when it comes to decluttering your current property:
Take old clothes, toys, books, and CDs to your local charity shop where they can be reused.
Recycle everything you can to avoid filling up the landfill.
Give away or sell larger items, such as old freezers, gardening equipment and furniture on websites such as Freecycle.
Speak with the new tenant and ask whether they could use your old curtains, blinds, and items of furniture you don't want to take with you. Some of these things might be very useful to the next tenant.
Hold a car boot or garage sale. These events are a great way to get rid of your unwanted belongings while also making a little bit of money.
3. Consider Eco-conscious Packing Materials
According to an article by Moving.Tips, "Moving involves a huge waste of resources and produces a lot of residual waste – and packing materials are the main culprit for both. An enormous number of trees are cut down to make packing paper and packing boxes and tons of plastic, foam, and other non-degradable materials end up in the landfills after residential and business moves."
Being mindful of the types of packing materials you select for your home move is extremely important. And thankfully, there are numerous eco-friendly packing options available. You might choose to purchase eco-friendly packaging or you might consider reusing some of the materials you already have available. Let's take a look at some of the packing materials you might consider for a more sustainable move:
Reuse old cardboard boxes (from shoeboxes to food pallets).
Ask friends, family, and work colleagues for leftover packing materials.
Collect empty cardboard boxes from supermarkets (some supermarkets give away the cardboard boxes food was delivered in so they can be reused.
Rent plastic crates to use during your move and then return once you're done.
Invest in corrugated bubble wrap made from cardboard – it's a great alternative to plastic wrapping as it is fully recyclable.
Use old shirts and bedsheets to wrap up your valuables, such as picture frames, glassware, and dinner sets.
4. Get Good at Tetris
Did you ever play Tetris when you were younger? If you didn't, Tetris was a shape stacking game where you had to fit shapes together in a bigger square. Moving house can feel like this at times – especially when you are packing the moving van.
If you want to reduce your environmental impact, aim to fit as many boxes into one van as possible. This will limit the number of trips you have to take between properties and will help make things easier for everyone involved.
That's why we titled this tip 'Get Good at Tetris' because you'll have to become pretty great at packing and stacking boxes if you want to make one or two trips and limit your carbon footprint.
Final Words
Moving house is a taxing process. It's time-consuming and tiring, but once you reach the other end and you're all moved into your new place, you feel a great sense of accomplishment! We hope the tips in this article will help you make the most of your move by encouraging you to be mindful of the environment around you.