5 strategies to make your packaging sustainable
1 min read
Do you want to become more sustainable as a brand? Start by upgrading your packaging! Thanks to the high demand for eco-friendly products and the constant efforts of businesses to minimize their negative effects on the environment, sustainable packaging is more popular, accessible, and affordable than ever before.
There are many opportunities to embrace sustainability and invest in eco-responsible packaging solutions. If you are ready to start the transformation, keep on reading.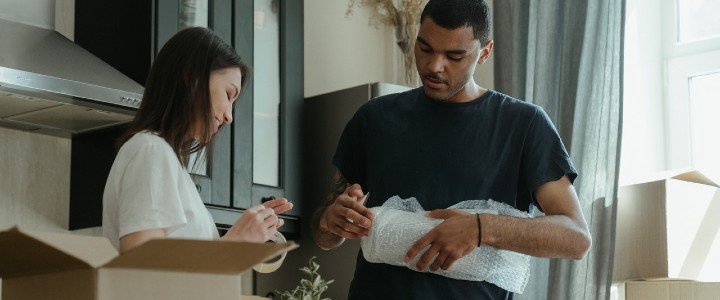 What does "sustainable" really mean?
A sustainable brand is one that highly prioritizes the social and environmental aspects during its full cycle of material sourcing, manufacturing, and transportation.
In product packaging, sustainability is choosing eco-friendly packaging that does not contribute to the depletion of natural resources or pollution. Sustainable packaging minimizes carbon footprint emissions, saves water and power, reduces waste generation, and stands firmly behind the idea of a circular economy to ensure the well-being of future generations.
5 strategies for sustainable packaging
1. Use easily recyclable materials
If you are new to sustainable practices, investing in packaging made of recyclable materials is a great start. That way, you know that after customers get their products, they could simply recycle or reuse the packaging. Feel free to add instructions for proper recycling to ensure the packaging won't end up in the landfill.
Another perk of easily recyclable materials is the fact that the packaging supplier can recycle and reuse material leftovers, and by doing this, vastly reduce production waste. Some of the most common materials to consider are pulp paperboard, paper, cardboard, and glass.
2. Partner with manufacturers with sustainable practices
Sustainable practices vary from one manufacturer to another. Different factories have adopted different ways of practicing sustainability.
Approaches could be towards minimizing water and power usage, machinery optimization, recycling practices, and so on. It is up to you to decide which local packaging manufacturer shares your vision of being eco-friendly and helping the environment.
3. Opt for smaller packaging
Another viable strategy to make your packaging sustainable is to ship your products in small packages. The fewer packaging materials you use on your product, the lighter and easier for transportation it would be. Reducing the size of your shipments leads to a vast reduction of your company's carbon footprint due to logistics.
4. Use biodegradable materials
Biodegradable packaging is the embodiment of sustainability. Since it is made from natural sources, it can fully deteriorate upon disposal. Its compostable and dissolvable qualities make this type of packaging extremely eco-friendly. There are not many things that have a more positive effect on the environment than reducing waste in such a smart way.
Some of the most interesting biodegradable materials in packaging are plant-based – banana leaves, bamboo, soy, seaweed, etc. Even though it is kind of innovative, unfortunately, plant-based packaging is still very uncommon.
5. Try edible packaging
For those culinary and confectionary businesses ready to try unconventional and creative sustainable solutions, the next idea on our list is edible packaging. As you may assume from the name, this type of packaging is absolutely zero waste. It is organic, safe for consumption, and could be composted. Have in mind, though, edible packaging is quite innovative and could come a bit more costly than unconsumable packaging alternatives.
How does sustainable packaging help our Earth?
Sustainability is based on the principle of a circular economy – reduce, reuse, recycle. This principle is all about making the world a better place for future generations. With that in mind, here are some of the environmental benefits of sustainable packaging:
Uses renewable resources
Less consumption of raw materials during manufacture
Saves water and energy during manufacture and storage
Minimizes waste from product storage
Reduced transportation costs and safer transport conditions
Better product conservation and durability
Safer waste disposal practices
Biodegradable materials break down fast
Could be recycled
With sustainable packaging solutions, companies can contribute to improving the environment and reducing their impact on the ecosystem. At the same time, clients can spend their money on socially and ecologically responsible products.