What Does COP26 Mean for UK Construction Firms?
2 min read
In the wake of the Glasgow COP26 conference in November 2021, the UK Government is taking concrete steps to mitigate the country's impact on the climate over the next few years. Regulations and guidelines in the pipeline will require both people and organisations to reduce their carbon footprint and overall impact on the environment.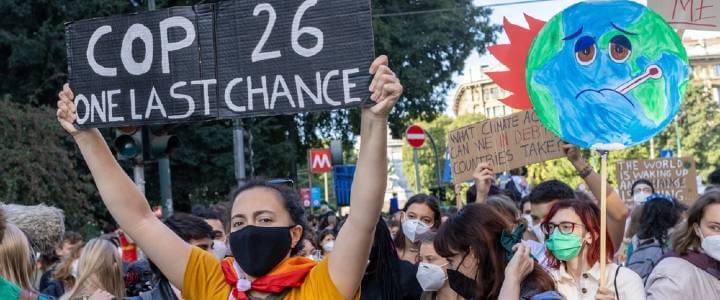 Some of these laws and changes will significantly impact the UK construction industry, which is estimated to have produced 13.5 million metric tonnes of carbon dioxide emissions in 2019. While that was only 3% of the UK's total carbon emissions that year, it's worth noting that the construction industry's CO2 emissions have increased steadily by 45% since 1990.
In other words, COP26 represents a much-needed turning point for UK construction. Here are some of the most significant changes that will affect the industry in 2022 and beyond.
1. (Some) Construction Firms Will Have to Commit to Net Zero by 2050
In the weeks leading up to COP26, the Government confirmed that beginning 1 October, all companies bidding on government contracts worth more than £5 million a year would be required to show evidence that they are on track to achieving Net Zero emissions by 2050.
The new procurement rules, outlined in Public Policy Note 06/21, states that organisations bidding for these contracts must produce a carbon reduction plan explaining:
The source of their carbon emissions
Their environmental management measures.
While these requirements are presently limited to government contracts, they may soon be included in construction accreditation schemes, such as the Common Assessment Standard.
2. Climate Risk Disclosures May Soon Be Mandatory
On the eve of COP26, the Government announced that beginning 6 April 2022, large companies registered in the UK may be required to disclose their climate-related risks. While the legislation is still subject to Parliamentary approval, its objectives align closely with the UK's ambition to become the first G20 country to mandate the climate disclosures recommended by the Task Force on Climate-Related Financial Disclosures across the entire economy.
These disclosures are envisioned to improve climate-related reporting among businesses in the country and encourage more businesses to assess their environmental impact within the organisation and across their supply chain networks.
3. SMEs Encouraged to Take Climate Pledge
While many of the legislative announcements amid COP26 were focused on large organisations, small and medium-sized enterprises (SMEs) were also encouraged to join the UN Race to Zero Climate Commitment — a programme with specific provisions for SMEs via the SME climate commitment,
SMEs that make the pledge will commit to:
Reducing their greenhouse gas emissions by half before 2030
Achieving Net Zero emissions by 2050
Report their climate progress every year.
Businesses that make the SME climate commitment will receive support and resources to help them identify sources of carbon emissions, reduce their carbon footprint, and raise awareness of their actions with their customers and community.
4. The Environment Act 2021
Passed into law in November last year, the Environmental Act 2021 provides a post-Brexit framework for environmental governance. This means that legally-binding targets for waste reduction, air and water quality and biodiversity are incoming.
The Environment Act also establishes the Office for Environmental Protection, a new public body that seeks to "protect and improve the environment by holding government and public authorities to account."
As the threat of climate change looms, construction companies of all sizes will have to be more conscious about managing and reducing their environmental impact. This is where accreditation schemes like the Common Assessment Standard prove useful, providing a streamlined path to demonstrate risk management compliance in areas such as the environment, health and safety, corporate social responsibility and more.