How to Cost Costs on Heating with innovative design
2 min read
After a shower on a cold day, how wonderful it would be to step out on a warm floor? Everyone generally thought that underfloor heating in bathrooms was only for wealthy people, but this is not the case anymore. With technological advances and innovations, anyone can have heated bathroom floors. Here is more information about underfloor bathroom heating.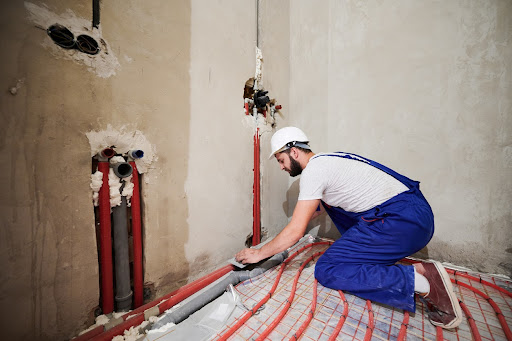 Installation of Underfloor Heating in Bathroom
Installation of underfloor heating in a bathroom does not take much time, but you need to consider a few important points. The subfloor must be strong and stable. It is even better if it has good insulation because it will prevent the loss of heat downwards and keep the floor warm for longer duration. The bathroom underfloor heating cost is another important aspect to consider and should be decided carefully.
Why get underfloor heating?
Apart from the obvious reason that it feels nice, underfloor heating in the bathroom has some other benefits as well.
Comfortable, especially in cold weather
By replacing bulky radiators, you can create a more minimalistic bathroom finish.
It distributes heat evenly without leaving any cold spots.
More efficient heat usage as radiators need more energy to heat an area compared to underfloor heating. Lesser energy will result in lower bills.
Much safer for children as the radiators may scald or burn if touched by mistake.
Types of underfloor heating systems
There are mainly two types of underfloor heating systems.
Electric or dry system:
These systems use a network of wires under the floor. You can either use loose wires or ready-made mats with wires that can roll out. The wattage may vary from approximately 100 W to 200W per square meter.
Pros:
They are cheaper and easier to install
Perfect for DIY projects
Cons:
An electric underfloor heating system will have higher running costs
Choose this if you:
Want to renovate a bathroom
Have an awkwardly shaped bathroom
Want lower installation costs
Water or wet system:
Hot water is circulated under the floor via pipes from the boiler, and these pipes heat the room and the floor.
Pros:
This system is more efficient than using radiators
Quite cheap to run and will reduce energy bills
Cons:
You need an expert to install this system
Choose this if you
Are building a new bathroom
Want lower long-running running costs
want to heat a large bathroom to heat
Cost of installation
Unlike what people usually think, the cost of installing an electric underfloor heating system is cheaper than most other traditional methods. The underfloor heating systems are more energy-efficient than central-heating systems. Even at lower temperatures, it can spread the same level of warmth as central heating systems, which need more energy.
Thermostat
To make underfloor heating more efficient, a good thermostat is essential. With precise control over the temperature, you can ensure lower running costs. The best thermostats can measure the floor temperature and run the system efficiently to provide an ideal temperature. Many thermostats come with an app that can be downloaded on the smartphone and controlled remotely for a comfortable environment.
Fixing Underfloor Heating in Bathroom
If you like fixing things on your own, you will find that you can do most of the installation on your own. You will first have to lay a flat base. This flat base is usually made of an insulated wood board. You will have to roll out the heating mat on this flat base and fix it in place. Now you can lay the top flooring depending on your choice of wood or tiles. If you are not sure, it is best to get an electrician to check everything before you lay on the top floor. It will be costly and time-consuming to repeat the whole process.
For wet underfloor heating systems connected to the boiler, it is advisable to get a plumber or an underfloor heating expert.
Conclusion
There is no doubt that heated bathroom floors are comfortable and truly worthwhile on cold mornings. Some people think of them as a luxury rather than a necessity. However, you will be surprised to know that innovatively designed underfloor heating can make bathrooms more appealing and cost-efficient. It is almost like having a spa-like feeling at home.