7 Fun Alternatives to Secret Santa
3 min read
'Tis the season for that Christmas favourite – the annual round of Secret Santa!
But, as COVID-19 has forced us away from our offices, played havoc with our Christmas parties and made many relatives nervous about meeting, this seasonal favourite seems like a potential logistical nightmare! Not to mention the additional stress and anxiety buying a secret Santa gift could cause employees or family after a challenging year or so.
So, we hear you ask, how do we still bring the joy of opening up a pressie, without the ripping of the paper and the look on Sandra's face when she opens the gift she gave someone last year?
Don't worry, we've got you covered! We've come up with some fab alternatives to the traditional Secret Santa game that will take all the anxiety out of yuletide gift-giving.
1. Play Festive Vouchers
The aim of the game is to get people to do something lovely for someone in the digital office – though this would also work with long distance friends and family.
It's also a great way for people to get to know their workmates a little better.
How to play:

Just like traditional Secret Santa, everyone needs to draw a name to be matched with someone in the office or at home (digital random name pickers can be used to make this long-distance/digitally possible!)
Now it's time for everyone to get creative and create a special voucher for their recipient
For employees, these vouchers could be for anything from a cup of tea they can cash in when we're back in the office, a free takeaway, or the promise to not put their camera on during a morning meeting, so you don't have to!
For those at home, you can make these more personal, a promise not to hog the bathroom first in a morning, or a voucher for a day out with mum where you let her buy you any clothes she likes (it is the season of giving after all)! The sky is the limit.
2. Winter Wonder(pound)land
It doesn't matter how well you know the person — all you have to do is find the silliest gift for £1! And for the digital edition, just get something that can fit in an envelope!
How to play:
Standard rules apply – everyone needs to draw a name to be matched with someone
Once everyone knows who they're buying for, they need to find the most magical gift for £1
Send it in the post if you're not going to see your colleagues or family
Swap on Secret Santa day and enjoy the fun!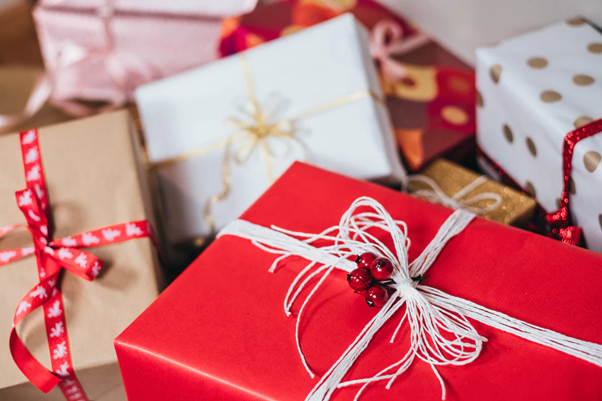 3. Pass the Plate
Like Pass the Parcel, but for hungry grown-ups! The idea is simple. You leave either a fully cooked meal, or a bag of ingredients and a recipe on someone's door, or if distance is an issue send an email with the recipe and send the ingredients to their house. This can be your favourite meal (or perhaps one you think they would enjoy).
How to play:

The names are picked out of a bag (or randomised online)
You can choose to pick a day and time to all share your meals on a digital call or leave everyone to their own devices, whichever is preferred!
For some extra spice, you might like to introduce a scoring system and a video review of each meal, come dine with me style!
For added festive joy introduce a prize for the highest scoring player!
4. Postcard Lottery
The perfect lockdown solution for a crazy big gift!
How to play:

Everyone puts in £10, and a secret deluxe gift is bought (those playing in a family setting might want to draw straws to avoid any taste-related Christmas tiffs).
Players email their postcodes into a designated person/write them down and put them in a bag
A postcode is picked from the bag/digital randomiser
That person is sent an amazingly glitzy gift!
You might want to send out smaller gifts to the remaining players, so no one feels left out and it goes without saying, be careful about leaving all that personal information lying around if you're playing in an office!
5. Yuletide auction
A great way for people to give away something they no longer want and get a brand-new gift.
How to play:
Everyone brings in an item of entertainment that they're happy to give away, such as a book, a DVD, or a board game (or holds them up on zoom)
Each item is then auctioned off
Players are allocated 50 tokens to bid with. The highest bidder wins the item
The game ends when there are no more items to bid on, or when players have run out of tokens
In the event of two or more players bidding the maximum amount, the auctioneer asks a series of trivia questions. The player who gets the most answers correct wins
If you want to make it extra special, you could charge £5 for each person to play and donate the money to charity.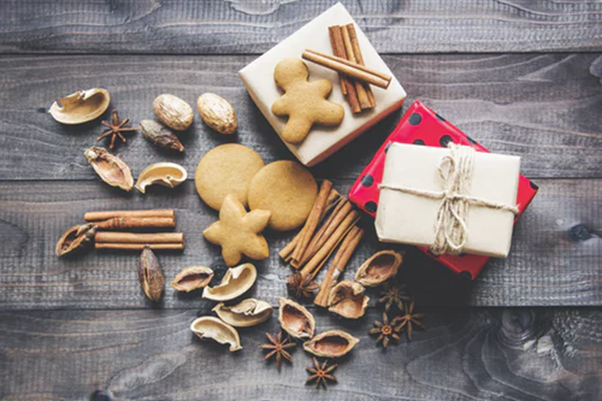 6. Christmas Cake-off
Once a spending limit is agreed, it's every man (or woman) for themselves! You each have to make and decorate a Christmas cake. The gaudier the better and a prize to the winner.
How to play:
Everyone decides on a maximum spend amount
Each player bakes a Christmas cake
The naked cakes (all covered in white icing) are brought into the office/house/held aloft on zoom
Each player sets up their decorating stations
A timer is set and it's ready, set, decorate!
After the buzzer has gone the judge or judges' rule on the winner. The criteria for this could be anything from the most Christmassy, to the best standing!
7. Christmas Hamper Quiz
This is for those who really want to spoil their staff or family!
How to play:
If you're playing at home, you all agree an amount of money you'd like to put towards a hamper each – or if you're feeling generous, you allocate the money yourself for each player – the higher the amount, the more boujee the hamper.
A certain amount of that money per head is skimmed off the top (i.e., £5-£10 each). This money will be set aside and used to buy the grand prize.
You present each player with their own hamper (you can even give them an option between a few).
Strict instructions are given for no one to touch their hamper until the set date and time of the quiz.
The quiz is played, and the winner is told to look inside the lining of their hamper – there they will find instructions on how to collect the grand prize. The perfect way to add a bit of drama, engage staff or those never easily pleased family members and all enjoy festive nibbles together both in the office or at home!
Fun for everyone
Which alternative Secret Santa game do you fancy trying out this Christmas?
Whichever one you choose, don't let financial stress get in the way. If you're a business or just a savvy shopper, here are some helpful financial tips from Love Energy Savings.