3 Simple and Sustainable Packaging Solutions for Online Businesses
1 min read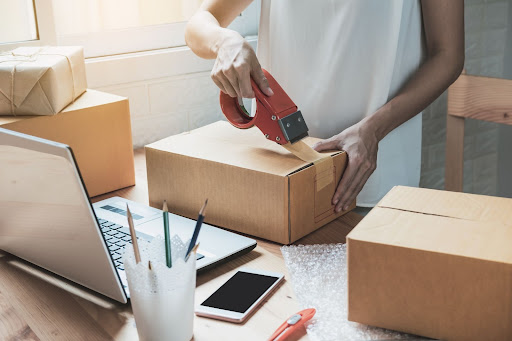 Packaging is taking on a new meaning in the modern world of eCommerce and online shopping. Consumers are taking an active interest in the packaging used by various online businesses, striving to make purchases from only the most environmentally-aware brands and reduce their own environmental impact.
So what can online retailers do in light of the new circumstances? Producing durable, high-quality products is a great place to start, but sustainable packaging solutions have a considerable impact on the environment and consumer behaviour.
What Is a Sustainable Packaging Solution?
Sustainable packaging needs to mitigate environmental harm while supporting a circular economy. It should have recyclable, compostable or otherwise biodegradable qualities, meaning it can be disposed of without affecting wildlife or contributing to pollution. These attributes will allow used packaging to take on another form if recycled or return to the earth as natural elements if it is commercially compostable or is inherently biodegradable.
The majority of sustainable packaging solutions are made from paper or cardboard — two of the most popular packaging products ever to be used — while less conventional packaging is now being employed. Bagasse, made from the natural waste products of sugarcane harvesting, is a great example of contemporary packaging used for all kinds of takeaway food products.
Sustainable Packaging for Online Businesses
Businesses operating in the eCommerce industry know how competitive the space is. With a dramatic increase in online sales over the past two years, consumer behaviour seems forever changed in the light of COVID-19.
With this in mind, businesses need to do more to cater to eco-conscious consumers by updating and upgrading their packaging:
1. Choose Paper over Plastic
Consumers are becoming ever more aware of the environmental impact of their purchasing decisions. With over half of US consumers reporting a high level of concern about the impact of packaging, businesses need to adapt. Opting for cardboard boxes over plastic-based mailers is a sure-fire way to score points with potential customers. The natural feel of paper and cardboard is associated with greater quality, whereas synthetic materials are often considered cheap, tacky and ruinous to the environment.
2. Optimise Internal Packaging
Bubble wrap has been the void fill packaging of choice for decades, but it's not often recycled or reused. Similarly, polystyrene packaging chips or peanuts are plastic-based and non-recyclable. By comparison, paper-based internal packaging is just as effective in protecting packages and is often made from recycled materials. It can be reused at will, while bubble wrap and other similar packaging are useless once the packaging has been compromised and the air buffer is no longer present.
3. Go Bespoke
When a stock sustainable solution isn't enough, eco-friendly custom packaging can dramatically elevate a brand's status by creating continuity between what customers purchase on-screen to what arrives on their doorstep. A bespoke solution has many eco-friendly benefits, from reducing packaging waste through clever, space-saving designs to reducing customer returns by providing extra protection against damage during transit and cutting carbon emissions for deliveries and returns.
Sustainable Packaging Is the Only Way Forward
Anyone operating in the eCommerce industry knows how competitive the space is. With a dramatic increase in consumer demand for sustainable packaging and more taxes and legislation expected in the coming years, greener packaging alternatives appear to be the only route forward — something that's beneficial for businesses, consumers and the planet.