7 Eco-friendly & easy home decor ideas
1 min read
It's never been so hassle-free to find the appropriate eco-friendly products for beautiful home decor! You might get an overwhelming assortment of interior design inspirations available throughout the internet.
So, it's baffling which to consider and which one not! People spend maximum hours scouring the internet to get some ideas of trendy furniture styles and classic paint colors. Revamping your living space is super fun, and at the same time, it isn't easy too, especially when you are chasing eco-friendly home decors.
Without wasting more time, let's check out these top 7 Eco-friendly & easy home decor ideas.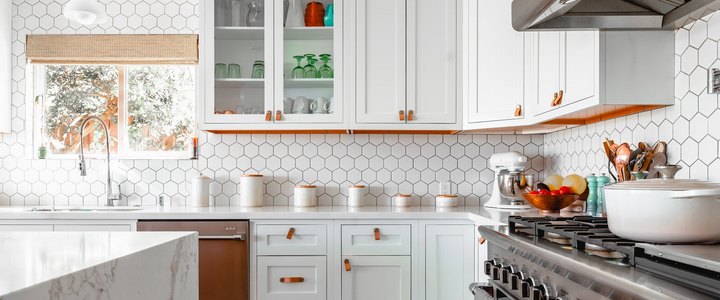 1.    Find reclaimed wood decor
Do you want to change your flooring? Upgrade your living space by adding cabinets or finding carved decor items, and stick to reclaimed wood. You might also consider Laminate Flooring to give your home a sustainable look! On the other hand, if you opt for reclaimed wood, you can create floating shelves or barn-style bedroom doors. By French polishing the wood, you will further enhance the look.
2.    Opt for thermal curtains
By altering your ordinary curtains with their thermal substitutes, you can lower your energy bills. Picking up any plain thermal curtain of your choice and hanging it behind your regular curtain will be a budget-friendly and sustainable idea for the planet.
3.    Change your lighting
You can merge sustainability and style by altering your light switches. People sometimes love to install a dimmer as these are excellent for dining and living areas. These are the two most common yet relaxation spaces, where you regulate the lighting output and transform to a more cozy mood.
4.    Choose non-toxic wall paint
While giving your eye-catching walls a complete renovation or if you want to repurpose a piece of furniture, selecting eco-friendly wall painting is an absolute for home decor. If you wonder why, these non-toxic paints don't contain VOCs, which are derogatory for Mother Nature.
5.    Renovate outdated furniture
Do you know how casual window shopping prompt buying new furniture for your living room? The best-in-class way to acquire sustainable decor is to "Do-It-Yourself" old furniture. It might force you to put extra effort, but transforming your old stuff into brand-new ones will be rewarding. Let your creative side come out, which helps you reupholster or repaint your chair or table to match your new decor!
In a child's bedroom, this creative DIY approach can also be a fantastic idea. You can revamp and personalize cabin beds with storage by painting them in your child's favorite colors or adding fun decals or stencils that reflect their interests. This not only saves money but also allows your child to have a unique and customized space they'll love spending time in.
6.    Add greeneries to your home
Houseplants inhale carbon dioxide and transform it into oxygen. Moreover, they also absorb numerous pollutants and toxins and purify the inner air.
7.    Search for sustainable rugs
Do you want a cozy room with laminate or hardwood flooring? Searching for eco-friendly rugs, like seagrass, jute, or rugs from recycled plastics will be the best choice for easy home decor. In addition, you can cover your floors with delicate carpeting without the use of microplastics to lower the echoing in your abode.
Conclusion
These top 7 tips are undoubtedly excellent ideas, which you should consider! Hopefully, this guide lets you choose the best eco-friendly items for your home decor, as you know what styles and trends you pick. So, embellish your interior while combining everything with your imagination!