Sustainable Kitchens – The Comprehensive Guide
4 min read
After spending more time in our homes than ever before, home renovations and DIY projects are more popular than ever. According to a kitchen report by Houzz kitchens are a top priority when it comes to renovations, commanding the most time and budget. With the focus firmly on sustainability when it comes to home improvements, we thought we'd bring you another one of our Comprehensive Guides, this time all about Sustainable Kitchens.
From zero-waste worktops to smart kitchen tech, there are several elements that can be swapped for a more sustainable kitchen. Whether your budget stretches to a complete renovation, or you're looking for small affordable updates that can really make an impact, we will cover everything to help you transform your kitchen into one with impeccable eco-credentials (that looks fabulous at the same time!)
What is a sustainable kitchen?
A sustainable kitchen can be defined by many elements that are not mutually exclusive. As with any conscious journey, doing little things over time are still impactful. Being sustainable doesn't have to be an overnight change.
Creating a 'greener' kitchen can include designing a space that uses recycled or low-impact materials, lowers emissions and overall carbon footprint of a home, and that is long-lasting.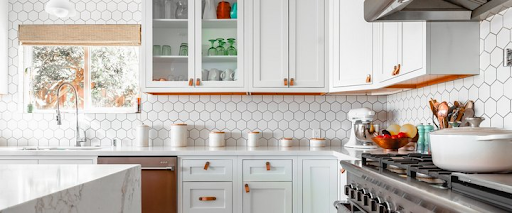 Image source: Green Journal 
Why is it important to have a sustainable kitchen?
There is no denying that kitchen renovations can be costly. Even 'budget' kitchens cost an average of £8000! Planning a sustainable kitchen makeover can add up quickly, as conscious materials and smart tech can be more pricey. 
Despite potentially costing more initially, prioritising sustainability is important for the environment and economically. While in the short-term cheaper, flat-packed furniture can be cost-effective now, this creates a false economy. Instead, opting for a quality kitchen with hardwearing materials will not only last longer but also retain its value. 
Creating a kitchen that uses higher quality materials, uses local craftsmanship and adds smart technology will overall use fewer resources and less energy. It will also avoid further updates in the future, when cheaper materials would normally need replacing.
Low-Waste Worktops
One area of the kitchen that is important to consider is worktops. These are often high use and can also have a large surface area. For worktops, there are opportunities to reclaim, re-use or use recycled materials in order to lower the strain on resources and energy-intensive manufacturing processes. 
Use reclaimed kitchen worktops
You don't have to scour the local neighbourhood for chance encounters with a skip, or stumble upon a house gutting to source a reclaimed material for your sustainable kitchen update. 
Visiting your local timber yard, asking your builder about reclaiming scaffolding boards or even searching online can help you discover your dream worktop material. Using reclaimed wood or stone adds character to your home and also decreases the resources and energy used to produce brand new materials. 
Re-use the surfaces you already have 
If you're happy with your existing kitchen surfaces, keep them! Even if you worry that they're not the most 'sustainable' material, it's far less wasteful to keep using them than chuck them in favour of a seemingly greener option.
Once you choose to keep the surfaces, make time to treat them well to extend their life. Use non-toxic cleaning products on your worktops that are kinder to materials and to the planet. Consider oiling wood surfaces to restore their condition and strength and remember to use heat mats to protect them from hot pans. 
Source kitchen worktops that use recycled materials.
Buying a new worktop is unavoidable in some kitchen renovations. If you have to buy new, look out for a supplier that uses recycled materials and focus your attention on the type of material you're choosing. 
For a timeless look, recycled oak is a great sustainable material that offers a high quality and stylish finish. If you're opting for a modern aesthetic, consider recycled class or an industrial looking eco concrete. 
Consider the materials life after your kitchen
Sourcing eco-materials for your kitchen is important, but also think about how the materials will one day be disposed of. While some of the materials could be reused again, inevitably all kitchens will one day need replacing, regardless of quality. 
Consider the recyclability of the materials you use to extend their life. Using raw or recyclable materials like wood and metal will mean your kitchen can be easily recycled where it cannot be directly reused again. 
Invest in smart kitchen tech and energy efficient appliances
Adding new gadgets and smart tech to your home can be daunting; with fears of feeling like you're living in a sci-fi film set. However, investing in energy efficient, low emission kitchen tech can really impact the planet and the performance of your kitchen. 
Low-impact lighting
Perhaps the most affordable way to make your home run more economically and environmentally friendly is with lighting. If you're not keen on trying a smart bulb just yet, switch your bulbs to LED ones. LED lighting can be up to 90% more efficient than standard incandescent bulbs
Smart bulbs consume less energy than regular light bulbs making them more energy efficient and financially friendly in the long-run. Most smart bulbs also allow you to change their colour to create different atmospheres (colour changing disco lights for the next kitchen party, anyone?). You can set timers for them to come on and off so you will never leave a light on when you're out again!
To take it even further, try a National Grid LIFX low-energy bulb. These use a green light signal when the electricity in your area is being supplied mainly from low-carbon sources, such as wind or solar. You can use this to indicate when it's a good time to use higher energy using appliances like dishwashers or washing machines at a low-impact time.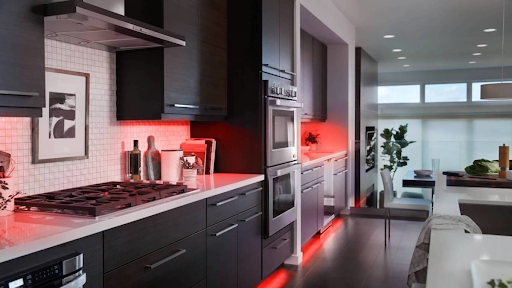 Source: The Gadget Flow
Switch to Energy Efficient Appliances 
Speaking of appliances, look at the energy effectiveness of all your existing pieces, and look at those of ones you're looking at buying. Every appliance has an energy rating  from A+++ to D, which you can use to understand both its energy demands and the cost to run it. 
Did you know that induction hobs are more sustainable against gas or even electric ones? This is because less heat gets wasted on an induction hob, as only the cookware gets heated and not the entire hob surface. 
Replace your kettle with a hot tap. 
Overfilling kettles contributes to a huge waste of electricity in the UK. In fact, as much as £68 million a year is wasted in electricity with excess kettle boiling! Adding a boiling, or hot tap to your kitchen will not only save electricity and water, it is also really quick and efficient for tea or coffee making – a huge plus when working from home!
Conscious Colour
Adding a splash of colour can add personality to your space, and is also a really simple way to sustainably change your kitchen without changing larger areas. Most traditional paints contain plastic and are often considered to be Volatile Organic Compounds (VOCs). 
Eco paints use less water in the manufacturing process, are plastic free and often use  recyclable packaging. Go for a toxic-free, carbon neutral paint company, like Lick, to instantly update the look and feel of your kitchen.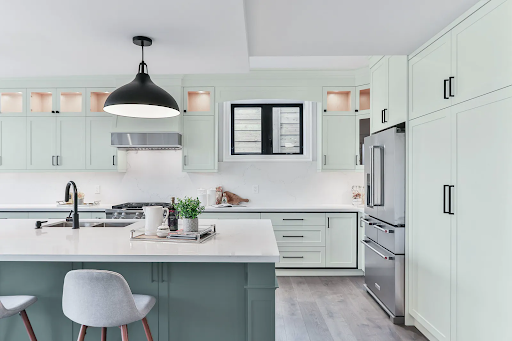 Source: Lick Home
Structural Sustainability 
It could be worth getting someone in to look at your insulation and upgrade this if necessary, especially if you have, or are planning, to add an extension or conservatory. Making sure your home has good insulation will mean you are wasting less energy heating your home. If you have the budget, you could even look at adding solar panelling on an extension roof and look at the possibilities of creating a renewable heating system so you become more self-sufficient. 
So, there you have it. An in-depth guide to making your kitchen more sustainable, whatever your budget. Whether you just want to inject some colour in an eco-friendly way, introduce some energy-saving smart tech or you're planning a whole renovation using sustainable materials, make sure to go with conscious choices in your home, starting with the kitchen!