Can technology be used to drive more sustainable consumer behaviour?
3 min read

The challenge
Changing consumer behaviour at scale is crucial to combatting the climate crisis. Without mass behavioural change and significant shifts in demand, brands, governments and production processes across the world won't feel enough pressure to align towards a more sustainable society. But how do we achieve this?
We know the way that the majority of consumers are purchasing right now is not sustainable and that this is a significant driver of the climate crisis. There have been some shifts, but this needs to accelerate dramatically, and time is of the essence. To give an example, the consumption of meat has decreased 17% in the last 10 years but needs to decrease much faster to reach Net-Zero emissions goals.
The key challenge is that while 73% of consumers might say they would like to buy sustainably, comfortable old habits are hard to shift and most shoppers aren't aware of or don't have the time to research alternatives.
Convenience is the key – modern consumers are time poor and often inundated with information in all directions giving them guidance on health, best prices, and the 'most fashionable' options available. Often, the most ethical and sustainable options fall by the wayside.
So can we put sustainability back into the front of consumer minds when making a purchase online? Can we prompt them make the leap and act on their original sustainable intentions?
An innovative solution
The answer is yes! We absolutely can, it just requires a bit of innovation, bringing together a knowledge of consumer behaviour with technological wizardry to guide that behaviour. A new free-to-use example of this is now available for consumers, called the Beagle Button.
The Beagle Button is a new free browser extension (akin to Grammarly and Honey) that possesses an innovative blend of artificial intelligence and language recognition algorithms allowing it to pop up with researched, planet-friendly, ethical products and service alternatives while consumers browse, in real time.
Open to the public for investment since October 1st, the game-changing innovation is now forecast to divert billions of consumer revenue away from potentially harmful purchases, towards the sustainable products, brands and services that have made the biggest strides towards mitigating their negative impacts.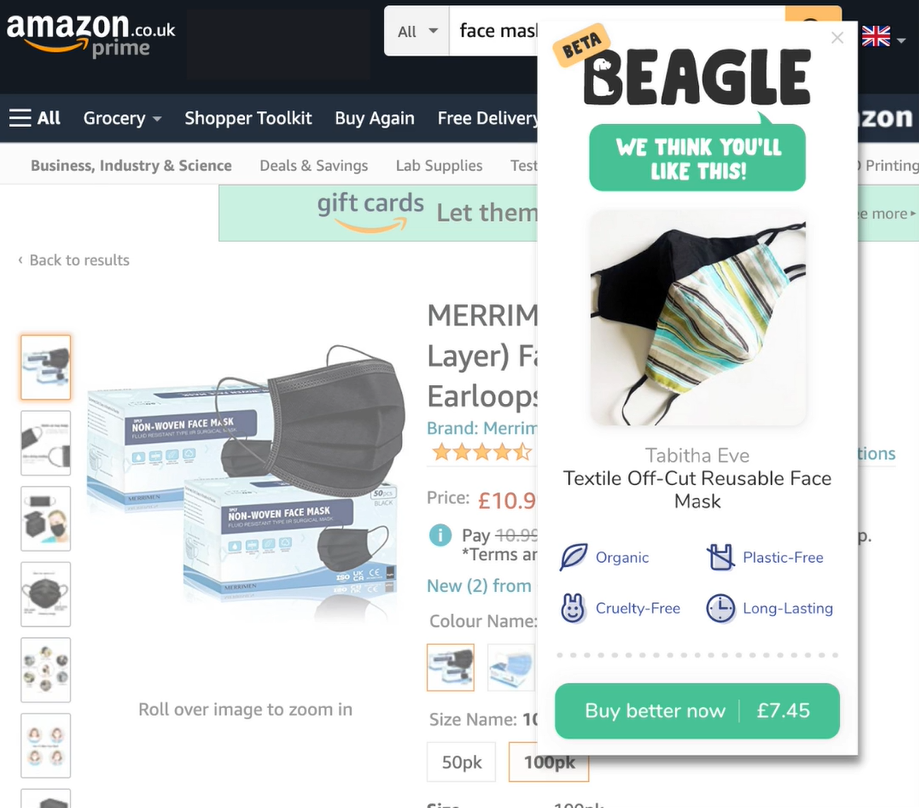 The philosophy behind the solution
In response to the new launch and bold goal to divert billions in revenue every year away from unsustainable brands, CEO and co-founder of the Beagle Button, Daniel Hemsley, said: "Consumers have never had more power, power they can demonstrate by voting with their wallets. While individual action can feel like a drop in the ocean, every pound, dollar or euro spent on planet-friendly products forces some of the world's largest polluters to take note. Every purchase we divert to a planet-friendly alternative sends a clear message to big businesses, one we can clearly see a response to in greenwashing marketing messages."
"So not only will The Beagle Button be making the individual's choices more sustainable, by doing so en masse, it will have the power to force industries to change."
"Crucially, unlike many eco stores, The Beagle Button does not encourage more consumption. The most eco-friendly product is no product at all. However, if a consumer has decided to make a purchase, Beagle intervenes at that point and diverts the consumer's intention and their money towards a more sustainable, ethical alternative."
How does it work?
Daniel says, "It's a couple of clicks to add The Beagle Button to your browser e.g Chrome or Firefox. Then, our preference function allow users to personalise the recommendations they see, making it easier to shop according to your values – everything from Organic, Vegan, Plastic Free, Low Carbon, to Fair-trade and Minority Owned or Local. Users shop as normal and Beagle does all the research for them, only popping up if there is a more sustainable option to the one they are looking at. We also take a privacy-first standpoint which means no need to collect any personally identifiable information.
"The results so far have surpassed even our highest hopes. The click throughs, the conversions, as well as the consumer and brand feedback has been fantastic. It just goes to show that the demand for sustainable shopping really is upon us. The potential positive impact is incredible – based on our modelling, the Beagle Button could divert at least 10 billion pounds a year by 2025, away from unsustainable purchases, towards verified green businesses and products.
"This is our number one goal. The climate crisis has to be tackled at scale, so we must adopt solutions that enable behaviour change at scale."
Machine learning is the key
Part of the reason this type of innovation is already having so much success is the new power of machine-learning. The potential of machine learning in this field is now enormous. By its very nature, machine learning gets more powerful and useful the more data it is fed. Incremental adjustments to the algorithms overtime, powered by this machine learning, lead to better and better accuracy and understanding of exactly what a consumer wants and the ability to deliver that in a way that is most useful to them.
Looking at Beagle's use-case example, it's clear that when it comes to consumer behaviour, convenience is often one of the most important concerns. Now brands can use machine learning make access to ethical products far more convenient because it cuts out any need for extra research or searching on the consumer side. This is essential as very few consumers will take the time and have the patience to research all the options out there.
On top of this, machine learning can be used to understand the barriers of why consumers might not make a particular choice. For example, we could identify that if consumers are given an ethical option that is too much in price, they may reject it. Using machine learning alongside analytics engines will make it possible to fine-tune results to favour products that are more likely to fill the consumer's needs at the right price points.
The future is now. The technology society needs for a more sustainable world is available – we have all the algorithms, the AI, the data and consumer platforms we need to make this happen. It's now time to put it all into action. Consumer behaviour can and will change, so let's make sure it changes in the right direction, before it's too late.
If you'd like know more about how The Beagle Button is doing, or support them, watch their video on Seedrs here.