4 Sustainability Pillars of Migrating to the Cloud
2 min read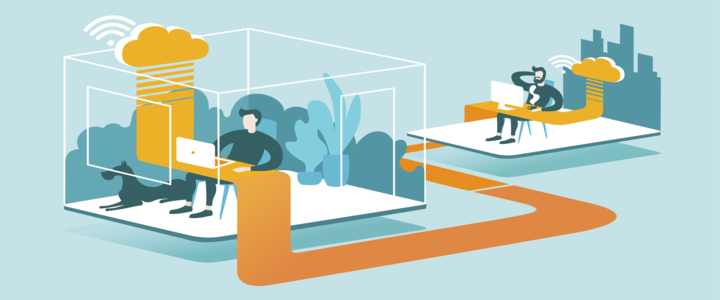 In a time of protests over climate change inaction and consumers having higher expectations for brands to do right by the environment, an increasing number of organisations are looking at different ways to "go green".
For retail companies, the common response has been to switch to recyclable packaging and using less single-use plastics. Many businesses have also turned to solar photovoltaic (PV) panels to ease their reliance on the energy grid and use renewable sources of energy.
But there's a way to reduce your carbon footprint that's readily available but may have slipped under your radar.
Enter Cloud Computing
Much has been said about the ability of cloud computing environments to make organisations more agile. By moving your workloads and even entire data dentures to the cloud, you can improve business continuity and support the smooth provisioning of services, even during periods of disruption.
But another benefit of migrating to the cloud is energy savings — lots of it.
According to a study commissioned by Microsoft and WSP USA, cloud computing has significant benefits for the environment. The study, which focused on four applications on Microsoft Cloud, found that cloud-based services were up to 93% more energy-efficient and generated up to 98% fewer carbon emissions than their on-premise counterparts (i.e., on-site data centres).
Meanwhile, Lawrence Berkeley National Laboratory published a study in 2013 showing that if all office workers in the US alone moved to the cloud, the energy consumption of information technology could be lowered by 87%.
These energy savings can be attributed to four key areas of cloud computing environments.
1. Better Efficiency in IT Operations
Migrating your workloads, data, tools and resources to the cloud (especially the public cloud) allows you to leverage the economies of scale of large cloud providers. These service providers operate at an efficiency much higher than the average organisation's on-premise data centre.
As Microsoft and WSP explain, commercial cloud services have "large-scale dynamic provisioning and multitenancy," which allow for much more efficient use of IT resources. It's similar to how travelling using public transport is much more efficient than driving a car alone.
Cloud service providers like Microsoft populate their servers with a broad range of user types spread out across a large user base. This allows them to have a diverse user base whose usage patterns balance one another, making loads more predictable. This, in turn, makes their energy consumption more efficient.
2. Use of Energy-Efficient Technologies
Cloud computing hyperscale data centres also have the resources to use cutting-edge and energy-efficient technologies for tasks like:
Lighting
Cooling
Power conditioning
Cloud service providers also measure their data centres' energy efficiency through power usage effectiveness (PUE) — the ratio of electricity used at a facility to the electricity used by the computing equipment itself. Hyperscale data centres from organisations like Amazon, Google, Oracle and Microsoft, among others, can achieve better PUE because of their use of custom servers and the latest cooling technologies to manage heat output.
3. Use of Renewable Energy Sources
Cloud service providers have also made huge strides in using renewable energy sources to power their facilities and reduce their carbon footprint. These energy sources include solar power, geothermal energy, hydroelectric power and wind energy.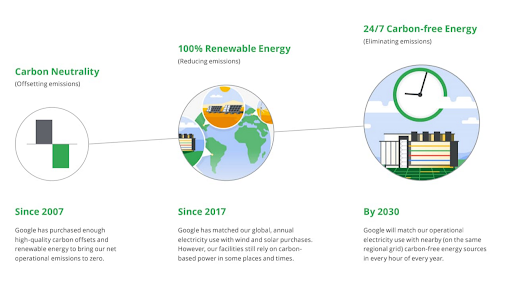 Image Source: Google Cloud
A prime example of this is Google Cloud, which claims to be the "only major cloud provider to purchase enough renewable energy to cover our entire operations". In 2020, Google also announced that they had purchased more wind and solar energy than any other corporation in history.
4. Dematerialisation
Dematerialisation is the process of providing services while using fewer resources and less energy. In the context of cloud computing, this happens when companies hand responsibility for their data operations to a third-party cloud services provider.
However, there are other instances of dematerialisation that arise from migrating processes and tasks to the cloud. For example, cloud services can reduce your reliance on:
Physical storage like hard drives and servers
Paper documents, thanks to applications that enable users to sign virtual documents
Office stationery, thanks to messaging apps and communication tools.
Over to You
Cloud computing is revolutionising the IT industry in more ways than one. For the average business owner, migrating to the cloud is a good way to offset their carbon footprint and a great investment if environmental sustainability is a core component of your corporate social responsibility (CSR) programme.
Author: Todd Gifford
Todd's world can be a detailed and complex one. As a Certified Information Systems Security Professional (or CISSP for short) with over 20 years of experience in IT and Information Security, Todd helps customers understand the risks with their information, where it is stored and processed and how best to manage those risks in our ever-evolving digital world. He writes a mean blog and prides himself in turning technical language into simple sentences we can all understand.