5 Stand Out Eco-Buildings in Europe
2 min read
Sustainability is definitely the new way of building and it is being led from the top. Eco-friendly buildings are being designed, built and showcased across the world to demonstrate you can build sustainably without compromising cost or comfort.
These five eco-friendly buildings in Europe are great examples of leading from the front.
Cube – Berlin
Cube is a sustainability showcase in Berlin. It is widely regarded as one of the smartest buildings in the world and one of the best-looking. It uses a broken cube design with a glass exterior that reflects its surroundings and the sky.
The double skin façade uses solar-controlled glass to help maintain a steady internal temperature, keeping the heat out in summer and during winter. This same design philosophy was implemented for Royal Bank Plaza, one of the most notable green buildings in Toronto, Canada. It reduces the need for heating and cooling within the building itself.
The Cube also uses natural air ventilation systems, a heat reclamation system, smart lighting, smart security, low energy facilities and a rooftop terrace for staff.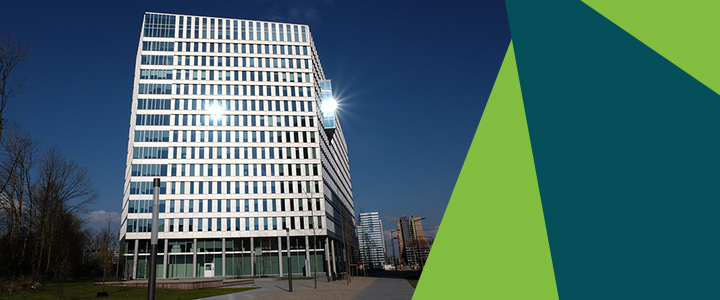 The Edge – Amsterdam
The Edge is the HQ of Deloitte in the Zuidas business district of Amsterdam. It's a large glass building that won the world's highest BREEAM rating awarded to an office building when it was completed.
The building features an energy-efficient design with passive temperature control, an aquifer thermal energy storage system, energy generation from window solar panels, rainwater collection and use throughout the building, smart lighting and wide-open internal spaces.
Workers do not have a set desk. There are flexible areas throughout the building where they can hot desk. Preferred settings for light and temperature can then be set in work zones via a smartphone app.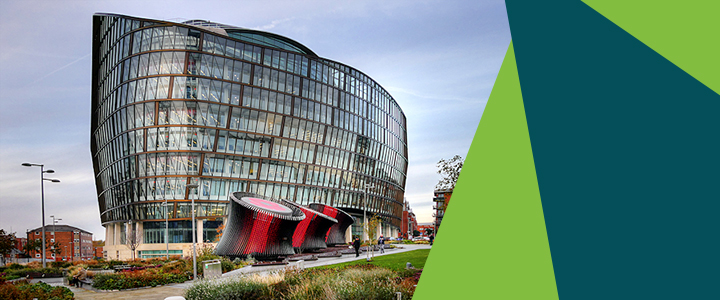 One Angel Square – Manchester
One Angel Square in Manchester is the headquarters of the Co-Operative Group and was awarded an "Outstanding" Building Research Establishment Environmental Assessment Methodology (BREEAM) rating.
This is another double-skinned glass building that makes quite the architectural statement. Home to 3,000 staff, the building includes a large atrium entrance, natural heating and cooling, smart lighting and an innovative roof that opens up to allow heat to escape in summer and close in winter to retain heat.
A special heat recovery system harvests waste heat from IT systems to be used in the building, rainwater collection provides water, greywater is recycled as much as possible and lighting and appliances are all smart low energy options.
The Tube – Tilburg
NewLogic III, better known as 'The Tube' is the HQ of Rhenus logistics and is in Tilburg, Netherlands. It's a striking design that is thoroughly modern but in context with its surroundings.
The building features 11,620 solar panels on the roof to generate enough energy to power the building and 750 neighbouring houses. Triple glazing maintains a constant internal temperature with minimal heating or cooling and the building is airtight to help heat efficiency.
All that glass minimises the need for lighting and a rainwater collection system provides water for bathrooms. All wood used in construction was FSC certified, employees can manage their own temperature, CO2 is constantly monitored with fresh air introduced automatically when required. Heat pumps stand by to provide heat if required.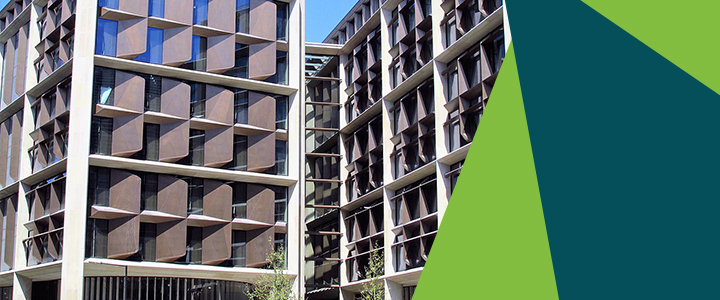 Bloomberg – London
The Bloomberg headquarters in London is one of BREEAM's highest-rated buildings in the world with an "Outstanding" rating. It's a modern office in the centre of the city covering 3.2 acres of land.
Designed by Normal Foster, the award-winning building features breathing 'gills' on the exterior to help lighting, cooling and acoustics, integrated petal-leaf design ceiling panels to provide more lighting, cooling and acoustic functions, rainwater collection for bathrooms and greywater recycling.
The building has CO2 sensors throughout to control air quality, a heat and power generation system that recycles as much as possible to reduce emissions, LED lighting throughout and smart power systems to reduce demand as much as possible.
Those are just five of the many eco-friendly buildings in Europe. They are leading the way by showcasing how buildings can deliver everything an organization needs while being completely sustainable. More buildings like these are on the way too!
Author information: This article has been written by Ibex Supplies, construction product supplier based in Littlehampton, West Sussex.