Simple Ways to Select the Right Colour for Your Granite Kitchen Worktop
2 min read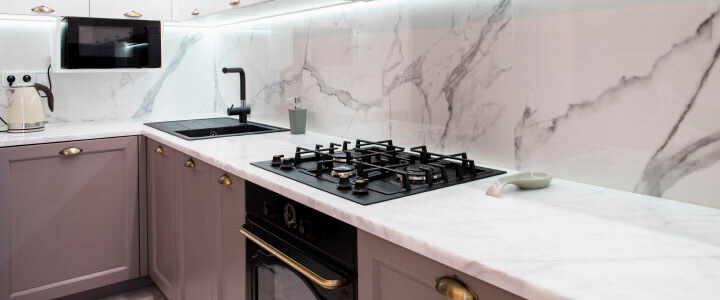 Granite is a versatile material for any kitchen countertop. However, you need to choose the right one for enhancing the aesthetics and functionality of your kitchen. Do consult the reputed worktop professionals to help you select the best granite countertop.
When renovating your kitchen or creating a new kitchen design, you must choose the best type and colour of granite worktops to make your cooking space stand out. With so many granite worktop hues to choose from, you need to consult an expert to select the best option according to your kitchen requirements and designs.
You may find granite in several remarkable colours, shades and patterns to have a distinct impact on the appearance and feel of your cooking space. Even the minute colour changes can have a massive effect on an interior. So, you have to make the decision wisely.
If you're looking forward to spruce up your cooking space with Howdens granite worktops, here's a quick guide to help you select the right colour for your kitchen countertop:
1. Carry Samples for Testing
When visiting a worktop store, make sure you bring some samples of different granite colours to test them in real-time. It will help you make the right comparisons between various colours and shades of granite countertops within your real kitchen lighting. Generally, your cabinet colour must form a natural contrast with the hue of your granite worktop. Plus, any natural sparkles within your worktop must be similar to the theme of your kitchen design. You may take samples matching the wall paint and flooring to make the right buying decision.
2. Choose Either Light or Dark Shades
In some instances, choosing granite is about finding the right effect than looking for a specific colour scheme. In a small kitchen, you may want to stick to light coloured granite, such as white, grey or beige. The same goes for bathrooms. However, it would help if you were careful with the maintenance, as the light coloured stone is likely to show more stains. Since granite is a stain-resistant material in general, this point should concern you. On the other hand, choose dark granite for adding a dramatic effect in a large kitchen. But it won't be a good idea for a small kitchen or space where you won't get much natural light.
3. Consider the Lighting in a Kitchen
Lighting also plays a significant role when choosing the right colour for Howdens granite worktops. The right amount of light is required to enhance the beauty of coloured granite. The darker granite worktops like blue, black or mahogany hues look classy and elegant in well-lit interiors. But if the lighting is a concern in your cooking space, it's best to opt for lighter coloured granite shades like beige, white or grey.
4. Choose the Right Pattern
While many people focus only on the right colour of granite worktops, choosing the right pattern is also essential in some instances. For instance, if you have coloured kitchen design, you must select a light granite colour and subtle patterns to create a striking contrast. On the other hand, in a simple kitchen or a monochromatic kitchen design, opt for granite with a more colourful pattern. If your cabinets have flat panels or shaker-style design, choosing highly patterned granite countertop may provide the best accent to the interior.
5. Timeless or Trendy – Which Style to Choose?
If you want granite worktops to stand the test of time, you must opt for classic and timeless designs for your kitchen remodelling project. Selecting colours like Emerald Black, Absolute Black or Angola Black can add a classy vibe to any kitchen. The dark Howdens granite worktops are perfect for maintaining consistency in colour and having a close-knit grain as well. It makes them strong and durable in both aesthetics and function. But if you want to stick to a trendy and contemporary theme, you must choose a worktop with a more neutral base with fashionable colours and accents. Choosing colours like white, beige or light greys can add a minimalist and trendy vibe to any kitchen design.
6. Consider Some Popular Combinations
Some popular pairings work the best for a specific reason. You may also stick to some great combinations when selecting the right granite countertop colours. Here is a quick list of some already popular pairing:
Light wood cabinets appear good with black, oak or other dark coloured granite.
Dark hardwood cabinets form a contrast with neutral, gold and mahogany granite countertops.
Choose green granite with deep brown cabinets.
Select earth-toned, white or green granite worktop with the rich red cabinets