What Makes Compac Quartz Different From Silestone Quartz?
1 min read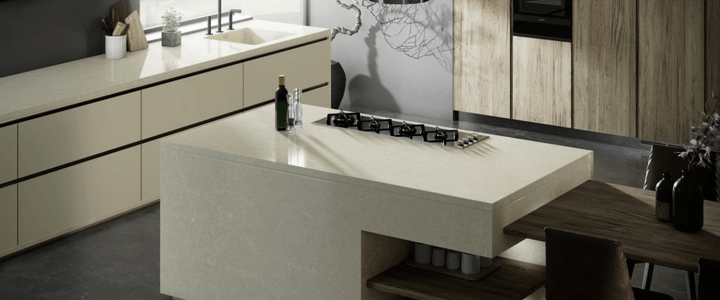 Both Compac and Silestone have reputed quartz brands offering high-quality worktop materials. However, you must understand the difference between the two to find the best material for your home.
Compac and Silestone are quartz brands owned by Spanish companies. Over the years, Compac has brought innovative advancements in quartz stone and also developed a high-quality solid worktop containing 93% to 95% natural quartz, along with other substances.
Silestone Worktops by Cosentino is also a reputable quartz brand that provides this human-made worktop in many different colours, patterns, designs, and finishes. The best part about these brands is that both are resistant to stains due to their non-porous surfaces.
Since spills and splatters are part of the cooking space, Compac and Silestone won't let any liquid to seep into the surface to leave any marks or stains. All you need to do is wipe off the surface of these non-porous materials, and there won't be any presence of stains on it. These are also resistant to scratches, cracking and etching and hence, require minimal maintenance.
What Makes Compac Different From Silestone?
Despite many similarities in the composition and manufacturing process, both Silestone and Compac quartz worktops are quite different from each other. Here are a few noticeable differences between these two quartz brands:
1. Core business focus
Compared to Compac quartz London, Silestone is more focused on quartz engineered stone. Therefore, their focus and efforts are more inclined towards a specific product line. On the other hand, Compac deals in two manufacturing units – one is quartz engineered stone and the second one is the marble engineered stone, such as Compac Unique Carrara. So, they are focused on two different product lines at various levels from initial investment to marketing. Since Compac manufacturers have to deal with two product lines and make strategies for both those units, it somehow slows things down for them.
2. Sales Network
Silestone has more prominent product lines and a bigger sales network compared to Compac UK. Compac engineered company also has to face some problems in selling its production capacity recently. Compac also has a small, focused market in Spain, the UK, and Portugal. But Silestone, on the other hand, has gained worldwide recognition.
3. Colour Options
Compared to Compac, Silestone comes with a broader colour range. The Silestone has an extensive range of engineered quartz colours with over 50 standard hues in the market. But when it comes to marble-based material, Compac surfaces are ahead with different options like Compac Carrara quartz, Unique Calacatta, etc.
4. Pure White
Silestone Blanco Zeus is the whitest material offered by the brand, and it has been around for a few years now. However, Compac recently jumped into the range of pure white colour compared to Silestone Blanco Zeus. Earlier, Compac used to purchase it from other producers. But recently, they started dominating the pure white production technically.
5. High Quality
Compared to Silestone, Compac is known to offer the best quality. His is because Compac worktops – be it plain or natural stone-inspired Compac unique Calacatta, these surfaces are ahead in polishing and also have brought amazing innovation into the market today. However, raw materials used in the production of these products are quite similar.
6. Cost
Silestone is pricier than Compac surfaces due to Silestone's unique price strategy. Compare to Silestone, Compac is the follower in its price list emission.
7. Guarantee
A few years back, Silestone brought the concept of a 10-year warranty into the industry. It helps the brand to overcome all the consumers' doubts regarding their product. Now, the company offers a lifetime warranty on their products. Even Compac is offering lifetime warranty now, but Silestone is known to be a quick solver of any problems of an unsatisfied client. It has cherished its market image all across the globe, and hence, many homeowners adore it worldwide.