Registration Opens for Renewable Power Purchase Agreements (RPPAs) Workshop
0 min read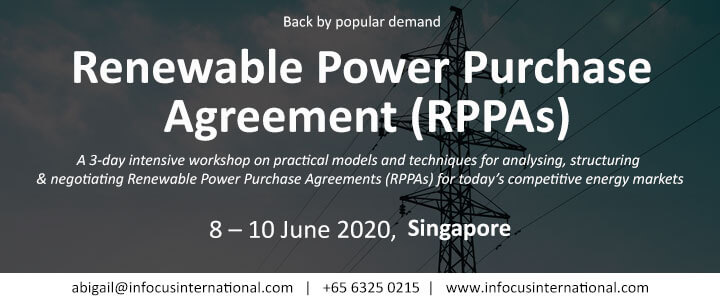 Infocus International Group has released the Renewable Power Purchase Agreements (RPPAs) workshop and it will be holding in Singapore from 8th to 10th June 2020.
Emerging market economies urgently need to master the key techniques, models, and lessons learned for transforming to renewable generation while strengthening today's energy markets. These include the latest models in negotiating Renewable Power Purchase Agreements (RPPAs), and in designing and managing new competitive power markets, as well as attracting new private investments in renewable energy sources.
This practical 3-day workshop will provide clear explanations of the new models of Renewable PPA risk allocation, of managing more competitive energy markets, and practical models for attracting new private investments into renewable energy, through a series of real case examples of PPA contracts, transactions, and markets. Case Studies will include real examples from Southeast Asia, South Asia, the Middle East, Europe, and North America.
Benefits of Attending
Use best practices from international case studies of successful Renewable PPAs and avoid common pitfalls
Direct the legal design of Renewable PPAs based upon your own company's risk profile
Lead strategies for the design and regulation of new electricity markets to attract renewable private power
investments
Develop clear incentives for bankable new private investments in renewable energy generation
Environmental & social impact mitigation techniques to structure sustainable private investments in renewable energy generation
Manage and oversee successful renewable power project finance transactions
Simply email to abigail@infocusinternational.com or call +65 6325 0274 to register your attendance. For more information, please visit www.infocusinternational.com/pparenewable.