Gas & LNG Markets, Contracts & Pricing Workshop Is Back in Singapore in March 2020
1 min read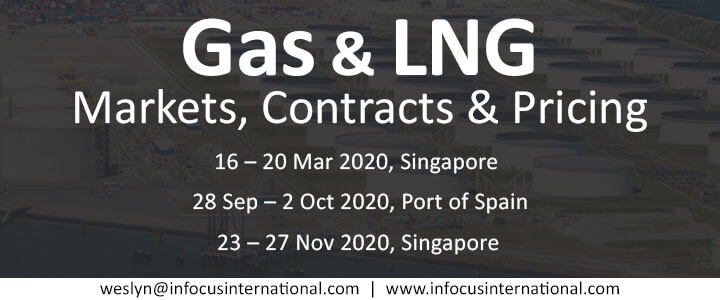 Due to popular demand, the highly requested Gas & LNG Markets, Contracts & Pricing workshop is coming back with three sessions in different locations.
Due to the complex geopolitical nature of gas/LNG sourcing and long term nature of gas transactions between buyers and sellers, it is commercially prudent for those involved in this process to know the global gas & LNG supply & markets condition, available methodologies for price determination, contract structure and negotiation techniques. Any misjudgement in any of these areas could result in wrong sourcing decisions, significant adverse financial consequences and legal liabilities.
This course has, therefore, been designed to enable the professionals in the gas sector and gas advisory services to make right sourcing decision, construct gas/LNG contracts and negotiate from a position of strength and knowledge in order to gain a competitive edge in the process.
One of the past participants from Chevron commented, "The best gas / LNG course I have ever attended. I will gladly recommend it to anyone.".
"The mix of the other participants from other countries from different view of the LNG trade (i.e. sellers, buyers, regulators) is very much appreciated. Especially sharing of personal experiences and practices – makes the course more 'real' rather than just 'text book' learning." said another past participant from Energy Department, Prime Minister's Office Brunei.
Sessions Available
16 – 20 March 2020, Singapore
28 Sep – 2 Oct 2020, Port of Spain
23 – 27 Nov 2020, Singapore
Course Highlights
Global gas/LNG market and market structure in Asia Pacific, Africa, Middle East, Europe and USA regions
Current gas/LNG outlook and trends
Contract terminology and construction – operational, commercial and legal basis of gas, LNG and Gas Transportation Contracts
Principles of gas/LNG Sales and Purchase Agreement (GSPA/SPA), Gas Transportation Agreement (GTA) and Regasification Agreements
Gas/LNG pricing principles, current practice and price indexation in competitive gas markets
Contracting and negotiation – proven techniques
Benefits of Attending
Background knowledge to framework to facilitate gas/LNG commercial decisions
Understanding current trends of the gas organisation structure
Knowledge of the underlying rationale for gas contract terms and conditions
Learn to construct gas, LNG and gas transportation contracts and negotiate them
Understanding of techniques of gas/LNG price setting in competitive markets
Awareness of operation of trading hubs, spot and arbitrage
Holistic understanding of what is required to put a new supply chain in place
Simply email to abigail@infocusinternational.com or call +65 6325 0215 to register your attendance. For more information, please visit www.infocusinternational.com/gaslng.