Organising a Sustainable and Eco-Friendly Business Event
2 min read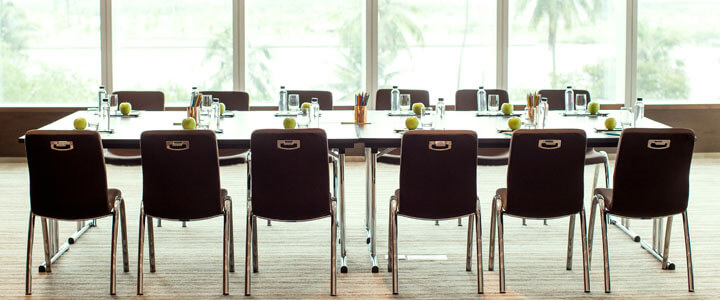 An eco-friendly business event is one that is planned, organised, and carried out in a way that reduces negative environmental effects. While achieving this, organising your business meeting in eco-friendly business meeting venues provides positive impacts on the host community.
Keeping our environment clean and healthy has become one of the top-most priorities in the world today. Individuals, companies, organisations, and countries all share this responsibility.
Why You Need Eco-friendly Business Meeting Venues
Eco-friendly business venues are good for business. It gives your business a good reputation, in addition to giving it a modern feel, while ensuring you don't get left behind. A 2009 business events survey showed that 66% of business event planners had already adopted more eco-friendly models concerning organising their business events.
Aside from being a modern trend, eco-friendly business events help to reduce environmental pollution. Keeping the environment clean is a collective effort. Organising an eco-friendly event means you are playing your part.
In addition to the above benefits, adopting eco-friendly business events can help you save lots of money. In the short term, costs might seem higher, however, in the long term; you would reduce costs because of the improved efficiency associated with eco-friendly events e.g. improved power efficiency, food efficiency, reduced waste, etc.
5 Tips to Organise a Sustainable and Eco-Friendly Business Event
1. Choose a Green Venue
Your business meeting venue plays a huge role in the eco-friendliness and continued sustainability of your business event. One of the most important tips in organising an eco-friendly business is choosing a venue that represents and implements eco-friendly values in a sustainable and financially feasible manner.
Without a doubt, venues influence choices with their protocols and management practices. Hence finding an eco-friendly business venue is the first step in organising an eco-friendly and sustainable business event.
Hosting an eco-friendly business event in a non-eco-friendly business meeting venue can be compared to dressing up a muddy pig. No matter how hard you try to balance or mask up details, the whole process or supposed gains will end up defeated.
An eco-friendly business meeting venue is designed with the sole purpose of achieving eco-friendliness, making it much easier for an organiser to achieve eco-friendly goals from its power source to food and waste management. Eco-friendly venues are designed to limit pollution of the environment.
2. Managing Food
Food and beverage management is one of the most important factors to consider when organising an eco-friendly business meeting. It's best to choose foods that decompose easily e.g., Fruits, vegetables, and meat whenever possible. Foods that decompose attendees leave fewer carbon footprints and are often more appetising.
If catering is needed, employ the services of caterers that follow eco-friendly standards and use healthy organic ingredients. Avoid stocking excess food.
To reduce food waste, you can try to accurately estimate the volume of food and drinks attendees at your event would need. You can equally donate leftovers.
Avoid using plastic water bottles and other disposables. Encourage service with china cups, trays, and other re-usable items.
3. Use Biodegradable and Recycled Materials
Non-degradable materials are wasteful and pollute the environment. This is because they are not degradable, making them more difficult to manage. Concerning sustainability and eco-friendliness, re-usable materials are the best choice.
If you are to provide drinks or other refreshments at your business event and it is not practical to use re-usable materials, ensure you choose a biodegradable option.
Recycled materials are not left out. You can start by getting supplies from recycled materials. For example, you can adopt a paperless event and try using re-usable china for all food and beverages. If waste creation is unavoidable, ensure you put in place on-site recycling or organise bins that go straight to a recycling company.
4. Organise Efficient Transportation
If long-distance road transportation is necessary, choose vehicles with lower carbon emissions. Hybrid cars, electric vehicles, and natural gas-powered vehicles are good eco-friendly transport choices for your business events.
If your venue does not have access to the above eco-friendly vehicles, you can make suitable arrangements that can transport more people at once.
Try sourcing the things you need for your event locally. This helps to reduce mileage and transportation costs. Additionally, this would help to boost the local community and increase sustainability when choosing foods for your occasion, try choosing foods that are in season and readily available.
Explore using rail transport. Train operators usually offer discounted tickets for booked events and event delegates. Trains can transport a large number of people. This helps to reduce carbon emissions.
If rail transport is not possible or feasible, you can promote car-sharing among your attendees. Guests can give lifts to their fellow guests or attendees who live close by.
5. Raise an Eco-Friendly Business Culture
Without an eco-friendly commitment/ long term plan, achieving an eco-friendly business event might not be sustainable.
Company staff, service providers, and attendees should be aware of the event's eco-friendly goals and objectives. Everyone has to play their role and know why making eco-friendly choices are beneficial.
Communicate with staff, suppliers, and event partners about how they influence the event positively. When choosing partners; choose those that share your goals and ideas. For sustainability, try working with partners who share similar objectives.
Conclusion
Organising a sustainable and eco-friendly business event requires dedication, good planning, and suitable partners. Concerning suitable planners/partners, party houses are surely the desired choice. We would no doubt bring your eco-friendly business event dreams to reality. There are some websites like PartyHouses.co.uk that offer unique and assorted eco-friendly venues located in some of the most exotic and natural sites in the United Kingdom. These venues have a natural feel/ natural elegance, making them an excellent choice to host your eco-friendly events. They would no doubt give your business events an edge above others.