Food and Drink Brands That Offer Bring-Your-Own Schemes
3 min read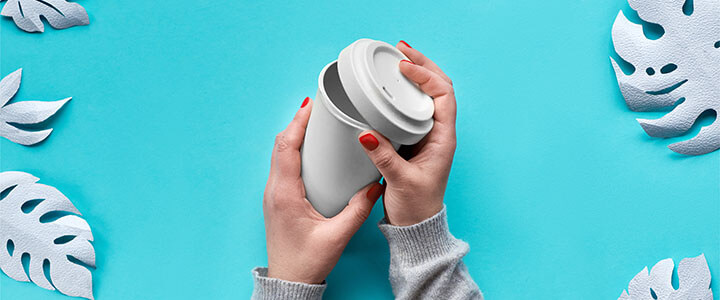 With the global climate crisis happening before our eyes, there has been a new sense of urgency to make adjustments to our lifestyle and better the environment. Many of us are making swaps and minimising our waste, however, is what we do at home enough to save the planet?
An Urgent Matter: Packaging Waste
According to the Department for Environment Food and Rural Affairs, there were 11.5 million tonnes of packaging waste generated in the UK in 2016. Although 71.4% of UK packaging waste is recycled, an extra 446,000 tonnes have been sent to landfills from 3 years prior.
Such landfills pollute the environment in various ways, from contaminating the surrounding soil and water to producing harmful greenhouse gases such as CO2 and methane during the decomposition process. Correspondingly, WRAP's aim is the increase of non-household municipal waste recycling rate to 55% by 2025.
In the past 2 years, that has been an increased awareness of plastics and opting for reusable options. Words like 'plastic anxiety' and 'plastic-free' are now a common vocabulary that we use on a day to day basis.
Unfortunately, Defra pointed out that plastic is just one part of the problem. British recycling rates have been stagnating, and it already looks like England, Scotland, and Northern Ireland might fail to meet the 50% recycling target rate for 2020.
How Food and Drinks Brands Are Helping
To ensure we are addressing these issues, brands are making an initiative to encourage their customers to partake in generating less waste. Food and drinks brands now offer respective 'Bring-Your-Own' schemes. While some shops offer the option for customers to bring their own containers, other brands use reward schemes to increase people's incentive to help reduce waste production from single-use products and packaging.
These small steps are extremely helpful for those beginning their journey as an eco-conscious consumer.
How to Find Bring-Your-Own Schemes?
While such schemes are fairly popular, it is sometimes difficult to spot which brands actually offer a scheme like this. Even if they do, you still need to figure out how you can participate.
Many food and drink brands have their own schemes that they either outline online or in-store. By being more proactive and aware of these schemes, you will be able to form eco-friendly habits even when out and about. Shopping centres like Liverpool One offer eBooks that provide a full list of shops and restaurants created for inspiring eco-conscious habits.
List of Drinks Brands That Offer Bring-Your-Own Schemes
Reward: 50p off your drinks order
Details about the scheme: At Paul, you are encouraged to bring your own reusable cup and claim a 50p discount on any takeaway hot drink. You can also buy your own Paul KeepCup, where 50p of the purchase will be donated to Buglife aiding the conservation of bee habitats.
Reward: 50p off your drinks order
Details about the scheme: Pret have recently increased their reusable cup discount from 25p to 50p. If you are looking for a reusable cup, Pret offers one that is made from 'fast-growing and super sustainable bamboo' that is completely reusable and dishwasher safe.
Reward: 50p off your drinks order
Details about the scheme: Since 2018, Patisserie Valerie has pledged to help the environment by encouraging their customers to bring in their own reusable cup when ordering take away drinks.
Reward: 25p off your drinks order
Details about the scheme: Costa aims to reduce its waste production by introducing the reusable cup scheme to encourage customers to be more environmentally friendly.
Reward: 45p off your drinks order
Details about the scheme: Leon is also a key participant in bettering the environment by encouraging its customers to bring in their own reusable cups in exchange for a 45p discount. Leon has also made the initiative to only serve their takeaway drinks using biodegradable, compostable and recyclable cups. Rather than using a polyethene (PE) lining, Leon has specially sourced biopolymer coated cups, which make them plastic-free and compostable.
Reward: 20p off your drinks order
Details about the scheme: Greggs' offers their own reusable cup, using this cup will allow you to get 20p off any hot drink.
Reward: 2 stamps per coffee on Cafe Nero loyalty card or via their app
Details about the scheme: Cafe Nero not only partnered with KeepCup in 2018 to ensure more people take part in using reusable cups, they also reward those who do bring in their own cups to
We also encourage the use of reusable cups by offering 2 stamps per coffee on their loyalty card or via our app.
Reward: A Free Drink
Details about the scheme: If you are a member of the myWaitrose Scheme, you can enjoy a free hot drink from the self-serve machines if you bring your own reusable cup. Waitrose has stopped selling drinks using disposable coffee cups.
Reward: A Free Drink
Details about the scheme: If you are a Booths cardholder, you can purchase a reusable cup and enjoy one free hot drink per day per customer.
Reward: None
Details about the scheme: While you don't get a reward, Boston Tea Party became the 'first cafe to single-use cups'. They saw no other solution to addressing the environmental issues but to stop issuing single-use coffee cups altogether. They have encouraged its customers to bring their own reusable cup, to buy a biodegradable reusable cup in-store or use their 'loan cup scheme' if you forget your cup. Since they started, they have saved 266,000 coffee cups from going into landfill!
Other Eco-Friendly Efforts Acted on by Supermarkets
While food and drinks brands mainly focus on 'bring-your-own' schemes, there are other ways that these businesses are helping its customers form a more eco-friendly lifestyle. Some of these are as follows:
M&S Food – since July, Marks and Spencer offer 25p off customers supermarket's fresh food-to-go Marketplace counters, the scheme offers customers 25p off every meal if they bring in their own containers.
Morrisons – Are aiming to achieve 100% recyclable, reusable or compostable packaging by 2025 and offer paper carrier bags.
Tesco – The supermarket is aiming to remove hard-to-recycle materials, including PVC, from its own-brand products
Sainsbury's – Aim to remove lightweight loose product bags from their stores, and to replace the plastic films used to cover fruit and vegetables with a recyclable option
Aldi – Getting rid of plastic wrapping on cabbages and cauliflower in certain stores, and are trialling cardboard packaging on steak
It is easy to assume that your efforts alone are insignificant and won't make much of a difference, but it is applaudable to see how many companies have begun changing their ways to better the environment. When we as consumers start making these changes, more companies will implement changes to their strategy to be more environmentally aware.