5 Ways to Ensure Your Swimming Pool Is Environmentally Friendly
2 min read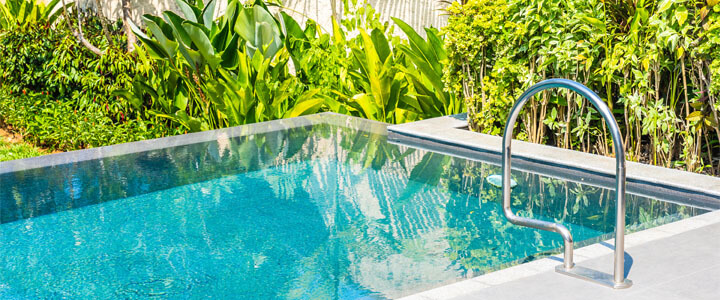 Owning a swimming pool can be a rewarding experience. It can be a source of relaxation, family fun, exercise, and a great place to host parties. There is no question about it, swimming pools are a wonderful investment for both you and your family.
Having your own swimming pool isn't all about fun, though, you have to care for it too; you don't want to be unable to enjoy your garden oasis because it's covered in a film of algae and leaves.
Pool cleaning, unfortunately, necessitates the use of a number of chemicals, in addition to the energy required to heat and filter the water. Minimising the environmental impact of owning a swimming pool is, therefore, an important consideration. Here are a few tips to help you do just that.
Cover Your Pool
A pool cover is one of the best ways to reduce your environmental impact and save money. A pool cover is essentially a large plastic or vinyl sheet that is placed over the pool. Depending on usage and location, some owners prefer to use them all year round or only in the colder months.
Pool covers start by keeping debris that would otherwise end up in the pool away, this translates to less time, effort, and chemicals required to clean the pool. But their advantages don't stop there. Covers are also great at preventing water evaporation in the summer and boosting heat retention in the winter, both of which will help you to reduce your impact and costs.
Install A Solar Heater
A solar pool heater can be used to replace a traditional pool heater. A traditional heater uses substantial amounts of power to keep your pool warm, which translates into higher emissions and cost. A solar heater, on the other hand, works by utilising solar panels on your roof — with a heating element as a backup — to heat your pool in a cost-effective and environmentally conscious way.
A solar water heater can net you up to 16% savings annually, and will also substantially reduce your emissions footprint, while still allowing you to gain all the benefits of a heated pool.
Use A Robotic Pool Cleaner
A robotic pool cleaner ill help to ensure your pool is always clean and ready to go when you are. They work by slowing working their way around the pool collecting debris and other containments and removing them — not dissimilar to a robotic vacuum for your house!
They are generally powered by electricity, with many models being hooked up to your homes power supply, and connecting to a ground-fault circuit interrupter (GFCI) outlet to prevent nasty shocks. More advanced models, however, are designed to be running almost continuously by using solar panels on the top of the unit.
Add A Timer to Your Pumps
Operating your swimming pools water pump and filter can cause your energy usage and bills to skyrocket over time; that's not great from either a financial or environmental perspective. Therefore, it's best to avoid running the pump and filter whenever possible, but having to turn the system on and wait for it to start filtering is a massive hindrance to the enjoyment of your pool. Enter automatic pool timers.
Automatic pool timers will allow you to configure your pools pump and filtration systems to automatically turn on and off at the times that suit you. There is no point in wasting resources pumping and filtering and pool when you are away. Installing an automatic pool timer will help you reduce your energy expenses, while still ensuring the pool is ready for you coming home from work.
Cleaning Your Filters
The filter is one of the most important parts of your swimming pool. You can swim in cold water, even if it's a bit unpleasant, but nobody wants to go swimming in dirty, contaminated water.
Your filter can only work at its best, though, if it's cleaned and maintained regularly. Unfortunately, all filter cleaners contain some form of chemicals, but keeping the filter in good condition by cleaning it regularly will limit the amount you have to use. It will also prevent nasty algae and bacteria growing and being released back into the groundwater.
Author Bio

Christina is a proud wife, mother, entrepreneur, author and world traveller. Previously a successful businesswoman who gave it all up to raise children, Christina spent a lot of her free time during those years flipping through books and learning about a plethora of topics. She hopes her books will inspire and motivate others to do what makes them happy and to achieve their goals.