Solar Asset Management and O&M Experience at PV Operations Europe
1 min read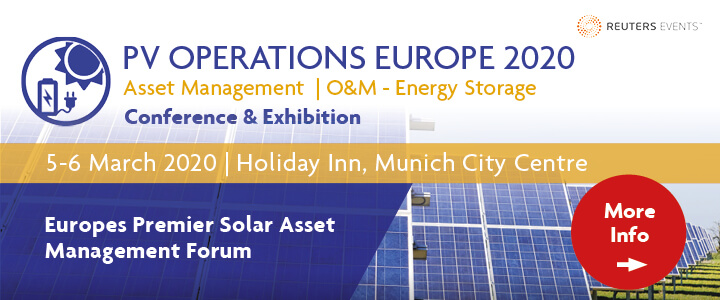 New Energy Update, part of Reuters Events, today announced the leading companies that will share solar asset management and operations and maintenance (O&M) experience at PV Operations Europe.
The event will bring together more than 300 globally recognised solar industry experts to exchange the latest thinking on the operational phase of the solar life cyle. It's a crucial time for solar as the sector is still adjusting to subsidy free, the rise of PPAs and is rapidly embracing digital transformation.
Confirmed topics and speakers for the event on March 5 and 6th include:
Enerparc, a leading investor, owner, operator and EPC, are sending their Co-founder Stefan Mueller to share his perspective on where the market is heading on a panel along with the CEO of European Asset Manager Quintas Energy, the Managing Director of renewable investor Quercus Investment Partners and the Managing Director of UK 500MW Portfolio Owner, Toucan Energy.
Rebecca Carter, Global Managing Director at WiseEnergy, who manage in excess of 1800MW of solar plants, will be featuring on a panel discussing best practice when it comes managing newly developed assets along with the Chief Risk Officer at Glennmont Partners, the Managing Director at MPC Capital and Managing Partner at Horus Energy.
The critical challenge of in-house vs outsourced operations will also be discussed by our solar plant owner panel made up of the Technical Director of Danish Asset Owner Obton, the Head of JLEN Solar at Foresight Group, the Head of Technical Asset Management at Octopus Energy and the Head of UK Portfolio at Renesola.
Technical case study presentations on Bifacial Modules, Solar Plus Storage and Data Management will also feature throughout the agenda from speakers who have been at the forefront of PV innovation, along with open panel discussions on the state of play with PPAs and subsidy free solar across Europe.
Over two days, PV Operations Europe will welcome operations, technical, development, design and engineering executives from Europe's leading owner-operators, independent power producers, utilities and investors.
Attendees will be able to learn about strategy and execution best practice in collaboration with associate engineering, procurement and construction contractors, software partners, O&M providers and component manufacturers.
"The operational phase of the solar lifecycle simply cannot be ignored. Well-funded and planned Asset Management and O&M strategy results in higher yields, minimal downtime and, above all, better cash flow. Too often sites are poorly managed and maintained, only resulting in spiralling overheads."
said PV Operations Europe project director Luke Brett.
"The industry needs to be more open in how plants are performing and how to optimise every function within operations. It is crucial that finance, development, design and engineering cooperate and share best practice."
New Energy Update is now part of Reuters Events, after its parent company FC Business Intelligence was acquired as part of the Reuters news and media division of Thomson Reuters October 2019.
For more information about PV Operations Europe 2020 (March 5-6th, Munich), following this link to download the brochure or contact luke@newenergyupdate.com.