Ideal Heat Lead the Way by Offering HVO Fuel on All Packaged Boilers
2 min read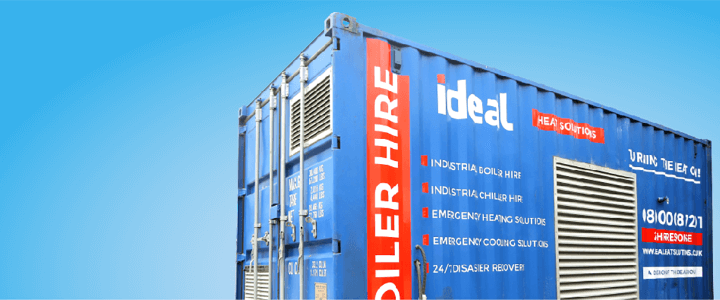 Ideal Heat Solutions has recently announced it now offers HVO diesel (hydrotreated vegetable oil) across its full range of packaged boilers. Before the announcement, customers of Ideal Heat had a choice of oil or gas as a fuel option. Now Ideal Heat Solutions' customers can use HVO to meet their renewable energy obligations on any developments or projects they have.
Regarding the announcement, company director Javid Ibrahim said: "Giving our clients the option to choose an alternative fuel option that is renewable and sustainable is a major breakthrough in the industry. To our knowledge, we are the first temporary boiler hire company to offer HVO fuel on temporary packaged boilers in the UK.
Prior to this announcement, businesses in the UK that required a temporary packaged boiler were constrained to diesel oil, gas or steam. HVO is a greener, sustainable alternative fuel option that we're incredibly proud to promote and offer to our clients."
This now puts Ideal Heat Solutions at the very front of boiler hire and helps make HVO the byword for renewable energy solutions.
What Is HVO?
With the focus on the environment and how businesses can make a change on that with their actions, Ideal Heat Solutions are leading that charge by using HVO.
HVO stands for Hydrotreated Vegetable Oil. It is a renewable and sustainable diesel. Unlike other biodiesels, HVO uses hydrogen as the primary catalyst during production. It is now widely acknowledged that HVO is far superior to other biodiesels as it can deliver cleaner and more efficient performance.
To make a positive impact on climate change, the need to move away from fossil fuels is now more important than ever. HVO is sustainable, stable and is of consistently high quality. In addition, it can reduce fossil CO2 emissions by almost 90%. It is a fuel that is better for business and for the environment.
It is a more environmentally friendly alternative to diesel and is clean-burning. It has a longer shelf life than regular biodiesel. Longer shelf life means that it is more economically viable for businesses and makes a positive impact on the environment.
HVO is now a far more popular option. This is because one of the barriers that producers of biodiesel have struggled to overcome in the past is how sustainable the fuel is.
Regular biodiesel undergoes a process known as esterification, to remove the oxygen from the diesel. Unfortunately, this process can increase the possibility of oxidation which can contaminate the fuel. This is why biodiesel is so stringently checked. It is to ensure that it can still be used.
The process of hydrogenation, that HVO undergoes, means that the oil has all of the oxygen removed. The result is that the oil can last a lot longer than other biodiesels.
Engineers at Ideal Heat Solutions recently completed a test to compare HVO diesel with regular diesel oil, specifically looking at its performance. You can read more about the test results here.
Who Is Using HVO?
Ideal Heat Solutions is the first boiler hire company in the UK to use HVO on a commissioned temporary boiler. Barratt London and Logistical Building Services are the first clients of Ideal Heat who are now using HVO. Recently, Ideal Heat Solutions was tasked by LBS to commission and deliver a packaged boiler at Barratt London's new development project in Greater London.
HVO was used by Ideal Heat Solutions on the sustainable housing project in New Mill Quarter.
The development is known as a mixed-use development. It is there to provide new homes, retail facilities, recreational and community facilities. Once it is completed, the development will feature over 500 apartments, 80 assisted-living apartments, and over 150 houses.
HVO was tested there and it proved hugely successful. The boiler worked: in fact, its performance was found to have beaten oil on every test conducted over a period that lasted 3 days.
To read more about the work that Ideal Heat Solutions did on this development, click on the link here.
What Does This Mean for the Customers?
Any new or existing customers of Ideal Heat Solutions may have their own renewable energy obligations to fulfil. This recent development now means they have the option of choosing renewable energy. After all, HVO diesel is better for the environment and is proven to be more energy-efficient.