How Green Is the Interior Design Industry?
2 min read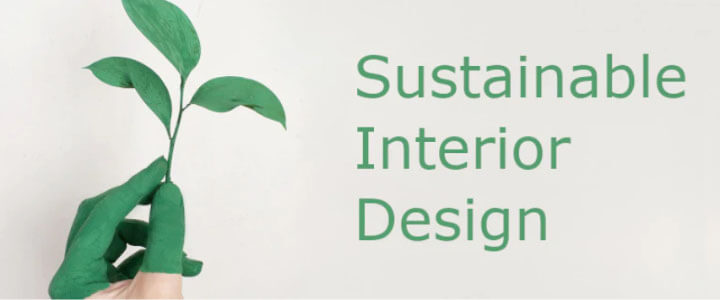 Interior design and architecture are two fields that are often put together and viewed interchangeably. However, the differences between them are large. First, unlike the architecture industry- that's regulated by Parliamentary body, Architects Registration Board (ARB) that enforces and controls sustainable practices, the interior design industry is unregulated.
Without a central body of authority- each interior design form within the industry is free to pursue whichever practice they wish. This isn't always sustainable but there is a recognisable growing trend towards green design.
What Is Green Interior Design?
Synonymous with eco-friendly interior design, green design focuses on creating beautiful and inspiring spaces, whilst improving indoor air quality and reducing the impact of interior design practices on the environment.
Within the interior design industry as a whole, the growest segment is the incorporation of sustainable design. Many firms have been keen to jump onto the green-waggon to compliment the wider societal interest in sustainability.
When it comes to designing a sustainable space, there are many strategies, materials and technologies for interior designers to choose from. From the use of rainwater to supplement water-waste, to using a host of sustainable materials like bamboo, straw and bale.
Innovation is at an all-time high, as more and more designers are looking outside the box for less-conventional, sustainable design techniques.
How Green Is It?
Considering there is no one body that regulates, monitors and measures environmental efforts of the industry as a whole, we turned to individual firms and general trends within the interior design industry to get a better insight of the level of sustainability they adhere to.
Kvadrat
Denmark-based textile manufacturer, Kvadrat, produces high-quality upholstery and textile-related products for designers. Their strongest sustainability policy comes from its inherently eco-friendly roots in Denmark. 43.4% of the electricity consumed in the country last year was wind power generated.
In 2017, Kvadrat launched Really- the sustainability recycling company for upcycled waste wool and cotton. These are then made into new materials like acoustic felts and solid boards, which are then in turn used by the interior design industry on a large scale.
Around 90% of Kvadrat textiles are Greenguard certified. This single company's contribution to a greener industry alone is staggering. If it would lend just a page of its books to all design firms, we could reach a greener design economy sooner.
Vestre
Vestre is one of Scandinavias leading manufacturers of sustainable furniture. Its aim is to be recognised as the most sustainable furniture brand in the world. To get there, Vestre has integrated nine of the seventeen United Nations sustainability goals into its business model.
Vestre's factory itself is run on renewable energy, generating enough solar energy to power the entire factory in the summer. It has future plans to have zero emissions on all transportations within the next year.
In addition to its green manufacturing, the company donates at least 10% annual profits to global sustainable projects, every year.
Tarkett
You could say there's a northern, Scandinavian theme when it comes to sustainable design, as the next company, Tarkett was founded in Sweden in 1886. Their overall goal is to establish a circular economy in the flooring industry.
Its 'take-back restart' program gathers its own flooring and flooring from its competitors, to be recycled into its own new products. This is conveniently done as a single product of Tarkett contains up to 20 different raw materials. Therefore, they're easily broken down and recycled.
All factory production comes with some element of environmental impact. Tarkett minimises this by limiting its use of water through closed-loop water systems. As this technique isn't exclusive to the production of design materials- it can and should be applied to all factory operations.
Emeco
Emeco, of Pennsylvania, an American furniture company focuses its sustainability efforts in the form of recycled materials and longevity. Long since the 1950s, Emeco manufactures chairs from at the very least 80% recycled materials. Anything leftover in the process is also recycled.
Whilst its policies largely centre around recycling, it also sourced its materials locally to reduce its transportation carbon footprint.
Tala
British lighting rand, Tala, specialises in low energy LED lighting and since 2013 has become a supplier to many interior design firms and individual designers.
Outside of its operations, Tala runs a reforestation programme whereby a portion of its revenue is donated to tree-planting programmes around the world. It also partnered up with recycling company, Mile, who ensures that no Tala waste is sent to landfill. Another partner of Tala's, Bulb, ensures all their electricity is generated using renewable resources.
Working both in the UK and overseas, Tala restore and protect woodland and wildlife through its partners The Heat of England Forest and the National Forest Foundation.
Talas company culture is wrapped up in eco-friendliness as it operates a meat-free catering policy for all events and aims to shed light on the environmental impacts of meat consumption.