Ministry of Public Works & Housing Encourages Involvement of Construction Supply Chain Stakeholders in Supporting the Infrastructure Development Acceleration
2 min read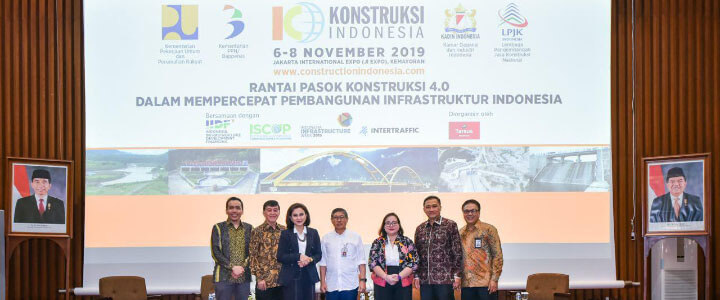 The challenges of future infrastructure development are increasing. Looking at the 2020 state budget, the infrastructure budget allocation increasing to IDR 419.2 trillion, a 4.9% increase from the previous year. On top of that, there is also plan to move the National Capital City (IKN) which requires IDR 466 trillion of total physical financing. This shows the high target and achievements of infrastructure development within 2020-2024.
To support these targets, the construction industry supply chain readiness is very required. "Therefore we need a strategy to improve industrial supply chain performance construction that is not only effective, efficient, but also dynamic", said the Director General of Construction Development, Ministry of Public Works & Housing, Syarif Burhanuddin, while opening the Industry Briefing (Konstruksi Indonesia 2019 Launching) which highlights "Construction Supply Chain 4.0 in Supporting the Acceleration of Infrastructure Development", Tuesday (09/10) at Jakarta.
He further stated that until now there are still management problems in construction supply chain such as: no accurate and comprehensive information on construction material and equipment needs, construction material and equipment shortages and expensiveness still occur, the high dependence of imported goods, the uneven distribution on logistical support system, and no specific regulation on material and construction equipment supply chains.
For this reason, the Government encouraging various efforts to support the construction supply chain as well as providing solutions to various obstacles. These various efforts include: regulation of construction supply chain based on the Construction Services Law number 2 of 2017, which encourages stakeholders' role in construction supply chain, optimisation of domestic materials and equipment production and usage, construction works and specialist contractors competence development, encourage integrated system for construction material and equipment information, and so on.
"To support the supply chain development, Information and Technology (Industry 4.0) related to construction materials and equipment is needed. As directed by the Minister of Public Works & Housing, the 4.0 industrial revolution marked by the development of information technology and communication usage which must be utilised maximally to support the infrastructure development acceleration", said Syarif. According to the Director General of Construction Development, the impact of digitalisation on construction supply chain provides advantages such as: reducing logistics costs, investment escalation in material and construction equipment industry, competitive prices on product, and so on. Besides IT utilisation, Syarif also stressed that all stakeholders' role, contractors, consultants, entrepreneurs engaged in construction supply chain industry and other construction industry players are needed. To make it happens the Ministry of Public Works & Housing held the Konstruksi Indonesia event, which had been held annually since 2003.
Konstruksi Indonesia 2019 will be held on 6 – 8 November 2019 at Jakarta International Expo Indonesia, and will be a platform for all construction industry players, both local and international, to seek the latest innovations and create new solutions to support the construction industry development, especially in the supply chain system. "Through Konstruksi Indonesia 2019, we expect to see improvements in the National Construction Supply Chain with the support of Industry 4.0 (Information Technology) "said Syarif Burhanuddin.
In addition to the Director General of Construction Development, the event featured competent speakers including: Director of Private Government Cooperation and Design, Ministry of National Development Planning, Sri Bagus Guritno, KADIN's representative Dandung Sri Harminto, Chairman of Construction Services Development Board (LPJK) Ruslan Rivai, Chairman of Green Product Council Indonesia (GPCI), Hendrata Atmoko and Managing Director of Tarsus Indonesia, Tri Turturi.
KADIN's representative mentioned that the private sector is ready to support infrastructure development acceleration process. Dandung hopes that the private sector can play an active role and take the opportunity on future infrastructure project opportunities that will be built going forward. While the Chairman of Construction Services Development Board (LPJK) revealed its readiness by holding construction worker skills competition and certification. Konstruksi Indonesia 2019 will showcase variety of construction products and services, as well as solutions and the latest innovation, which brings together 12,000 event participants consists of civil engineering companies, contractors, consultants and stakeholders from construction & infrastructure industry.
"This event is expected to provide a complete picture of the latest trends and opportunities in Indonesia construction industry. Through a platform that will directly bring together local and international professionals, Konstruksi Indonesia 2019 will present solutions and the latest innovations in construction industry that can give immediate contribution on infrastructure development acceleration", said Tri Turturi, Managing Director of Tarsus Indonesia, as the Event Organiser. Konstruksi Indonesia 2019 will be held in conjunction with ISCOP, Indonesia Infrastructure Development Financing (IIDF), Indonesia Infrastructure Week (IIW), and Intertraffic Indonesia. For more information visit www.constructionindonesia.com.