The Premier North American EV Industry Gathering Comes to San Jose, CA Next Week
2 min read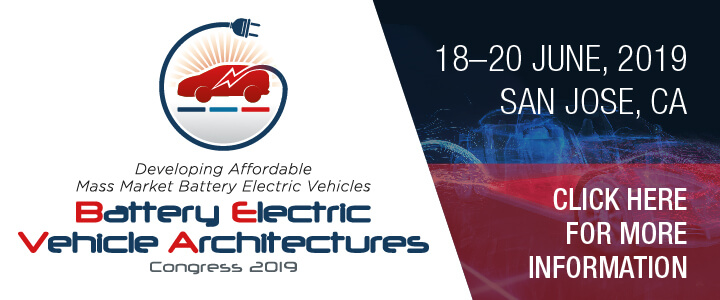 Optimisation of whole vehicle design, and cutting costs through integration of the battery pack, systems and components into body structure design, has become an increasingly important challenge for both start-up and established OEMs in their quest to ultimately design and manufacture the mass market BEV. Meanwhile, cutting-edge, brand new battery technologies and fast- charging solutions are being introduced that will lead to higher efficiency and reduced costs through greater integration.
Reflecting these technical innovations and latest industry developments, the BEVA Congress will be taking place at the Holiday Inn San Jose this June 18-20, bringing key players together to discuss the most critical areas of battery integration into body structure. How can the industry develop affordable vehicles that better meet customer needs? How can battery management and packaging solutions be developed and integrated to improve range and cost? What's happening in the fast charging market? All these issues and more will be on the agenda at the industry's premier EV event.
Last year's Congress in San Francisco fully sold out and interest in this year's event looks set to be greater still. With the support of leading vendors including Hydro (Extruded Aluminium Partner), Luna (Sensing Partner), TOX Pressotechnik (Components, Press & Customer Machinery Partner) and National Instruments (Co-Sponsor), the Congress will also feature an interactive workshop hosted by sponsor Henkel.  This will focus on chemistry solutions that are accelerating efficiency, reliability, battery life and safety from the individual cell level to the battery pack, power conversion systems and control units.
The Brand New Agenda For June 18-20 Directly Addresses Real Practical, Technical & Engineering Issues From A Whole Vehicle Perspective Including:
Design and optimisation of dedicated (native) EV platforms, architectures and systems integration to reduce cost and increase affordability;
Balancing attribute trade offs between cost, range (battery size), functional performance and customer usage;
Planning for the next generation of battery technologies and their impact on vehicle design; 
Adoption of innovative light-weighting strategies for the body structure and battery integration;
Energy efficient thermal management of cabin, battery and electrified drivetrain;
How to achieve EV safety, stiffness, durability and NVH and EV objectives;
Design for assembly and adoption of advanced manufacturing processes to reduce EV complexity and cost.
OEM-led Expert Speaker Line-up
Leon Kaunitz
Director of Body, Structural Engineering and Advanced Technology
NIO
Elie Tohme
Director, Body Engineering
Karma Automotive
James Truskin
Technical Fellow, Body Advanced Architecture
Fiat Chrysler Automobiles (FCA)
Lewis Horne
CEO And CTO
Uniti
Ahmed Ayoub
Mechatronic Systems Engineer
Electra Meccanica
Mohan Raj Krishnaswamy
Technical Specialist, Advanced Composites – Hyper Electric Cars
CH Auto / Qiantu Motors
Oliver Kuttner
CEO
Edison2
George Johnson
EV Infrastructure Specialist
Chanje
Thomas Westrum
Senior Vice President, Head of Digital
Uniti
Brooke Virost
North American e-Mobility Business Development Manager, Acoustic and Structural Solutions
Henkel Corporation
Tomasz Salamon
Lead Engineer for Controls, Hybrid Electric Systems
Ricardo
Dr. Ing. Fouad el Khaldi
Strategy & Innovation General Manager
ESI Group
Sponsorship & Exhibition Opportunities Now Open For 2019
Make sure you have a presence on-site to connect and network with EV and autonomous vehicle senior engineers and technology decision makers from both established and start-up OEMs from North America and overseas.
Please contact the ABC team at sponsorship@american-business-conferences.com to reserve strategic speaking slots and / or exhibition booths or to request a floor plan.