How to Make Your Business Travel More Environmentally Friendly
2 min read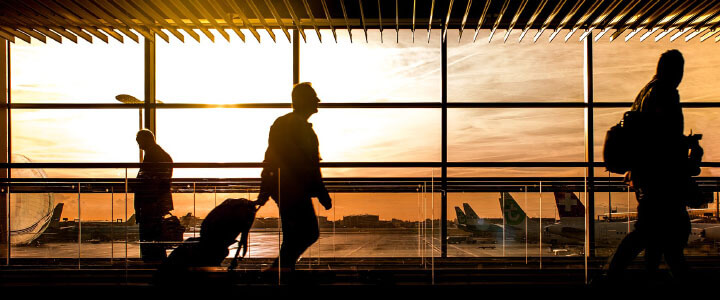 When it comes to travelling on business you often forget the impact that jet-setting can have on the environment. As we learn more about the devastating impact of global warming, it is important as businesses to do our bit to offset our carbon footprint and show that your brand is invested in caring for the environment and making things as eco-friendly as possible. To help, we've put together a few of our favourite recommendations on how to make your business travel greener.
Teleconference or Videoconferencing
Thanks to technology it is not always vital to take a business trip abroad. You can now instead of paying for the costs of travel and the environmental implications that entails, opt for a teleconference or videoconference call. This call could simply be the first step in checking to see if a meeting in person is entirely necessary. Or you could save both money and time by opting for these calls in the future instead of face to face meetings.
Take a Train or Bus Instead of a Plane
If it's feasible, take a bus or train to your destination. There may be certain trains that are aimed at business professionals and will offer you a faster alternative than the hassle of flying.  Not only will you have a less stressful journey but you will be choosing the greener alternative.
If You Have to Fly, Fly Direct
If your only option is to fly, then opt for the direct route. This can reduce your emissions by up to an impressive 50% compared to changing flights. Taking the most direct route avoids creating more emissions from more takeoffs, landings, and taxis for your plane. If you're flying during the day, choose economy flights as this will allow more people on the plane and each person will create fewer emissions.
Pack Light
Another tip for flying is to pack light. If possible it is recommended that you only bring with you a small carry on bag, as the more luggage a plane has and the heavier it is, the more fuel it will use.
Schedule Business Trips Back-to-Back
Save time, money and resources by not flying home in between business trips and travelling to several cities back to back. Although this can be a tiring prospect, the financial and environmental benefits will make it worthwhile.
Use Public Transport
Once you are at your destination, opt for public transport, which is often a quicker, cheaper alternative. In most cities opting for the subway or metro is much more time effective than sitting in a cab in rush hour traffic. If you are heading to a conference, there may be group-arranged shuttles and charters so it's a good idea to use these resources, wherever possible.
Share a Ride
If you want to opt for a taxi, most cities will now have a hybrid taxi option. A better idea is to share this cab with your co-workers. Schedule to travel at the same time, so you can not only save by splitting the cost, but you can help reduce your environmental impact.
Rent a Hybrid
If the only option is to rent a car, then opt for a hybrid. Whatever extra initial costs you might pay for the car rental you can justify with petrol savings.
Stay in Green Hotels and Venues
Environmentally friendly hotels are becoming more popular and affordable. They are the ideal option for when staying abroad for a business trip. Look for LEED-certified hotels and plan to stay at the most eco-friendly accommodation you can find. This is not only a good way to support a green cause, choose the accommodation that supports sustainability and the local community. If you use a a travel provider, they will be able to source this for you.
Be a Green Guest
This is a simple way that you can support the environment whilst on a business trip. By being a green guest, consider every decision you make from reusing towels to using the recycling bins. If you want to do this whilst also saving money, why not bring your own filtered water bottle, which will save you from buying plastic on the go.
Be conscious of the little things you can do, from switching off your appliances when you leave your room and turning off your A/C. It is by taking these simple steps that you can protect the environment whilst still achieving for your business.
Bio
Written by Stuart Cooke, Blog Editor at MyBaggage.com a luggage delivery service helping travellers reduce their carbon footprint.