The Biggest Names in Energy Storage Come Together in Sydney
1 min read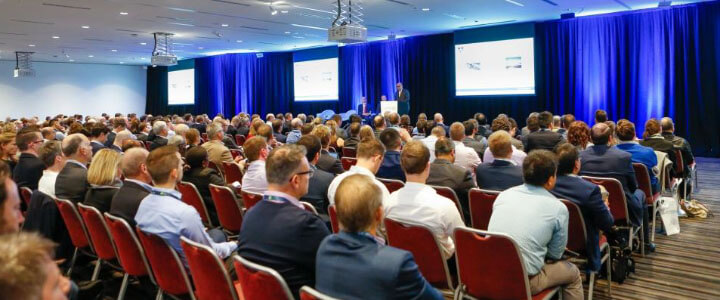 The Australian and international energy sector will meet in Sydney from 13–14 June to discuss the latest in storage technologies and how they are enabling the transition to new energy systems and a more reliable grid.
Sydney's International Convention Centre will be host to the 2019 Australian Energy Storage Conference and Exhibition (AES 2019), the premier event for opportunities in energy storage.
This year's theme, Energy Storage – The Great Enabler, will feature the biggest players in the industry exploring the latest in projects, technologies and processes for large-scale and commercial energy storage.
Thought-leaders and energy executives from around the world will showcase case studies and discuss topics including utility applications of energy storage technologies, the role of microgrids, grid-scale storage investment and current storage projects, as well as a look at where the sector is headed.
The combination of local and international perspectives will reveal similarities in storage challenges worldwide and inspire new approaches for grappling with Australia's most pressing industry issues.
The event will also run a free-to-attend exhibition featuring cutting-edge technologies available on the market.
The conference also provides many networking opportunities, including drinks and a dinner cruise, where attendees will get the chance to mingle with the experts and chat with industry peers in both formal and informal settings.
Meet the Speakers
The first round of Australian and international expert speakers have been announced.
Robert G Morgan, CEO of Energy Storage at GE Power in the United States, brings a 30 year career in global energy markets to his keynote presentation, where he will address critical questions about corporate strategy and project development in the storage sector.
Marija Petkovic, Founder and Managing Director of Energy Synapse, will employ her expertise in wholesale energy markets as she discusses risks and opportunities for battery storage in the
National Electricity Market.
Samantha Hilliard, an Analyst at Clean Horizon in France with a Ph.D. on the topic of clean hydrogen production, will present on best practices in storage system procurement which she learned from her role as a connector of energy storage vendors and buyers.
Stephen Bauer, Head of Green Gas Technology at RAG Austria AG, will delve into his experience with developing and managing the Underground Sun Storage and Conversion Projects, and the crucial role of energy storage in balancing climatic variations from renewable generation.
Jes Donneborg, Executive Vice President at Aalborg CSP A/S, has been instrumental in developing large-scale solar thermal systems in Denmark and Europe, and will explain the promising nature of Thermal Energy Storage (TES) technology.
Jon Norman, President and COO of Hydrostor in Canada, will discuss progress on Hydrostor's cutting-edge Advanced Compressed Air Energy Storage (A-CAES) project outside Adelaide and
key takeaways for the long-duration energy storage industry.
Craig Evans, President, CEO & Founder, ESS Inc, will explore how you can optimise microgrids with long-duration energy storage assets in both grid-connected and off-grid applications.
And Alberto Tubella, Australia Asia Pacific Area Manager for Cegasa Portable Energy, will explain a compelling case study involving off-grid solar systems in his home country of Spain.
More speakers and full program still to be announced.
The 2019 Australian Energy Storage Conference and Exhibition will run from 13–14 June at the International Convention Centre, Sydney. Conference tickets are limited so register today so that you don't miss out! Register at australianenergystorage.com.au