How to Boost the Eco-Friendliness of Your Buy to Let Investment
2 min read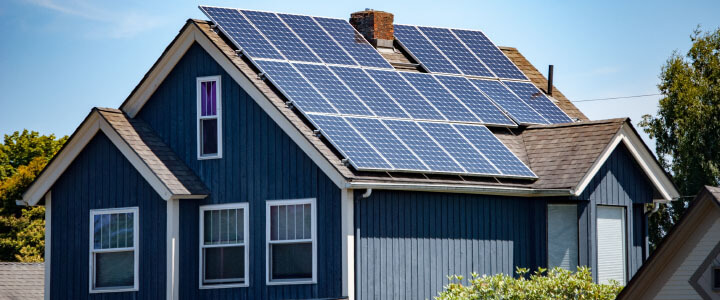 As more people become eco-conscious, each part of our lives and the industries we use are looking for ways to boost their eco-friendliness. From world-renowned fashion houses, leading beauty brands and reputable travel companies, these sectors feel they all have a duty to make the environment a better place.
Consumers often see environmental issues as a significant factor when choosing to purchase a company's products or services. With this being said, investors who purchase buy to let properties are aiming to create a more environmentally friendly property to satisfy a broader target market. The main aim as an investor is to appeal to a large range of tenants and ensure your property remains attractive to those seeking a place to rent.
Millennials are known to be the most eco-conscious, and therefore are more likely to shop eco-friendly than other generations. As the cost of living is becoming less affordable, this has resulted in a rising trend in renting. This has enabled a demand for rental properties across the UK, as more supply is needed to cater for the increasing amount of people requiring suitable accommodation.
One way to ensure your property is always in demand is to make your buy to let investment eco-friendly. So what changes can you make to your property to ensure it meets the environmentally friendly requirements that a 21st-century tenant desires?
If you currently own a new build property, then you are already halfway there. This particular property type has a reputation of being more eco-friendly than older properties due to higher levels of energy efficiency. New builds are built with more insulation throughout the walls, floors and roof, meaning that it is harder for heat to escape outside of the build. This allows the building to retain more heat during the colder months — requiring less heat from other sources like heaters and radiators.
The average new build homeowner spends approximately £443.30 on energy bills per year. If you compare this to those that own older builds you will notice a dramatic difference in cost. Owners of older properties, like period buildings, can spend around £1,072 per year. Here, you can see a stark correlation between the age of a property and how eco-friendly your home can be.
Throughout a new build, the sleek modern finishes teamed alongside the up to date appliances are not just more efficient; they also entice a wider range of tenants. This is due to lower running costs, hence why they have become so popular over recent years. Investing in a new build property is a step in the right direction to helping the environment. This is a great way to do your bit for the world, while also making significant savings.
Perhaps you wish to go that extra mile in helping the planet, why not look into utilising some smart home technology throughout your home? This is an emerging trend that has been at the forefront of many households over previous years. Smart home technology can be used as a way of creating a more eco-friendly home by reducing energy use.
Smart lighting is an example of this, as it helps to eliminate unnecessary spending on powering lights you aren't using. These lights have a function that automatically switches off when a person is not in the room. This is one of the best ways to cut a tenant's utility bills as well as helping the environment in the process. UK based property companies use smart features throughout their developments which can be used as the main selling point to attract prospective tenants.
If you are interested in getting started with property investment, look online for more advice and find out how to make your investment more eco-friendly. RW Invest offers a helpful guide to your first property investment. This company also have developments that offer smart features, providing properties with modern low carbon technology and smart lighting functions
Smart technology comes in a variety of features such as ground source heat pumps and solar panels as well as the addition of renewable energy sources. Even something that seems as insignificant as a dripping tap can which can accumulate a significant amount of costs. Did you know this wastes around five gallons of water a day? Of course, smart technology is a great way to entice new tenants to your property.
However, this becomes inefficient if you have small maintenance issues that need to be resolved. Ensure you check everything is working the way it should be before your new tenant moves in. Not only can this give you a bad reputation, but it will also lead to higher monthly bills.