Registration Opens for 2nd Annual Power Week Africa in Johannesburg
1 min read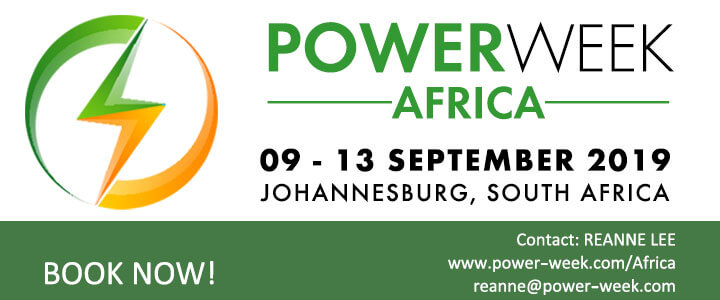 The 2nd annual Power Week Africa conference on 9 – 13 September 2019 in Johannesburg, South Africa is now open for registration. It promises an abundance of opportunities to network with C-level executives in the African electric power energy industry ranging from regulators, national power companies, financial institutions, investors, renewable IPPs, government ministries, policy makers, law firms and many more.
With the diverse pool of internationally renowned participants offers valuable insights on an extensive range of topics that concern the African electric power & energy industry today – financing, investment & guarantees, supply & demand, project management, electricity markets, governance, political risk, workforce development, tariffs, privatisation, renewable energy, solar, power generation, accessibility, affordability, technological advancements, mini grids, energy storage, off-grid solutions, managing losses and more.
The high-profile speakers from the continent of Africa and beyond are:
Jeff Radebe, Minister of Energy, Department of Energy, South Africa
James Momoh, Chairman, Nigerian Electricity Regulatory Commission
London Mwafulilwa, Chairman, Copperbelt Energy Corporation, Zambia
Eddie O'Connor, Chairman, Mainstream Renewable Power, Ireland
Jonathan Amoako-Baah, CEO, GRIDCo, Ghana
Mark Swilling, Chairman, Development Bank of Southern Africa, South Africa
Agatha Nnaji, Managing Director, Geometric Power, Nigeria
Cheikh Bedda, Director, African Union Commission, Ethiopia
Josef Abramowitz, President & CEO, Gigawatt Global, Israel
Garba Haruna, CEO, Kaduna Electricity Distribution Company, Nigeria
Joseph Mutale, Professor, The University of Manchester, United Kingdom
Oumarou Hamandjoda, Deputy CEO, ENEO, Cameroon
Alfred Mwila, Director, Energy Regulation Board, Zambia
Benjamin Mugisha, Senior Underwriter, African Trade Insurance Agency, Kenya
Saïd Mouline, CEO, Moroccan Agency for Energy Efficiency, Morocco
Thembisile Majola, Former Deputy Minister of Energy, South Africa
Valérie Levkov, Senior Vice President, EDF, France
John Omollo, Chief Risk Officer, Export Credit Insurance Corporation, South Africa
Lisa Pinsley, Director, Actis, South Africa
Maher Chebbo, Chief Business Innovation Officer, GE Power, France
Wim Jonker Klunne, Lead Coordinator, EEP Africa, South Africa
Snehar Shah, General Manager, Azuri Technologies, Kenya
Peter Oldacre, Head of Origination & Investment, Bushveld Energy, South Africa
Kannan Lakmeeharan, Partner, Mckinsey & Company, South Africa
Sampson Mamphweli, Director, Centre for Renewable and Sustainable Energy Studies, South Africa
…and many more
The Power Week Africa Conference will also discuss on:
How to secure financing for power/energy infrastructure projects
Key renewable energy developments across Africa and hear expert opinions on the optimal "renewable energy mix"
The measures Africa can take to overcome the challenge of remote area connectivity and achieve greater electrification rates
Current trends in solar prices and the impacts new solar technologies bring to the table
Advancements in cutting-edge technologies and how Africa can access these innovations
Identify solutions to increase capacity development in the power/energy sector
What Africa needs to do attract investment and improve its long-term investment security in the power/energy sector
Establishing cost-reflective tariffs and the solutions to non-economical tariffs
Changing electricity markets, privatisation and how power can be made affordable for all
The approaches Africa can take to achieve a sustainable energy supply
How PRI/PRG guarantees are granted by DFIs
Email Reanne Lee to register your attendance before 21 June 2019 to enjoy early bird discount. For more information please log onto www.power-week.com/Africa.