International Delegations at the Annual Power Week Asia in Singapore
1 min read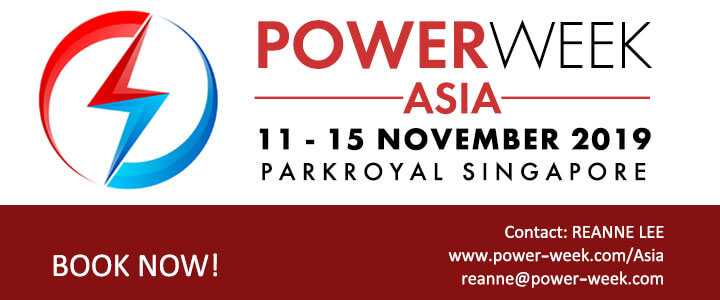 The 5th annual Power Week Asia Conference will be held from 11 to 15 November 2019 at the ParkRoyal on Beach Road Hotel, Singapore. Power Week Asia attracts the industry leaders from national power companies, government regulators, policy makers, renewable & IPPs, investors and suppliers from around the globe. With C-level speakers and attendees all under one roof, it offers the chance to learn the success strategies and pitfalls of notable power projects.
The conference features 20+ engaging sessions covering policy & regulations, global energy market outlook, fuel & electricity market, solar technology, energy storage, grid technologies, digitalisation, power generation efficiency, electric power transmission, power plant & power projects, investment & financing, solar & wind tariffs and many more. Power Week Asia is the most anticipated event, not to be missed!
Global energy leaders who have confirmed to speak:
Ma Jinlong, Vice President, APEC Sustainable Energy Center, China
Shinichi Imai, Managing Director, TEPCO Power Grid, Japan
Patana Sangsriroujana, Deputy Governor-Strategy, Electricity Generating Authority of Thailand (EGAT), Thailand
Haji Husaini Bin Husin, Chief Grid Officer, Tenaga Nasional Berhad, Malaysia
Tor Inge Stokke, President, SN Power, Philippines
Paddy Padmanathan, President & CEO, ACWA Power, Saudi Arabia
Dan Neil, COO, MERALCO Power Generation, Philippines
Rick Truscott, COO, CLP Power, Hong Kong
Adrian Lembong, Director of Technology, Adaro Power, Indonesia
Simon Li, President and General Manager of Asia Pacific Project Business Unit (APBU), Trina Solar, China
Alex Hewitt, CEO, CWP Renewables, Australia
Lionel Steinitz, CEO, LYS Energy, Singapore
Petteri Härkki, Managing Director, Pöyry, Thailand
Anand Menon, CTO, Eng. & Technology, Siemens, Malaysia
Dany Qian, Vice President, Jinko Solar, China
Sujay Shah, Executive Director, Cleantech Coverage, Standard Chartered Bank, Singapore
Sunil Gupta, Senior Vice President & Head, Renewable Energy, Sembcorp Industries, Singapore
Laurence Kwan, Director, Energy, Sunseap Group, Singapore
Janne Lautanala, General Manager for Digital Foundry, Wärtsilä, Singapore
Lenita Tobing, Partner, PwC, Indonesia
Raju Shukla, Founder and Chairman, Cleantech Solar, Singapore
James Allan, Director, Frontier Economics, Singapore
… and many more
The Power Week Asia will feature 6 supplementary workshops addressing cutting edge topics with Real Examples and Case Studies, including, Energy Utilities Regulation & Policy, Energy Storage, Grid Technologies, Power Purchase Agreement, Mastering Renewable & Alternative Energies and Clean Energy Opportunity & Risk Analysis.
The Power Week Asia will also discuss:
How to deal with issues and challenges of regulatory uncertainties.
The possibilities and threats for deregulation in power from policy makers' point of view.
The up-to-date insights of global energy market trend and get to know what to expect for future electricity market in Asia.
The impacts and solutions for resources shortage issues.
How to handle fuel price volatility and how will the fuel prices affecting electricity market.
The right energy transition strategy, execution and portfolio management for power and energy company.
Opportunities for digitalisation in power sector, including the potential of blockchain application, Power to X technology and Internet of Things (IoT).
New technology trends by understanding the development of solar panel, energy storage & smart grid technologies.
The strategies to minimise the cost of power generation.
Methods to attract private investing in emerging market and financing new technology in energy industry.
Technical know-how in power plant development and how to mitigate the technical risks in power plant projects.
Email Reanne Lee to register your attendance. For more information, please log onto www.powerweek.com/Asia.