The Big 5 Solar: Bringing Solar to Dubai's US$279.4bn Urban Sector
2 min read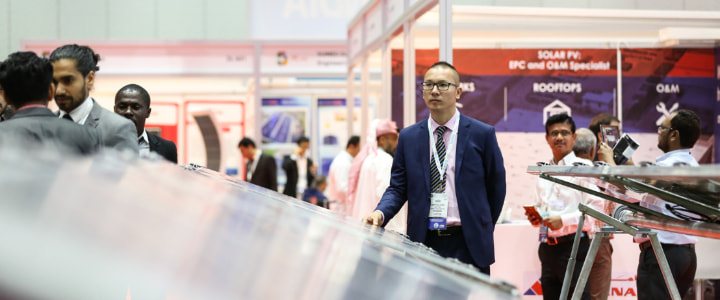 After a successful launch edition in 2017, The Big 5 Solar will return under the Patronage of the Ministry of Energy & Industry, United Arab Emirates, to showcase solar energy solutions for the construction industry at Dubai World Trade Centre from 26-29 November 2018.
As part of The Big 5, the largest construction event in the Middle East, The Big 5 Solar will display the latest solar innovations and solutions from top brands, offer free access to industry leading education sessions, and host the high-profile Global Solar Leaders' Summit.
Josine Heijmans, Portfolio Director at dmg events comments: "We are excited to kick-off the second edition of The Big 5 Solar this year with a unique focus on bringing solar innovations closer to the wide opportunities in the Middle East construction industry."She adds: "Buildings account for 40% of energy consumed in cities and with over 5000 active projects worth US$ 279.4bn ongoing in Dubai's urban construction sector alone, there is no better time than now to showcase solar solutions to construction professionals."
The Big 5 Solar will display the latest in solar innovations for the construction industry across four of the most prominent product sectors including: Photovoltaics (PV), Solar Thermal Technologies, Energy Storage, and Solar Technology and Related Services.
"Construction is a very big market for us because of the logistical difficulties faced on project sites," says Thair Al Fararjeh, General Manager for Enviro Cooling Systems. "We are currently working on a joint project to develop a smart caravan offering workers the complete off-grid solution for all electronics, we will cover the AC solution in this case."Aside from off-grid air conditioning solutions, the company will showcase mixed-grid units at The Big 5 Solar that will generate zero cost during daylight, only using power in the evening.
With off-grid solar solutions becoming increasingly popular in the construction industry, The Big 5 Solar will showcase many such products. Enerray for example operates in the global off grid market through the company Plug the Sun, a firm capable to offer customizable solutions and innovative and unique products for rural electrification and urban living.
"We recently launched a new product: RAYGO150. It's a portable solar home system with Pay as You Go feature that offers clean DC power to recharge phones and DC small devices," says Antonio Capua, Business Development and Sales Director at Enerray.
Exhibitor NeOn Energy also look forward to providing solar solutions for the urban sector with their compact modules. "Space saving properties are unique to our photovoltaic and thermal combined (PVT) module, making them ideal for residential and commercial applications," says Mr Sanjayan Marat, Executive Director MENA region for NeOn Energy.
The Solar Talks
More than just an exhibition, The Big 5 Solar will also bring together the industries' pioneers to host four days of free-to-attend and CPD (continuing professional development) certified education sessions.
The Solar Talks will cover popular topics from Commercial and Industrial Solar Growth, Building Integrated Photovoltaics (BiPV), the latest Solar Hybrid Systems in the UAE market and the latest in Technological Innovations in Solar Panel Manufacturing.
Inviting architects, engineers, sustainability specialists, and developers to his session, Head of Architecture Department at Mimar Emirates Consultant Imad Kayyali says: "The integration of solar energy systems in architecture and urban planning presents exciting trends right now including more flexible, variable and easy uses of solar panels for places such as parking shades and building facades."
Global Solar Leaders' Summit
Belén Gallego, CEO & Co-Founder at ATA Insights adds: "It has never been more important for the solar and construction industries to come together as distributed solar markets are raising through the ranks to be an important part of the climate change solution. This event is a great opportunity for these two industries to meet, discuss and do business."
On 27th November 2018, Belén Gallego will sit with over 25 high-profile regional and international speakers at the Global Solar Leaders' Summit. Speakers will H.E. Dr. Matar Al Neyadi, Undersecretary at Ministry of Energy (UAE), Turki Al Shehri, Head of Renewable Energy Project Development Office at Ministry Of Energy, Industry & Mineral Resources (Saudi Arabia), Rida Mulyana, Indonesian Ministry Of Energy And Mineral Resources – Director General Of New, Renewable Energy And Energy Conservation, and Rabia Ferroukhi, Head of Policy Unit And Deputy Director of Knowledge, Policy And Finance at International Renewable Energy Agency, Paddy Padmanathan, CEO for Acwa Power (Saudi Arabia), and more.
Under the topical theme 'Solar Solutions for Construction', the 4th edition of the Global Solar Leaders' Summit will address, assess and analyze the way forward for key players in the solar and construction industries.
The Big 5 Solar returns with existing support from leading associations including the Middle East Solar Industry Association (MESIA) and Clean Energy Business Council (CEBC), and welcomes fresh backing from industry heavyweights: GCC Association for Renewable Energy and Sustainability – Green Gulf, Architectural Solar Association – ASA, BPVA – British Photovoltaic Association, Solar GCC Alliance, Jinko Solar, Campion, S5, We Link Group, Sumec, Noor Solar, Sunew, Verditek, Heliatek, Enviro-Smart, NeOn Energy, and Enerray.
Organised by dmg events, The Big 5 Solar is free to attend and will run from 11AM to 7PM daily at the Dubai World Trade Centre. The event runs as part of The Big 5, alongside The Big 5 Heavy, Middle East Concrete, HVACR Expo, and Urban Design & Landscaping Expo, offering a one-stop shop for all things construction from concept through to design.
To know more about The Big 5 Solar click, www.thebig5solar.ae or Register HERE!
For more information contact:
Elisha Dessurne
Public Relations Executive at dmg events
elishadessurne@dmgevents.com
+97144380798
+971564418511