Leading Solar Summit Returns with a New Focus on Construction This November
1 min read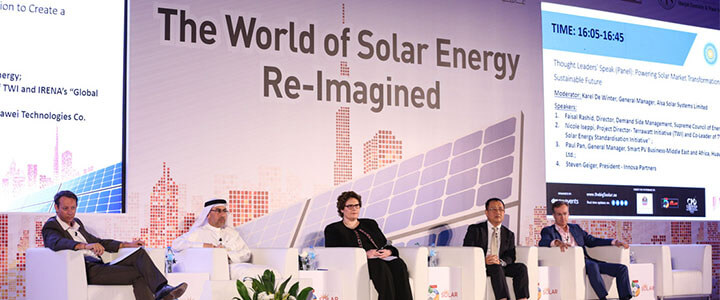 Under the Patronage of the Ministry of Energy & Industry, United Arab Emirates, the 4th edition of Global Solar Leaders' Summit (GSLS) will return to Dubai World Trade Centre as part of The Big 5 Solar on 27 November 2018.
Under the topical theme 'Solar Solutions for Construction', the 2018 summit will bring together government delegates, industry decision makers and thought leaders to discuss the latest industry developments and debate the future of solar in the region. Belén Gallego, CEO & Co-Founder at ATA Insights (Spain) reflects on the new theme:
"It has never been more important for the solar and construction industries to come together, as distributed solar markets are raising through the ranks to be an important part of the climate change solution. This event is a great opportunity for these two industries to meet, discuss and do business."
Belén Gallego will join over 25 high-profile regional and international speakers at the summit, including H.E. Dr. Matar Al Neyadi, Undersecretary at Ministry of Energy (UAE), H.E. Dr. Nasser Saidi, Chairman for Clean Energy Business Council (MENA), Turki Al Shehri, Head of Renewable Energy Project Development Office at Ministry Of Energy, Industry & Mineral Resources, (Saudi Arabia), and Rabia Ferroukhi, Head of Policy Unit And Deputy Director of Knowledge, Policy And Finance at International Renewable Energy Agency, Paddy Padmanathan, CEO for Acwa Power (Saudi Arabia), and more.
Paddy Padmanathan, CEO at ACWA POWER (UAE) comments:
"As the UAE and the wider region intensify efforts to diversify their energy mix through resources such as solar, platforms where knowledge and expertise can be shared play a key role in overcoming the existing challenges."
He concludes: "We look forward to being part of this initiative and interacting with peers and industry thought-leaders to exchange insights into where the market is going and how we can support it."
With over 100 delegates expected to attend – from Government Officials and Ambassadors, to Architects and Project Managers – the event will guarantee exclusive networking opportunities to meet and greet with solar industry leaders on the sidelines of the summit.
In 2017 the Global Solar Leaders' Summit was opened by His Excellency Dr. Matar Al Neyadi, Undersecretary of the Ministry of Energy (United Arab Emirates). With a focus on Solar Regulation and Policy in the GCC, it welcomed delegates from over 60 countries and featured the Renewable Energy Ambassador Award.
GSLS will run alongside The Big 5 Solar (26-29 November 2018), where attendees can discover and source the latest solar solutions for construction showcased across dedicated product sectors: Photovoltaics (PV), Solar Thermal Technologies, Energy Storage, Solar Technology and Related Services.
Secure your seats for the Global Solar Leaders' Summit HERE and enjoy discount opportunities on early-bird tickets.
To know more about The Big 5 Solar, visit www.thebig5solar.ae
For more information contact:
Elisha Dessurne
Public Relations Executive at dmg events
elishadessurne@dmgevents.com
+97144380798
+971564418511