EV Specialists Are to Conquer the Challenges of Transformation to E-Mobility in Berlin on November 7th
1 min read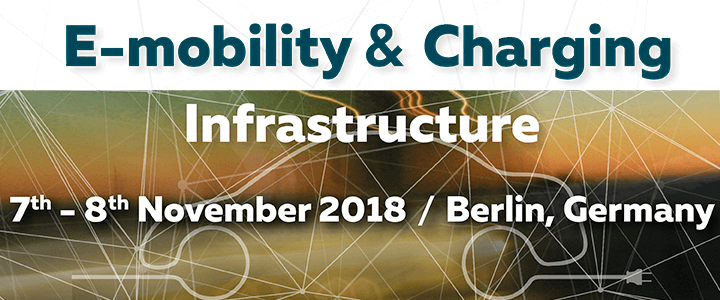 World's leading professionals will gather together in Berlin on November 7-8 at the E-mobility & Charging Infrastructure Forum to address and find solutions on how to successfully transform the transportation sector to electric mobility and significantly reduce local air pollution, climate change impacts and oil usage.
Electric Vehicles are soon to dominate the urban transportation sector, but a lack of charging infrastructure still presents a barrier to growth in the electric vehicle market. Although electricity itself is ubiquitous, its transmission, distribution, and retail charging options for electric vehicles are not.
To help you transition to e-mobility and move forward towards a consumer-centric mobility market, we have invited over 40 industry professionals to guide you through mobility integration processes. In 2 days of interactive sessions, panel discussions and networking, attendees will learn how to deal with some of the following challenges:
Enabling new charging-related business models
Creating a superior user journey with connectivity
Overcoming challenges of the fast charging infrastructure
Maintaining a balance between EVs and grids by strengthening and modernizing the latter
Improving e-mobility with wireless charging
Complying with the Calibration Law
Integrating ultra-fast charging solutions within the power grids of smart cities
Developing smart vehicle-to-grid integration to face growing energy demands from EVs
Using battery storage to help charge the EV market
Amongst event participants are directors, executives, heads, presidents and managers responsible for e-mobility, electric powertrain, PHEV, Advanced Engineering, EV Innovation, Charging Infrastructure and more from automotive, utilities and renewable energy industries. For more information about speakers, schedule, prices and registration details please check the website: https://www.emobility-charging-infrastructure.com/ or request the agenda now.
About BIS Group s.r.o.
We are the Business Intelligence Services Company based in Europe. We believe that knowledge is the most powerful asset, especially, in the context of time and money. This inspires us to work with top professionals, global leaders and experts active in Oil & Gas Energy, Renewable Energy, Automotive, Supply Chain and Project Management.
We are an exclusive platform supporting ambitious, progressive and forward-thinking companies and empowering them with the best market practices for today's fast changing markets. To learn more about us please visit www.bisgrp.com.
To get more information about the event or request an agenda, please contact Lina Kozina at linak@bisgrp.com, or call 420 27000 3435.