Past Attendee List for Benelux Infrastructure Forum Released
1 min read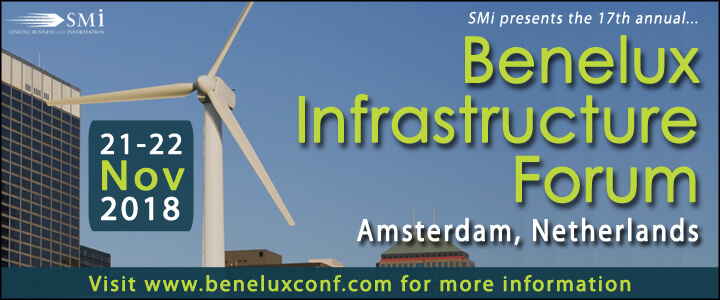 SMi Reports: The past attendee list for Benelux Infrastructure Forum has recently been released ahead of its 17th annual conference.
SMi's longest-running and most successful finance conference Benelux Infrastructure Forum is returning to Amsterdam, Netherlands on the 21st and 22nd November 2018 (www.beneluxconf.com/greenpr). This year's highly-anticipated event will focus on exploring new financing mechanisms and alternative markets for future sustainable investments in the Benelux region.
The two-day forum will provide attendees with the opportunity to meet, network and participate in panel discussions and debates with industry experts and professionals ranging from: banks, infrastructure developers, and institutional investors, to lawyers, government agencies, financiers and regulators.
This year's conference will also include an in-depth look at the different project financing models within the Benelux region for infrastructure projects, including: Public-Private Partnerships (PPP), institutional investment schemes, pension funds, debt financing, government funding, project refinancing, and many more.
In anticipation of the event, a past attendee list from the previous 2 years has been released on the event website to give prospective delegates the chance to see the leading industry professionals they can expect to meet and network with this November. Conference attendees from 2016 & 2017 included over 66 leading organisations, including regional and international attendees from: Netherlands, Belgium, United Kingdom, Germany, France, India, Luxembourg, Nigeria, Turkey, Denmark, and Japan.
Snapshot of Previous Attendees:
ABN AMRO Bank N.V
Alexa Capital
Allen & Overy LLP
Allianz Global Investors
Amsterdam Capital Partners
Aon EMEA North East
ASN Bank
Bank Nederlandse Gemeenten
Bilfinger
Bouwfonds Investment Management
CDP Capital
DEME Concessions NV
Diepenhorst de Vos en Partners (DVP)
DLA Piper
Dura Vermeer Groep N.V.
Ejigbo Local Council Development Area
European Investment Bank
European Long-Term Investors Association
Flemish PPP Knowledge Centre
Green Investment Group
Gulermak Heavy Industries
IIFS
KPMG
Liedekerke
Lydian CVBA
Macquarie Capital Limited
Marguerite Fund
MEAG Munich Ergo
NautaDutilh N.V.
Norddeutsche Landesbank Girozentrale
Northland Power Europe Inc.
Norton Rose Fulbright LLP
Oresundsbro Konsortiet
ParkWind
PMV
Port of Rotterdam
PwC Luxembourg
Shell Energy Europe B V
Simmons & Simmons
Van Oord
VolkerWessels
And many more…
The full list of past attendees, as well as attended job titles, countries and past sponsors, can be found on the download section of the event website. Interested parties can also download the latest brochure, keep up to date on key developments in the conference, and register their place at: www.beneluxconf.com/greenpr
Special early bird prices are available, book before June 29th to save £300, and before September 28th to save £100. Book online or contact Andrew Gibbons for sponsorship and delegate enquiries on +44 (0) 207 827 6156 or email agibbons@smi-online.co.uk
Benelux Infrastructure Forum
21st – 22nd November 2018
Apollo Hotel Amsterdam, Apollolaan 2, Amsterdam, Netherlands
Sponsored by Allen & Overy
________________________________________________________________________
About SMi Group: Established since 1993, the SMi Group is a global event-production company that specializes in Business-to-Business Conferences, Workshops, Masterclasses and online Communities. We create and deliver events in the Defence, Security, Energy, Utilities, Finance and Pharmaceutical industries. We pride ourselves on having access to the world's most forward-thinking opinion leaders and visionaries, allowing us to bring our communities together to Learn, Engage, Share and Network. More information can be found at http://www.smi-online.co.uk