Intersolar South America – 95% Booth Space Already Booked
2 min read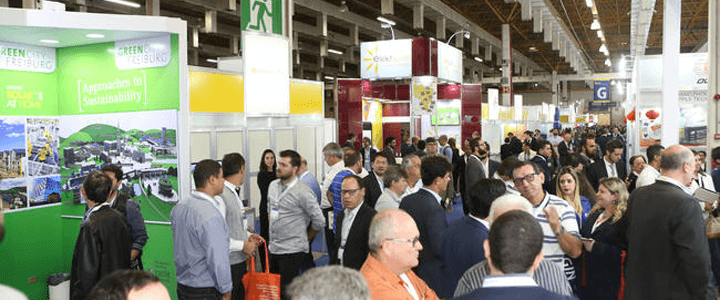 Latin America is at the global frontier for unsubsidized solar markets. With highest irradiation levels and fast growing demand the continent is positioned to be one of the most attractive regions for solar development. Market analysts agree that Latin America will account for over 10% of global solar demand by 2022. Spearheaded by several key markets such as Mexico, Chile, Brazil and Argentina, opportunities for solar PV are being pushed by clean energy generation targets, competitive auctions, corporate procurement and increased utilization of distributed generation. Currently, the region collectively has installed over 7 GW of solar PV, with an additional 40 GW expected to be developed by the end of 2022.
The promising developments in the Brazilian and Latin American PV Markets have an impact on the booking numbers for South America's largest exhibition for the Solar and Energy Storage Technologies.
If 2017 has already been a successful year for Intersolar South America, with 220 exhibitors, the expectations in view of the current booking numbers and requests are even higher for the 2018 edition. Especially since most returning exhibitors have enlarged their booth space and many new names will be on the exhibitor list.
Three months before Intersolar South America 2018 will open its doors, 95% of booth space has been booked already.
This is the foundation to look forward to a vibrant and enthusiastic atmosphere on the show floor. To enrich the exhibition experience the Innovation & Application Stage will be giving exhibitors the chance to present their innovations and solutions to the 12,500+ visitors. Workshops will provide hands-on information on technology.
The Intersolar South America Conference will present solar and storage experts during informative sessions and workshops to discuss emerging trends and technologies in today's renewable energy marketplaces.
The Conference will be supported by the Brazilian Photovoltaic Solar Energy Association (ABSOLAR) and the Brazilian Association of Solar Thermal Energy (ABRASOL), with their network of industry influencers, experts and leading associations. Additionally industry decision-makers from around the world and across the solar supply chain are scheduled to speak on new market policies, cutting-edge technologies and best practices. Attendees can look forward to a conference and workshop program that reflects the industry's evolving needs.
Intersolar South America 2018 will feature again the special exhibition ees South America and be co-located with ENIE + ELETROTEC.
For more information on Intersolar South America, please visit: www.intersolar.net.br
About Intersolar
With events spanning four continents, Intersolar is the world's leading exhibition series for the solar industry and its partners. It unites people and companies from around the world with the aim of increasing the share of solar power in our energy supply.
Intersolar South America is the largest exhibition and conference for the solar industry in South America. It takes place at the Expo Center Norte in São Paulo, Brazil.
The event's exhibition and conference both focus on the areas of photovoltaics, PV production technologies, energy storage systems and solar thermal technologies. Since being founded, Intersolar has become the most important industry platform for manufacturers, suppliers, distributors, service providers and partners in the global solar industry.
220 international exhibitors and more than 12,000 visitors from over 47 countries attended Intersolar South America in 2017. 89 speakers and more than 1,500 attendees discussed current industry topics and shed light on the conditions surrounding technological, market and political developments at the accompanying conference.
Intersolar South America 2018 will feature the special exhibition ees South America and will be co-located with ENIE + ELETROTEC.
With more than 25 years of experience, Intersolar has the unique ability to bring together members of the solar industry from across the world's most influential markets and solar supply chain. Intersolar exhibitions and conferences are held in Munich, San Francisco, Mumbai, and São Paulo, and Dubai. These global events are complemented by the Intersolar Summits, which take place in emerging and growing markets worldwide.
For more information on Intersolar South America, please visit: www.intersolar.net.br
Organizers: Intersolar South America is organized by Solar Promotion International GmbH, Pforzheim, Freiburg Management and Marketing International GmbH (FMMI) and Aranda Eventos & Congressos Ltda, São Paulo as the co-organizer.
Intersolar South America
Date: August 28-30, 2018
Exhibition times: 12:00p.m. to 8:00p.m.
Conference times: 9:00a.m. to 8:00p.m.
Expo Center Norte – São Paulo – SP
For more information on Intersolar go to: www.intersolar.net.br
Intersolar Contact
Gioia Müller-Russo
Solar Promotion International GmbH
P.O. Box: 100 170, 75101 Pforzheim, Germany
Tel. +49 7231 58598-218 | Fax +49 7231 58598-28
mueller-russo(at)solarpromotion.com | www.solarpromotion.com
Press Agency Contact
Roberta Provatti
M.Free Comunicação
Tel.: +55 11 3171 2024
Tel.: +55 11 3171 2103