Eco Expo Asia Returns with a New Show Theme
3 min read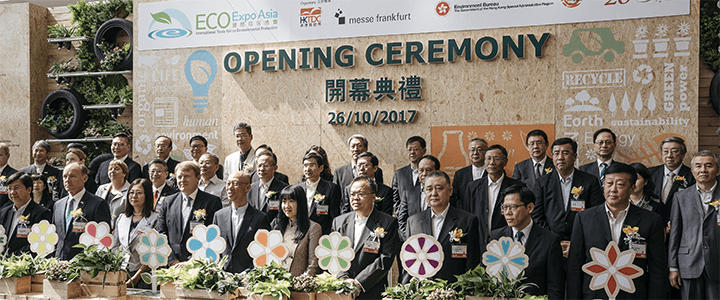 Eco Expo Asia, a leading trade fair for the environmental protection industry, returns for another year with a fresh new theme ‒ 'Waste Less Save More for a Low-carbon Future'.
The 13th edition of the show, to be held in Hong Kong from 25 ‒ 28 October 2018, is jointly organised by Messe Frankfurt (HK) Ltd and the Hong Kong Trade Development Council (HKTDC), and co-organised by the Environment Bureau of the Government of Hong Kong Special Administrative Region. The 2017 edition of the show saw more than 14,000 visitors attend from over 100 countries and regions, while the fair gathered 335 exhibitors from 18 countries and regions, including 16 overseas and local pavilions and group participation.
The Environment Bureau will roll out its Municipal Solid Waste Charging Scheme in 2019 in order to tackle Hong Kong's waste generation and improve its reduction and management. To echo with this drive for better waste management, Eco Expo Asia has adopted a new show theme ‒ 'Waste Less Save More for a Low-carbon Future'. By aligning the fair in this way, the organisers hope to increase awareness of current pressing environmental issues and also to facilitate the exchange of technology and solutions from around the world.
As a part of waste management, recycling has recently become a much more acute issue. Due to new measures implemented this year in reforming the import of recyclables in the Chinese mainland, Hong Kong like many other countries and regions requires new strategies. In an effort to stimulate the recycling industry, more than USD2.5 million has been earmarked under the Recycling Fund to encourage further development in the local recycling sector.
Additionally, the Chinese mainland government has announced a raft of new measures to tackle environmental issues including the establishment of the Ministry of Ecology and Environment to regulate waste management. One example of the need for new solutions can be seen in the recent explosion in online food delivery services in the country which generates a staggering 60 million plastic cartons of waste every day. The scale of such environmental challenges as well as new initiatives being announced demonstrates the wealth of investment opportunities in Hong Kong and the wider region.
International Pavilions Return Ushering New Innovations and Global Solutions
Hong Kong, well-known for its international standing and status as a global hub, continues to attract leading global companies who wish to do business in Asia. Eco Expo Asia's international pavilions and group participation remain key to upholding the fair's international outlook.
The Canada pavilion will join the show for the fourth consecutive year. Organised by the Ontario Ministry of International Trade and the Consulate General of Canada in Hong Kong, the pavilion will display the latest solutions from Canada with a strong focus on the water and waste sectors.
Providing a trusted and reliable platform for businesses, Mr Jonathan Gur, President and CEO, ION Enterprises, spoke during last year's show about why he continues to exhibit at Eco Expo Asia: 'I have had quality professionals come and visit me who understand the systems I am exhibiting straight away. Tradeshows can be worthwhile if you have the right type of visitors attending and you are under the right platform. Hong Kong is the gateway to Asia and I have enjoyed business meetings already with businesses from the region. I will be here for sure next year.'
Echoing with efforts to increase economic integration with the Greater Bay Area, a number of Chinese pavilions from the region are also set to join the fair once again.
Making Hong Kong a Low-Carbon City
For the first time at the show the Environmental Protection Department will occupy a joint stand with other Hong Kong government departments. In what's set to be the largest exhibit at the fair and in an effort to take the lead and demonstrate the government's commitment to making Hong Kong a low-carbon city, the departments will showcase environmental protection projects being undertaken as well as those currently in the pipeline.
Some of the biggest names in the environmental protection business from Hong Kong will also be present at the show. Those leading the way include Baguio Green Group Ltd, China Energy Conservation and Environmental Protection (Hong Kong) Investment Co Ltd and SUEZ NWS Ltd.
As a leading trade fair in Asia for environmental protection, a wide range of environmental product categories will be featured at the show, including Green Buildings and Energy Efficiency, Green Transportation, and Water Treatment and Quality Management. The Startup Zone will also return after its successful debut last year. Its aim is to encourage green startups to explore more business opportunities and connect with investors at the show.
Eco Expo Asia will be held from 25 ‒ 28 October 2018 at AsiaWorld-Expo. For more information, please email ecoexpo@hongkong.messefrankfurt.com or exhibitions@hktdc.org, or visit www.ecoexpoasia.com.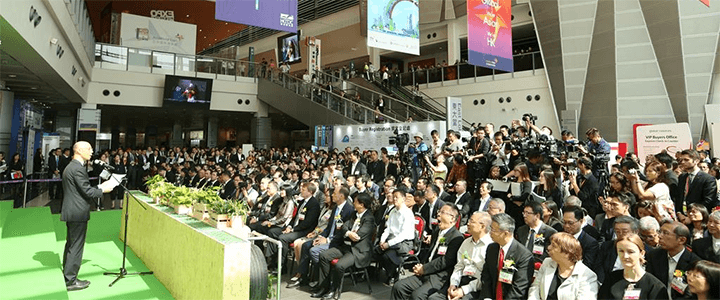 For images of previous editions of the fair, please click here.
Background Information on Messe Frankfurt
Messe Frankfurt is the world's largest trade fair, congress and event organiser with its own exhibition grounds. With more than 2,500* employees at some 30 locations, the company generates annual sales of around €661* million. Thanks to its far-reaching ties with the relevant sectors and to its international sales network, the Group looks after the business interests of its customers effectively. A comprehensive range of services – both onsite and online – ensures that customers worldwide enjoy consistently high quality and flexibility when planning, organising and running their events. The wide range of services includes renting exhibition grounds, trade fair construction and marketing, personnel and food services. With its headquarters in Frankfurt am Main, the company is owned by the City of Frankfurt (60 percent) and the State of Hesse (40 percent). * preliminary numbers 2017
For more information, please visit our website at:
www.messefrankfurt.com  |  www.congressfrankfurt.de  |  www.festhalle.de
About the HKTDC
Established in 1966, the Hong Kong Trade Development Council (HKTDC) is a statutory body dedicated to creating opportunities for Hong Kong's businesses. With more than 40 offices globally, including 13 on the Chinese mainland, the HKTDC promotes Hong Kong as a platform for doing business with China, Asia and the world. With more than 50 years of experience, the HKTDC organises international exhibitions, conferences and business missions to provide companies, particularly SMEs, with business opportunities on the mainland and in international markets, while providing information via trade publications, research reports and digital channels including the media room. For more information, please visit: www.hktdc.com/aboutus. Follow us on Twitter @hktdc or LinkedIn.