Subsidy Free. Round 3. Fixed Vs Floating. International Markets. Technological Developments. Cost-Saving O&M
1 min read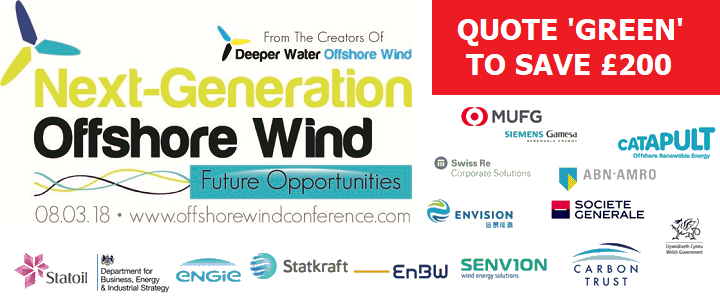 From subsidy-free to beyond Round 3, from fixed to floating foundations and from Taiwan to Japan, which emerging markets and trends, technological developments and viable concepts are in the pipeline for offshore wind and will deliver long-term, cost-saving O&M across UK, Europe and worldwide? Now is the time to come together for business-critical updates and shared expertise on delivering commercially-viable, next-generation offshore wind. Back for an 8th year of developer and project-led insight, don't miss The Next Generation Offshore Wind Conference – Future Opportunities (8th March, London) with 22 senior stakeholders confirmed to speak including Statoil, MP Minister For Energy & Industry, Statkraft, Swiss Re, Siemens Gamesa, Crown Estate Scotland, RES Offshore and many more.
Quote 'Green' To Save '£200' When Booking Online Or Call +44 (0)20 3479 2299
———————————————————————————————————————————————————————————————————————————————————————————————————————————
1 Day. 22 Senior Speakers: 5 Developers & Energy Companies; 5 Manufacturers;
7 Government & Academic Views; 3 Finance & 8 International Perspectives.
PLUS! Ministerial Address From Richard Harrington MP Minister For Energy & Industry
———————————————————————————————————————————————————————————————————————————————————————————————————————————
Richard Harrington MP, Minister for Energy & Industry addresses the audience to share the UK government view on everything from funding to legislative changes and Brexit.
Crown Estate Scotland, RES Offshore, Welsh Government and Mitsubishi UFJ Financial Group debate the future of the offshore wind market. How can we ensure ongoing viability despite reduced funding?
Siemens Gamesa Renewable Energy and Senvion chair this impressive day and share practical knowledge on developing commercially-viable, next-generation offshore wind.
Société Générale explore new waters: looking outside of Europe for new markets, opportunities and challenges.
ENGIE CenGen and EnBW AG take inspiration from new and existing projects – what lessons can be learned from scaled-up offshore wind farms and how can you ensure viability in harsher conditions?
Swiss Re Corporate Solutions explore varying regulations and consent processes in new markets.
Statoil and The Carbon Trust share business-critical floating foundations updates. From winning investment to implementation, how can we take floating foundations from demonstration to industrial scale projects?
Envision Energy deliver a project market update exploring the commissioning, technology, supply chain, installation and O&M considerations of their offshore wind operations in China.
ABN AMRO and Statkraft share the finance and developer perspective on compiling attractive investment proposals which promise scalability and high returns in tomorrow's uncertain market.
ORE Catapult and TenneT Holding tackle the shift from AC to HVDC and reducing grid connection costs. Can HVDC compete in an auction-led market and how can we determine the best cost-reduction outcome?
Cranfield University divulge cost-reducing O&M strategies which increase life span and maintain efficiencies.
To the future! University College of Cork and ORE Catapult look at maintaining the balance between bigger wins and bigger risks for future-proofed offshore wind strategies and next-round commercial opportunities.
Quote 'Green' To Save '£200' When Booking Online Or Call +44 (0)20 3479 2299 – Discounted Tickets Will Be Issued On A First-Come, First-Served Basis
E: bookings@offshorewindconference.com
W: www.offshorewindconferenceconference.com
T: +44 (0)20 3479 2299