TraiCon Events launches the Kingdom Renewable Energy Summit 2017
2 min read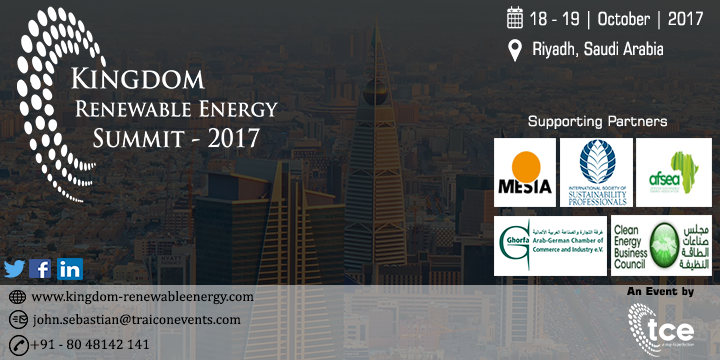 Local and International Experts from Energy Sector organizations such as the Ministry of Energy and Mineral Resources, Jordan, The Center for Renewable Energy at the Illinois State University, Center for Advanced Studies, Research and Development in Sardinia, Italy, The Masdar Institute of Science and Technology, The York University, Canada, University of TaifAl-Hawiah, Taif, Saudi Arabia will be speaking at the Kingdom Renewable Energy Summit scheduled to take place on 18-19 October 2017 in Riyadh, Kingdom of Saudi Arabia. This 2 day event will be an ideal platform to discuss about the role of renewable energy on the region's economic development, energy security and climate change.
This summit that is being held under the theme "Moving the Kingdom of Saudi Arabia away from the Dependency of Oil and towards a Sustainable & Diverse Economy" will feature a series of plenary sessions covering important themes; such as the Renewable Energy Outlook 2030, Creation of Job Opportunities, Localization of the Renewable Energy Sector, Creation of a Multifaceted Renewable Energy Strategy, Energy Storage and Technological Development across the Renewable Energy Sector.
We take this opportunity to invite all the Renewable Energy professionals and Renewable Energy solution providers to support this initiative and actively participate in this summit that focuses on developing the Kingdom of Saudi Arabia's Renewable Energy sector.
At this summit you will witness some very interesting case study presentations from our international panel of expert presenters including:
Eng. Ziad Jibril Sabra, Director Renewable Energy Department at the Ministry of Energy and Mineral Resources, Jordan
Alberto Varone, Senior Scientist at CRS4 Sardinia, Italy
Frank Gordon, Policy Manager at Renewable Energy Association (REA )
David G. Loomis, Director, Center for Renewable Energy, Executive Director Institute for Regulatory Policy Studies at Illinois State University
Hugo Lucas Porta, Professor at the Faculty Environmental Studies of the York University Canada
Abdulkadir Alaydarous, PhD, Chairman, Radiation Protection Committee& Vice Rector at University of Taif Al-Hawiah, Taif, Saudi Arabia

For more information about the speaker list, or to see the full conference agenda, please visit http://www.kingdom-renewableenergy.com/

Media & Marketing contact: John Sebastian,
Mobile: +91 8300102447 | Email: john.sebastian@traiconevents.com

Members of the press are invited to attend this important industry event. If you would like a complimentary press pass, please email John at john.sebastian@traiconevents.com