Green Journal Partners with the Solar Business Festival (SBF)
2 min read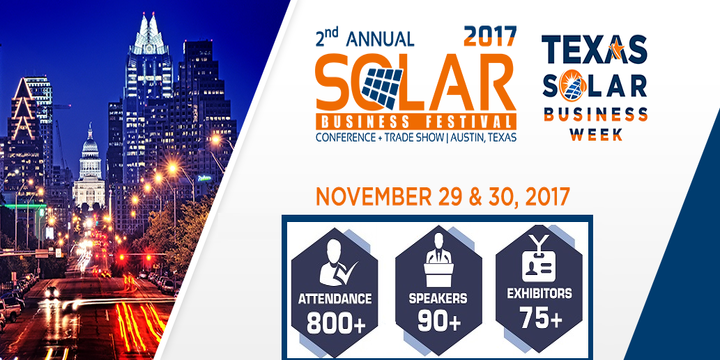 London, UK, September 6th, 2017—Green Journal announces a media partnership with the Solar Business Festival (SBF) and furthers the event's mission to promote Texas solar & storage industry and speeding the transition toward a sustainable energy economy. This year November 29 & 30, 207, the Solar Business Festival will bring together solar & storage companies involved in the Texas market, companies looking to expand into the Texas market, companies looking to grow their business beyond the Texas market, and C&I energy consumers. Participants will manufacturers & suppliers, distributors, service providers, installers and integrators, energy consumers & prosumers, project developers/EPC contractors, investors and analysts, system integrators, government officials & policy makers, utilities, research institutes, architects, and PV equipment & materials companies, for two intensive days of networking, knowledge sharing, matchmaking, and deal making.
SBF 2017's theme is "Eye on Texas Solar Energy Future". The conference will feature a wide variety of sessions on microgrids & energy storage, project financing, PACE programs, power purchase agreements, sustainable buildings, smart grids, solar initiatives & innovations, utility integration, community solar, policies, incentives and goals, market growth opportunities, regulatory framework, international solar market opportunities/challenges, sustainable farming, and more. The SBF trade show will focus on connecting exhibitors with potential clients, business networking, and marketing.
With Texas projected to install 5,838 MW of solar over the next 5 years, ranking it second in the country for growth, and ERCOT expecting 20 new utility-grade solar projects to come on line by the end of 2020, SBF 2017 is position to provide a platform for networking and deal making with a projection to welcome over 800 participants, 90+ speakers, 75+ exhibitors, and occupy over 57,926 sq. ft. of combined exhibition, conference, and co-located spaces.
Don't miss your chance to join Green Journal and business leaders, government officials, project developers, energy consumers, and investors at SBF 2017.
Preliminary Session Tracks Include:
The Next Big Thing in Energy Storage
Financing: Structuring Bankable Deals and Attracting Capital
How Will the Solar PV Industry Look In 2020?
The Big Picture – Key Trends Shaping the Solar Energy Development in Texas
Regulatory Issues, Policies and Funding Mechanisms for Solar PV in Texas
Sustainable Farming Practices with Solar & Drones
Commercial PACE in Texas
Advancing Sustainable Technologies in Homes and Buildings
Gear Up for ERCOT 20 New Utility-Grade Solar Projects by 2020
Developing Solar Energy Women Leaders to Create Our Energy Future
Solar-Storage Advance Grid Integration in Texas: Challenges, Technologies, and Opportunities
Technology Disruption: Creating New Business Paradigms in The Solar Energy Market
Texas-Sized Growth for Solar: Capitalize on Emerging Market Opportunities
Solar Energy Export-Import: A Win-Win for Texas
To register or learn more, visit www.sbftexas.com or contact sbf@gaadvancement.com
About Green Journal
In the past few decades, an increasing number of people and businesses have been attracted to renewable energy. As the price of fuel increases, this tendency will only get stronger. Green Journal keeps you updated with the latest news on green energy. We are a team of young enthusiasts regarding this topic and are willing to keep you posted with the latest information about solar, wind and geothermal energy, sustainability and more.
Green Journal focuses mainly on the UK market for renewables, however, since environmental awareness is a widespread issue, we also post news from all around the globe. You can also visit our Events section to find out upcoming events and conferences in the field of renewable energy.
About Solar Business Festival
The Solar Business Festival (SBF) is the leading solar conference and trade show in Texas, that provides a significant business platform for knowledge sharing, connectivity, marketing, and sales, bringing together solar & storage companies involved in the Texas's market, companies looking to expand into Texas, companies looking to grow their business beyond Texas, and energy consumers. Program agenda covers microgrids & energy storage, sustainable buildings, smart grid, clean innovations, sustainable & smart agriculture, community solar, and more.
#SBFTexas17 #TxSolarBizWeek
Visit www.sbftexas.com to learn more.
Media Contact:
Melissa Brown
Media Relations, SBF/Global Attain Advancement