SPEAKERS ANNOUNCED: Learn from industry experts at All-Energy Australia 2017
1 min read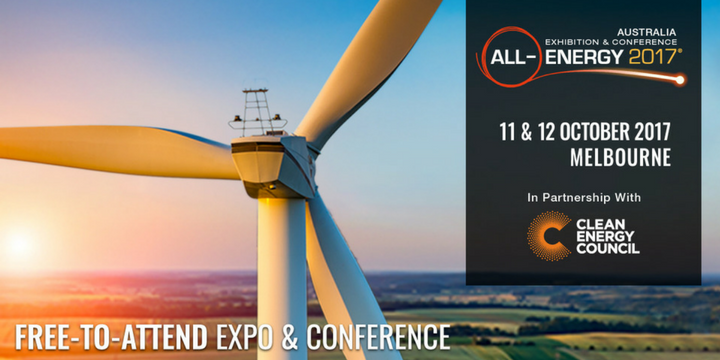 The conference agenda for All-Energy Australia, the country's most comprehensive showcase of clean and renewable energy, has just been announced. A line-up of more than 120 world-class speakers will deliver two days of presentations across a six-stream program.
Speakers will share their insights, projections and findings on the evolving energy landscape, its future and new market realities facing Australia's energy system.
The conference program will cover the latest government initiatives, smart grid power systems, project
development, alternative energy, electric vehicles, energy storage and efficiency, new technologies and more.
All-Energy Australia Exhibition director, Robby Clark, said that All-Energy Australia will set the stage for further growth and prosperity for the clean and renewable energy industry.
"With so many sector leaders under one roof, this event will highlight the ways in which our energy sector is tackling the future, balancing the needs for clean, efficient renewable energy with practical demands for
constant supply," said Mr Clark.
For the first time, sustainable transport and electric vehicles will make up part of the All-Energy Australia program. Electric Vehicle Council chair, Behyad Jafari, and AGL's electric vehicles manager, Kristian Handberg, will be among the industry experts exploring policy and government support for electric vehicles, as well as the infrastructure needs and new standards required to drive on Australian roads.
Hydrogen Utility (H2U) CEO and co-founder, Attilio Pigneri, will share his forecast for future Australian hydrogen projects. H2U has developed a roll-out program for the establishment of 14 commercial-scale hydrogen refuelling stations, from 2016 to 2019.
KPMG's head of clean energy, Dmitry Danilovich, will chair a three-part presentation on the future of energy storage trends. Contributing speakers include Smart Commercial Solar founder Huon Hoogesteger, Tesla Energy's head of business development, Lara Olsen, and EOS Energy Storage's vice president of business development and marketing, Philippe Bouchard.
Victoria's Energy and Environment MP, Lily D'Ambrosio, will give a ministerial welcome as part of the opening plenary on the first day, followed by a keynote presentation by renewable energy revolution advocate and new Australian Energy Market Operator chief executive, Audrey Zibelman.
Clean Energy Finance Corporation's newly appointed chief executive, Ian Learmonth, will headline the second day's proceedings. Mr. Learmonth will provide an insight into the current state of clean energy investment in Australia and the renewable energy investment boom driven by the 2020 Renewable Energy Target.
To make the most of their time onsite, delegates can register their product of interest with the All-Energy
Australia Business Matching Program. The service helps visitors plan their visit ahead by creating a
personalised itinerary of sessions, as well as meetings with exhibitors.
All-Energy Australia will be held 11-12 October 2017 at the Melbourne Convention and Exhibition Centre.
To access the 2017 program, apply for the All-Energy Australia Business Matching Program, and register for
the free-to-attend trade show and conference, please visit the All-Energy Australia website: www.all-
energy.com.au.
For media enquiries, please contact: Cristina Natoli, Porter Novelli Melbourne, cnatoli@porternovelli.com.au