World Efficiency Connects Sustainable Projects and Solutions
2 min read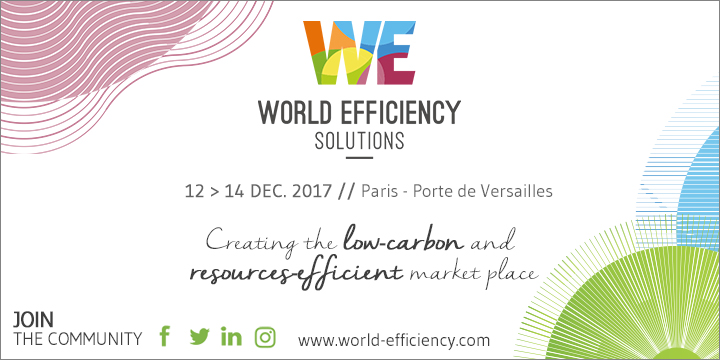 Paris, July 2017
World Efficiency Solutions, the leading international event for sustainable, resource-efficient and low-carbon solutions, will take place from 12 to 14 December 2017 in Paris. The event will combine a unique community platform for networking and the exchange of best practice with an international summit, exhibition space and workshops.
Originally launched in 2015 ahead of COP21, World Efficiency Solutions (WE) is taking on a new dimension this year. The focus is on bringing together attendees from a range of fields across the resource-efficient and low-carbon economy: large companies, SMEs, start–ups, local and regional authorities, financial and institutional stakeholders. WE will foster partnerships and business opportunities between participants, helping to create the international marketplace necessary to build a more sustainable economy. The event will also capitalise on progress made during COP23, which will take place in Bonn this November, where World Efficiency Solutions is co-organizer of the World Climate Summit.
The World Efficiency summit, which is being organised in partnership with World Climate Ltd, will welcome speakers including: Paul Simpson, CEO CDP; Andre Schneider, CEO Geneva Airport; Per Boersgaard, Partnerships and Innovations Coordinator for the City of Copenhagen; HRH Princess Abze Djigma, CEO Abze Solar; Simon Upton, Director of Environment at the OECD; and Graciela Chichinisky, CEO and co-founder of Global Thermostat.
World Efficiency Solutions will bring together projects from communities and companies wishing to reduce their consumption of resources and carbon. It will also showcase existing solutions that enable users to reduce their carbon footprint. These projects and solutions fall into five key areas: Clean and Accessible Energy; Responsible Production and Consumption; Sustainable Cities and Territories; Green Infrastructure and Mobility; and Natural Resource Management.
To better showcase these projects and solutions, the innovative, international online
WEConnect platform enables members to identify potential partners and to get in touch with them. For example, a local government official looking for ways to optimise energy and water consumption can use WEConnect to identify suitable tools, partners or suppliers for the project. Likewise, businesses looking for ways to mitigate their environmental impact, or investors looking for promising innovations in the field, can use the online platform to find and engage relevant contacts.
World Efficiency Solutions is working with a range of partners from around the world on the programme and projects for the event: institutions (ministries, national agencies such as the French environment and energy management agency – ADEME, UN Environment, ICLEI, WGBC, HQE-GBC Alliance France, C40), regions and provinces (such as Alberta, Gaspésie, Lombardy, Brittany and Hauts de France), cities (such as San Francisco, Santa Monica, Boston, Belo Horizonte, Amsterdam, Rotterdam, Copenhagen, Saerbeck, Essen, Berlin, Copenhagen, Brussels, Paris, Lyons and Milan), companies of all sizes, networks (e.g. Cleantech Open and Pexe) and specialised think tanks (e.g. Shift Project).
To join this WE community, professionals from all sectors are invited to share their projects or solutions now on the WEConnect platform, accessible via: www.world-efficiency.com
For further information about the event, and for details on how to register to attend, please go to: www.world-efficiency.com