16th Benelux Infrastructure Forum returns to Amsterdam this November
2 min read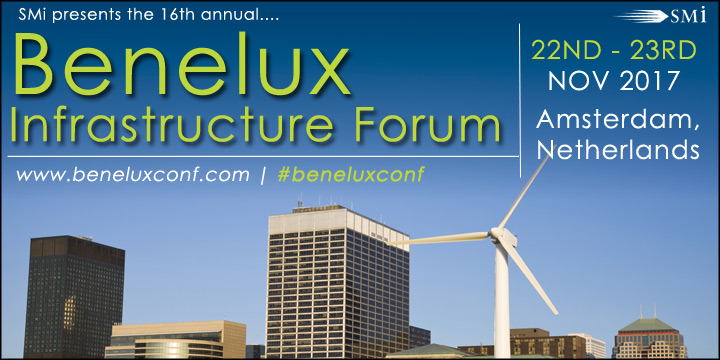 SMi Reports: Benelux Infrastructure Forum returns to Amsterdam on 22nd -23rd November 2017 to explore new financing mechanisms and alternative markets for future investments.
Infrastructure developers, investors, financiers & government agencies from the Benelux region will meet at SMi Group's 16th annual Benelux Infrastructure Forum taking place in London on 22nd -23rd November 2017
Benelux Infrastructure Forum will present the latest opinions within the infrastructure market from key professionals in PPP, project financing and future market sectors such as renewable energy ventures.

New topics for this year include looking at the challenges of project risk in new markets for enticing investors and issues of increasingly greener regulations causing slower progress for projects. Furthermore, the forum will provide insight into the recent changes of project financing for infrastructure in the Benelux area and evaluate the new mechanisms of investment such as debt financing, Public-Private Partnerships (PPP), refinancing projects and subsidies such as the European Structural and Investment Funds (ESIF). There will also be a case study on the award-winning Amsterdam Courthouse Project to discuss the benefits of institutional investor financing.
Highlights in 2017:
Detail on emerging markets and future investment opportunities, especially in the renewable sector
Explore financing specifically related to Public-Private Partnerships (PPP)
Engage with alternative forms of investment, such as refinancing and debt financing
Hear the European Union's High-Level Task Force discuss their latest findings on social infrastructure
Case study updates from major regional projects, including recent offshore tenders, energy storage, data networks and Calais Harbour
The notable speaker panel will include:
Nick Gardiner, Head of Offshore, Green Investment Bank
Boris Balan, Vice President of Europe, Northland Power
Alistair Perkins, Head of Project Finance, NN Investment Partners B.V
Francois Yves Gaudeul, Director, Allianz Global Investors
Benoit Theys, Head of Real Estate and PPP Finance, AG Real Estate
Niels Jongste, Managing Director, Green Giraffe
Lisa McDermott, Executive Director, Structured Debt, ABN Amro Bank N.V
Gerard Reid, Founder, Alexa Capital
In addition, the conference also features an exclusive pre-conference workshop on "Financing Offshore Wind in the New Competitive Auction Environment" hosted by, Amsterdam Capital Partners taking place on the 21st November 2017.
The conference has established itself as the industry-leading event for the Benelux region and will provide an unparalleled opportunity to learn and network amongst senior executives in this thriving industry. The Benelux Infrastructure Forum is the only place to meet the major players within this industry from banks, constructors and institutional investors to the lawyers and the regulators.
For those who are looking to attend, there is a £300 early bird offer available online ending on the 30th June 2017.
Further information is available at online at: http://www.beneluxconf.com/greenjournal
16th Benelux Infrastructure forum
22nd-23rd November 2017
Movenpick Hotel, Amsterdam, Netherlands
http://www.beneluxconf.com/greenjournal
Media: Contact Theresa Chung on tchung@smi-online.co.uk
Booking: Contact Andrew Gibbons on agibbons@smi-online.co.uk
________________________________________________________________________

About SMi Group:

Established since 1993, the SMi Group is a global event-production company that specializes in Business-to-Business Conferences, Workshops, Masterclasses and online Communities. We create and deliver events in the Defence, Security, Energy, Utilities, Finance and Pharmaceutical industries. We pride ourselves on having access to the world's most forward thinking opinion leaders and visionaries, allowing us to bring our communities together to Learn, Engage, Share and Network. More information can be found at http://www.smi-online.co.uk