AVL and PlugVolt team up to host Battery Seminar
1 min read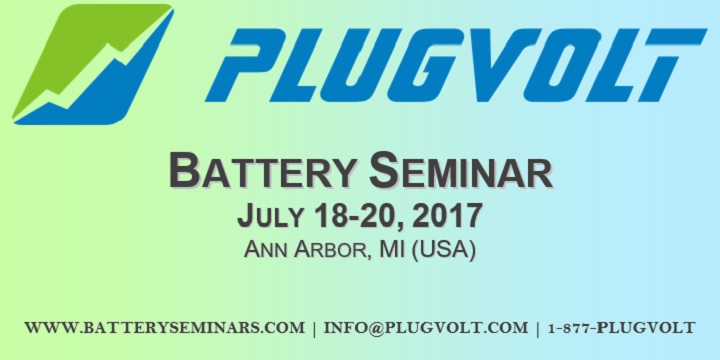 PlugVolt Battery Seminar fosters joint development efforts to advance energy storage solutions
Ann Arbor, May 18, 2017 – AVL is joining with PlugVolt, a leader in the advanced battery and energy storage solutions industry, to host a Battery Seminar on July 18-20, 2017 in Ann Arbor, Mich. Industry leaders, policy decision makers and key stakeholders from more than 80 companies are expected to gather at the PlugVolt Battery Seminar to learn more about the challenges and opportunities for energy storage systems used in grid/utility storage and automotive applications.
The Battery Seminar includes presentations by experts from more than 30 companies, including global OEMs, Tier 1 system developers, researchers, battery manufacturers, major utilities, suppliers and more. During the sessions, industry experts will discuss R&D advancements, market trends and cutting-edge technology such as complete powertrain electrification/hybridization and the current status of solid state batteries. On the second day of the seminar, University of Michigan will discuss overcoming barriers to commercializing and manufacturing solid-state batteries on a large scale. AVL will also present about split micro-hybrid breathing for highly diluted combustion – a project jointly conducted with the University of Michigan – using AVL's e-storage system as a battery emulator. A complete program agenda, including a list of event speakers, can be found here.
On July 19, event attendees will have an exclusive opportunity to tour AVL's Energy Lab at its Ann Arbor Tech Center. The tour will feature AVL's battery and eMotor testing facility, including a state-of-the-art powertrain test cell. After the tour, attendees will have a chance to learn more about the future of testing technology from industry experts.
"AVL's New Energy Lab was designed for battery and eMotor development and testing, as well as to create space for engineers and technicians to complete electric and hybrid vehicle projects for everything from motorcycles to Class 8 vehicles," said Jodi Trombley, AVL electrification account manager. "Work spaces are extremely flexible for shaping the future of electrification in the automotive industry."
For more information or to register for the 2017 PlugVolt Battery Seminar, visit plugvolt.com/seminars.
About AVL
Founded in 1948, AVL is the world's largest independent company for development, simulation and testing technology of powertrains (hybrid, combustion engines, transmission, electric drive, batteries and software) for passenger cars, trucks and large engines. AVL's North American Headquarters are located in the Detroit suburb of Plymouth, Michigan. Vist www.avl.com for more.
About PlugVolt
PlugVolt is involved in the business of promoting and fostering joint development efforts in advancing battery and alternative energy storage technologies. PlugVolt offers business consultation services, information services, and custom training (online & onsite) services to the energy storage industry. The routine online webinar sessions and seminar events focus on core technical issues and commercial aspects, as well as market forecasts, for batteries and energy storage systems used in advanced automotive, stationary storage, medical, military, consumer, industrial, smart grid/utility, and alternative energy and power generation segments. More information is available at www.plugvolt.com.