Back with a Bang: Southeast Asia's biggest 3-in-1 exhibition for HVAC-R, Water and Solar Energy returns for its 3rd edition
2 min read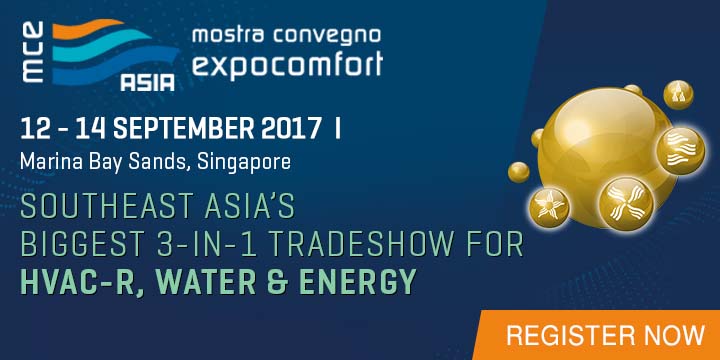 SINGAPORE, 13 Feb 2017 – Following two consecutively successful editions, the Mostra Convegno Expocomfort (MCE) Asia exhibition will return for a third edition in Singapore. To be held from 12 to 14 September 2017 at the Marina Bay Sands Expo & Convention Centre, MCE Asia will continue to focus on energy efficiency in heating, ventilation, air conditioning and refrigeration (HVAC-R), plumbing, sanitary accessories and solar energy equipment. Preparations are already in full swing as a succession of leading brands across the globe confirmed an exciting showcase of their latest innovations during MCE Asia 2017.
Growing demand for energy efficiency in Asia Pacific
With rising populations and increasing income levels in emerging markets, construction activities in Asia Pacific is expected to burgeon. Coupled with emerging green/smart building criterions, government support for sustainability and growing consumer concerns, the global HVAC-R market is expected to generate over $68.93 billion value by 2022 1 , while the global photovoltaic market is expected to grow at a compound annual growth rate (CAGR) of 18.30% between 2014 and 2020, to be worth $345.59 billion by 20202 . Asia Pacific is expected to be the main contributor to this growth.
MCE Asia: Converging and Empowering the HVAC, Water & Energy community
As the Asian edition of Mostra Convegno Expocomfort (MCE) – Europe's longest running trade exhibition for environmentally comfort technology, MCE Asia is not just unique in its 3-in-1 focus on HVAC-R, Water & Solar Energy, but is also a conduit to many industry giants across Europe offering state-of-theart technologies that enhance energy efficiency in these 3 segments.
MCE Asia 2017 visitors will be able to meet leading brands like AGC Asia Pacific, Ariston Thermo, AAF, Belimo Actuators, Big Ass Fans3 , Camfil3 , ebm-papst, Reflex Winkelmann and more. Apart from an enhanced European presence, market pavilions representing Canada, China, Japan, Korea, Taiwan and more will also bring together an inspiring showcase of the most cutting edge technologies and capabilities from each market.
"We are excited to be showcasing our latest innovations among fellow industry giants at MCE Asia 2017. Among the many marketing outreach channels that Reed Exhibitions (the organiser) has planned for us, we're particularly looking forward to the Mostra Xchange seminar where we will be sharing the deep know-how for our latest products," said Mr William Wong, General Manager of AAF Singapore, a firsttime exhibitor at MCE Asia.
MCE Asia 2017 and its co-located events are expected to play host to more than 450 exhibiting companies internationally and over 12,000 trade visitors across Southeast Asia.0
The next stage of business matching: Technology-powered, personalized recommendations and meetings
Instead of pushing the same product news generally to every pre-registered visitor, MCE Asia 2017 will deliver personalized recommendations of exhibitor products, based on data insights gleaned from visitors. The last edition of MCE Asia and the co-located Build Eco Xpo (BEX) Asia, together facilitated a total of 373 business meetings onsite, which are expected to generate more than US$130 million in green building transactions.
Knowledge is king
In partnership with leading industry experts who spoke at MCE Asia's complimentary Mostra Xchange seminars, MCE Asia 2017 has launched the online Learning Resource Center where the building community can easily access complimentary industry content that help keep them abreast of the latest know-how and trends in energy efficient HVAC-R, Water and Solar Energy.
To advance further knowledge exchange, MCE Asia 2017 will once again offer the Mostra Xchange seminar, a complimentary platform which brings together the brightest minds internationally to share their insights on latest trends and opportunities in Southeast Asia, actionable best practices and innovative solutions for the tropics.
Supported by prominent industry organisations that include the Building and Construction Authority of Singapore, Singapore Green Building Council and ASHRAE (Singapore Chapter), MCE Asia 2017 is one of the anchor trade events of the Singapore Green Building Week (SGBW). MCE Asia 2017 will be held alongside the tenth edition of BEX Asia and the International Green Building Conference (IGBC).
About Mostra Convegno Expocomfort (MCE) Asia
Mostra Convegno Expocomfort (MCE) Asia is Southeast Asia's only 3-in-1 trade exhibition for energy efficiency in HVAC-R, plumbing, sanitary accessories, and solar energy. Its where international manufacturers, innovative startups and Southeast Asian buyers and influencers converge to source, network, learn and transform their business.
About Reed Exhibitions
Reed Exhibitions is the world's leading events organizer, with over 500 events in 43 countries. In 2015, Reed brought together over seven million event participants from around the world generating billions of dollars in business. Today, Reed's events are held throughout the Americas, Europe, the Middle East, Asia Pacific and Africa and organized by 41 fully staffed offices. Reed Exhibitions serves 43 industry sectors with trade and consumer events. It is part of the RELX Group plc, a world-leading provider of information solutions for professional customers across industries. www.reedexpo.com
For more information, please contact:
Rena Lin
Reed Exhibitions Singapore
Email: rena.lin@reedexpo.com.sg
DID: +65 6780 4676