Sardinia Symposium 2017
1 min read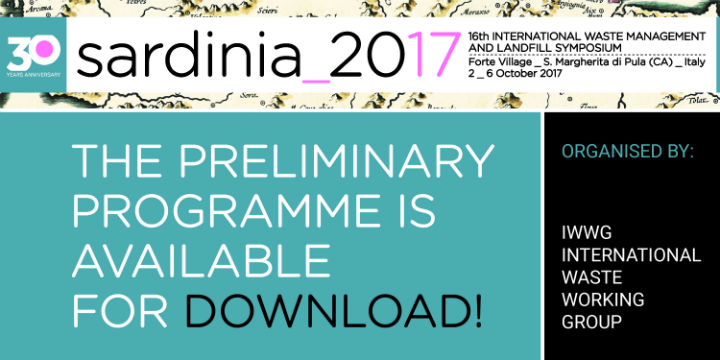 SARDINIA 2017 / 30th ANNIVERSARY
Following the incredible success of Sardinia 2015 / Arts Edition, which saw the participation of 732 delegates from more than 70 different countries from all the continents, we are proud to announce the 30th Anniversary of Sardinia Symposia, the reference forum for the international community since 1987.
Sardinia 2017 promises to be the most international and largest event of the year in the field of Waste Management and Landfilling. In line with tradition, the 16th edition of the conference will focus on advances of Waste Management science and technologies, presenting case studies and discussing key controversial subjects, sharing experiences from different countries, and assessing social and economical balances.
The conference will include oral sessions and specialised workshops for a total of eight parallel tracks, parallel events, practical design workshops, business to business meetings, discussion forums, a continuously accessible poster area and a wide exhibition space for companies working in the field of Waste Management. Prior to the start of the Symposium, training courses will be offered by IWWG.
Sardinia is unique in that almost all delegates stay within the premises of the Forte Village resort, where comfortable facilities and the frequency of meeting colleagues from all over the world, offer a great opportunity for networking.
TOPICS:
Waste management policy and strategies • Need for appropriate and updated legislation • Public concern and education • WM assessment and decision tools • Producer responsibility • WM solutions for large cities • Waste transport and collection • Waste minimization and avoidance: large scale implementation • Circular economy and realistic approach • Final sink for residual waste • Link between production and recycling operators • Biological treatment and energy production • Advances in composting and anaerobic technologies • Biofuels from waste • Thermal treatment and advanced technologies • Sanitary landfilling • Technologies (pre- and in situ treatment) for landfill sustainability • Landfill mining • Long term fate of landfill structures: rethinking the design • Integrated wastewater and solid waste management • WM and climate change • Contaminants fate in materials recycling • WEEE • Nanotechnologies issues in WM • Plastics littering: biodegradable plastics is the solution • WM in developing and low-income countries • Design workshops for sustainable WM
The sixteenth edition of the Sardinia Symposium will last 5 days and will include more than 500 presentations selected according to quality by the Programme Committee from over 800 offers of papers received.
The Symposium is structured in eight parallel tracks, for a total of 81 oral sessions and 35 workshops.
Parallel sessions A and B will cover general topics of great interest, which will be examined in detail in sessions C, D, E and workshop sessions E, F and G. Sessions H will be mainly dedicated to Waste architecture topics. Workshops are primarily addressed to experts and seeded by a selected number of introductory lectures delivered in order to open discussion between participants.
Poster papers will be continuously accessible in a dedicated hall and discussed in the presence of authors on Monday, Tuesday, Wednesday and Thursday afternoon from 17:40 to 18:00.
The preliminary daily programme of the conference is available for download here: http://www.sardiniasymposium.it/programme.aspx
ORGANISING SECRETARIAT:
EUROWASTE srl / via B. Pellegrino, 23 / 35137 Padova (IT)
t +39 049 8726986 / info@eurowaste.it / www.eurowaste.it
Official Symposium Website: www.sardiniasymposium.it