ICCI 2017
1 min read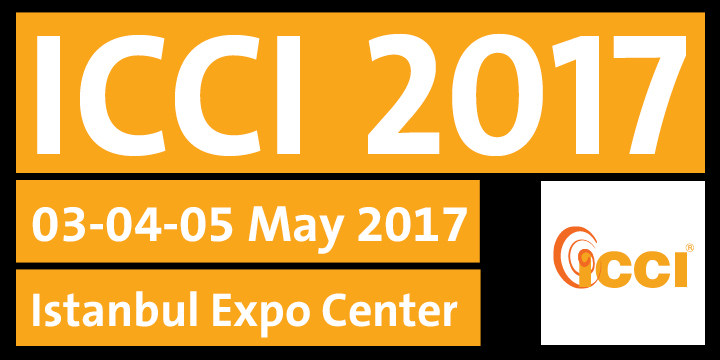 The leading international energy event in Eurasia:
Conference, B2B meetings and fair carries out concurrently!
As the most important gathering of the energy sector, ICCI 2017 -23rd International Energy & Environment Fair and Conference is preparing to host the leaders of the industry between May 03-05, 2017 at Istanbul Fair Center. Supported by Ministry of Environment and Urbanization, Ministry of Energy and Natural Resources and The Energy Market Regulatory Authority, ICCI will bring together the companies from various product groups such as Renewable Energy, Cogeneration, Electricity Generation and Trade, Electric Transmission Systems, Maintenance, Repair and Services for Power Plants, Environmental Technologies, Energy Efficiency, Logistics and IT Technologies. Moreover, at the conferences organized with the fair, various topics such as Energy Policies, Regulations and Strategies, Energy Efficiency, Energy Technologies, Products and Services will be featured. Furthermore, this year Energy Awards which is known as the Oscars of Energy will meet their owners during the ceremony organized concurrently with ICCI Exhibition.
279 companies met 14.044 professional at ICCI 2016
Last April, ICCI once more proved that it is a leading addresses for all stakeholders of the industry. ICCI 2016 hosted 279 exhibitors from 24 countries. Among them, Austria, China, Czech Republic, Denmark participated with their pavilions by the financial support of their governments. Important companies of the sector such as ABB, Borusan, Enercon, GE, Goldwind, Mitsubishi, Nordex, Senvion, Siemens, Toshiba, Zorlu Enerji introduced their innovations during three days. ICCI provided exhibitors with a perfect meeting for accessing markets in Turkey and the neighboring countries as well. Throughout the fair, 14.044 professional visitors came from Europe, North Africa, Asia and the Gulf States besides Turkey. In scope of Trade Mission Program, ICCI hosted companies, association representatives and editors from Germany, Uzbekistan, UK and Iran. In addition to them, visitors from Greece, Sudan, UAE, Gana, Kazakhistan, Azerbaijan and Italy showed great interest to the fair. Leading industrial enterprises, especially from Iran, used the trade fair in order to initiate new business and conclude sales deals.
In addition to the showcased products and services, concurrent conferences drew intense interest from professionals. During the ICCI Conference, more than 200 international speakers were hosted in a total 35 session.
Alexander Kühnel, General Manager of Hannover Fairs Turkey Fuarcılık A.Ş. said that "ICCI offers national and international manufacturers, investors and buyers the chance to meet face to face. It is the place which provides promising business contacts and new import and export opportunities. We are glad to organize the leading energy event in Eurasia where exhibition, conference and B2B events are organized together."