Sustainable Energy & Technology Asia 2017 (SETA 2017)
3 min read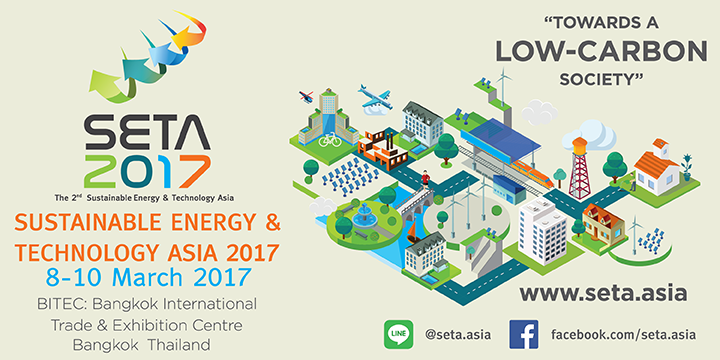 Powerful ASIA Energy & Technology Platform 
Date: 8-10 March 2017
Venue: Bangkok International Trade & Exhibition Centre, Bangna, Bangkok,Thailand
ASEAN countries project to expand development and investment in Energy and Technology. Thailand is one of the most environmentally conscientious places for energy. The country also has the second-highest primary energy demand in ASEAN. Two reasons why it is an excellent and powerful place to discuss and exchange about the future of Sustainable Energy and Carbon-Fighting Energy Technology.
With increasing importance of sustainable energy and green environment issues in the region, and worldwide, particularly the threat to human and ecological sustainability, the portfolio of sustainable energy technologies is becoming high on the agenda for the sustainable energy industry. An increasingly broad range of circumstances, offering great investment opportunities amongst the ten members of the Association of Southeast Asian Nations (ASEAN) – along with China and India – are shifting the center of gravity of the global energy system towards Asia. Energy demand in Southeast Asia has expanded by two-and-a- half-times since 1990, its rate of growth among the fastest in the world.
The premier Asian annual energy and technology event, Sustainable Energy & Technology Asia (SETA), is ongoing. Its aim is to develop an international platform for the value chain of energy, to meet and discuss the latest issues in policy planning and technology advancement, and to support the global low-carbon advocacy.
SETA became a significant emerging Asian event comprised of multi-streamed industries. The conference's program aims to address the latest commercial, technical and specialized issues in policy and planning. The trade show floor features over a hundred exhibitors, altogether hosting 5,000 attendees from 42 countries.
SETA's commitment is to showcase cutting edge projects from energy innovations. SETA believes that in order for the policies to be effective, there should be integration in CEO Forum programs. Thus, the true essence of SETA is the attendance and collaboration of hundreds of high-level executives and government ministers who exclusively represent the Asian Energy direction.
"Towards A Low Carbon Society"
SETA 2017 is a three-day international conference that enables exhibition and networking. It is an appropriate platform for meeting and exchanging of knowledge about Sustainable Energy and Technology between ASEAN and overseas countries. Supported by the Thai government and the private sector association, this must-see event will allow Thailand to be the representative country and the "place to be" for meetings between energy and technology industrial partners. It will provide an appropriate venue for contribution and sharing of information among thousands of prospected delegates over ASEAN countries and around the world.
This is an important first step for the Thai energy sector to collaborate with international corporations. With full support from the Ministry of Energy of Thailand, we can move forward together with the ASEAN and international energy industries.
See you at the Bangkok International Trade & Exhibition Centre (BITEC) on 8-10 March 2017 !
Theme: Towards A Low-Carbon Society
1. Sustainable Energy Policy and Planning
Energy Planning at a Regional, National and Local Scale
Energy Pricing
Fiscal and Regulatory Policies at Supply
Existing and Emerging Energy Markets and Reforms
Alternative Energy Market and Policies
Financing & Investments for Energy Supply
Energy Integration Plan, Experiences, Challenges and Opportunities
Regional Energy Supply Infrastructure
Regional Policy Integration
Energy Sustainability
2. Low Carbon Electricity Generation
Electricity Generation
Electricity Transmission
Electricity Distribution
Electricity Storage
Smart Grids in Power System
Low Carbon Energy Projects in Asia
Energy Efficiency and Management
Clean Coal Technology
Co-Generation
Nuclear Power in Asia
3. Green Transport and Logistics
Novel Hybrid Vehicles
Electric Vehicles and Infrastructure
Novel Battery Development and Charging Systems
Hydrogen and Fuel Cell Vehicles
Public Transportation and Infrastructure
Green Transport
Fuel Pricing and Tax Incentives for Transportation
Bio fuels for Transportation
Pipeline Transport and Regional Connectivity
Green Logistics
Floating LNG Terminal
4. Smart Cities and Green Industry
Smart Grid for Smart Cities
Low Energy and Low Carbon City
Smart Waste Management
Urban Renewable Energy
Green Buildings and Infrastructures
Green Urbanization
Green City
BEMS & HEMS
ESCO Approach to Smart Cities
ICT Application in Smart Cities
Digital Utilities
SETA 2017 HIGHTLIGHT
10,000+ Visitors & delegates from the power, energy, technology, utility & transport industries
500+ High-level executives & decision makers
300+ Facilitated one-to-one meetings & business matching
50+ Industry leading expert speakers
20+ Hours of networking
Multi co-located events
Privilege exclusive forums
Who Should Attend the Conference?
High-level Executives, VPs, Directors, Heads, Managers, Managing Directors, Chief Managers, Engineers, Regulators, Inspectors, Supervisor and Technicians of Nuclear/coal/wind/solar/tide/biomass/fossils Development, Strategy Development, Power-Electricity Projects, Utility projects, Fuel cycle, Licenses and Operations, New Build, Project Management, Construction from Power Generating Companies, Construction and Engineering Consultancies, Manufacturers, Contractors, Independent power producers, Licensing specialists, Financing companies, Instruments suppliers, Engineering institutions, Publications, Private, Semi-government and government organizations. Logistics suppliers, Transportations company, Procurements
Who Should Sponsor and Exhibit?
Electric Utility Company, Consulting Engineer or Constructor Firm , Original Equipment Manufacturer Specifier, Independent Power Producer (IPP) Industrial/Cogeneration, Oil & Gas companies, Government Energy Department, Science & Technology & Innovation Department, Equipment Supplier, Equipment Operation & Maintenance, Service/Supply, University/Research Centers, Energy & Technology Associations, Energy Traders, Technology institute, Science &Technology Association, Legal Consultants, Financing Institutions, Logistic Suppliers, Transportation companies, Regulators.
Who are We?
Co-Organised by:
Ministry of Energy ,Thailand
Chula Unisearch , Chulalongkorn University
Energy Research Institute (ERI), Chulalongkorn University
Endorsed by:
Ministry of Science &Technology
Ministry of Transport
Ministry of Industry
Supported by:
The Institute of Energy Economics,Japan (IEEJ)
Asean Centre For Energy (ACE)
Deutsche Gesellschaft für Internationale Zusammenarbeit (GIZ) GmbH
Economic Research Institute for ASEAN and East Asia (ERIA)
Energy Policy & Planning Office, Ministry of Energy Thailand (EPPO)
SETA 2017 Executive Summary Page 4 of 5
Department of Alternative Energy Development and Efficiency (DEDE)
Embassy of Japan in Thailand
European Association for Business and Commerce (EABC)
German-Thai Chamber of Commerce (GTCC)
Thai European Business Association (TEBA)
Chulalongkorn University (CU)
Independent Power Producers Forum (IPPF)
India Energy Storage alliance (IESA)
Malaysia Green Building Confederation (MGBC)
New Energy and Industrial Technology Development Organization (NEDO)
Taiwan External Trade Development Council (TAITRA)
Nuclear Society of Thailand (NST)
Electric Vehicle Association of Thailand (EVAT)
Thailand Automotive Institute (TAI)
Thailand Greenhouse Gas Management Organization (TGO)
World Alliance for Thai Decentralized Energy (WADE Thai)
The Thai Chamber of Commerce (TCC)
The Federation of Thai Industries (FTI)
National Science and Technology Development Agency (NSTDA)
Asian Institute of Technology (AIT)
Sirindhorn International Institute of Technology(SIIT)
National Institute of Development Administration (NIDA)
King Mongkut's University of Technology Thonburi (KMUTT)
King Mongkut's Institute of Technology Ladkrabang (KMITL)
Prince of Songkla University (PSU)
Chiang Mai University (CMU)
Thailand ESCO Association
Thailand Convention and Exhibition Bureau (TCEB)
Managed by:
GAT International Co.,Ltd.
Advisory Board
Chairman
Dr.Tatchai Sumitra
Former President of Chulalongkorn University
Co-Chair
Mr.Masakazu Toyoda
Chairman & CEO, The Institute of Energy Economics, Japan
Members
Dr.Areepong Bhoocha-oom
Permanent Secretary, Ministry of Energy
Dr.Weerapong Pairsuwan
Permanent Secretary, Ministry of Science & Technology
Mrs.Songporn Komolsuradej
Permanent Secretary, Ministry of Information and Communication Technology
Mr.Chartchai Tipsunave
Permanent Secretary , Ministry of Transport
Dr.Twarath Sutabutr
Director-General, Energy Policy and Planning Office, Ministry of Energy
Dr.Sarawut Kaewtathip
Executive Director, Policy and Strategy Management Office, Ministry of Energy
Dr.Eng Bandhit Eua-arporn
President, Chulalongkorn University
Dr.Suchatvee Suwansawat
President, The Engineering Institute of Thailand Under H.M. The King's Patronage
Dr.Ing Chusak Limsakul
President, Prince of Songkla University
Dr.Ing Bandit Fungtammasan
Vice President for research and JGSEE Energy Policy Researcher,
King Mongkut's University of Technology Thonburi
Dr.Eng. Bundit Limmeecholchai
Head of the school of Manufacturing Systems and Mechanical Engineering and Chairperson of Mechanical Engineering Curriculum, Sirindhorn
International Institute of Technology, Thammasat University
Dr.Shobhakar Dhakal
Associate Professor, Asian Institute of Technology
Mr.Tim Rockell
Director, KPMG Global Energy Institute, Asia Pacific ,KPMG in Singapore
Mr.Jonathan Rogerson
Head of Sales ASEAN, BMI Research
Dr.Chainarong Cherdchu
President, Nuclear Society of Thailand
Dr.Somporn Chongkam
Former Executive Director, Thailand's Institute of Nuclear Technology
Mr.Arthit Vechakij
President, Thai ESCO Association
Dr.Yossapong Laoonual
President, Electric Vehicle Association of Thailand (EVAT)
Dr. Akarin Suwannarat
Chairman, Thai Wind Power Association
Mr.Chartdanai Chartpolrak
Executive Director, Energy Conservation Center of Thailand
Dr.Jakkanit Kananurak
Director, Capacity Building and Outreach Office, Thailand Greenhouse Gas Management Organization
Dr.Sumittra Charojrochkul
Director, Material for Energy Reseach Unit, National Science and Technology Development Agency
Sr.Col. Pattarapol Pattarapanlop
Director, Research and development Division
Defence Energy Department, Defence Industry and Energy Centre
Asst.Prof. Pricha Karasuddhi
Technical Advisor, Nuclear Society of Thailand
Mr.Subhin Panyamag
Expert Advisor Public Communication, Nuclear Society of Thailand
Ms.Sawita Sarah Tinsuntisook
Vice Chair , Renewable Energy Industry Club , the Federation of Thai Industries
Dr.Thumrongrut Mungcharoen
Associate Professor ,National Science and Technology Development Agency
Secretariat
Dr.Sopitsuda Tongsopit
Deputy Director, Energy Research Institute, Chulalongkorn University
Dr.Eng Phongphaeth Pengvanich
Assistant Dean Faculty of Engineering, Chulalongkorn University