South Africa's renewables industry growth is fastest in the world
1 min read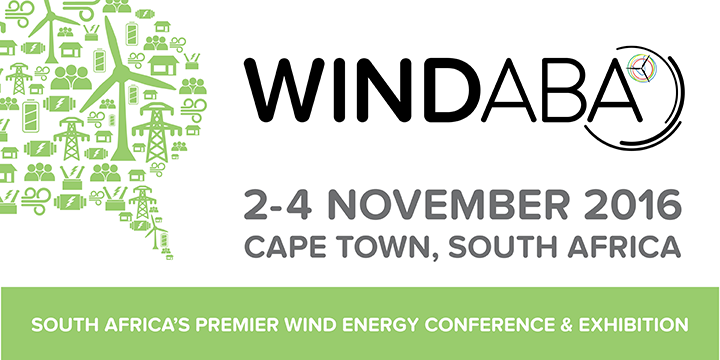 As the countdown to South Africa's largest wind energy conference, Windaba, begins, the industry welcomes the news that in 2015 the country had the world's fastest growing green economy. Moody's Corporation's report shows the highest growth year-on-year globally for asset finance at 300%, totalling $4.5 billion (ZAR 63 billion) in 2015.
In another industry affirming move this week, President Jacob Zuma clarified the government's position on the Independent Power Producer's Programme, insisting nothing has changed with its policy.
Zuma stated: "The Presidency wishes to clarify that all the Independent Power Producer Programmes, namely renewable energy, coal and gas and any other determinations made by the Minister of Energy are and remain government policy and are supported by the Presidency."
The theme of this year's event is 'towards 100% renewables' a goal that is realistic for the future according to industry calculations. SAWEA CEO Johan van den Berg explains: "As Moody's shows we have the fastest growing green economy in the world. We've built a ZAR 7 billion infrastructure sector in four years, all with private money, creating many jobs and significant new manufacturing capability while quickly increasing local content beyond 45 percent. The renewables industry is responsible for approximately 30 percent of all foreign direct investment into the country. Additionally, the cost of wind power has steadily lowered to approximately 40% below the cost of new coal power at Medupi."
As the date for Windaba approaches (2-4 November) the list of industry players speaking at and sponsoring the event continues to grow. Trade association the South African Wind Energy Association (SAWEA) is holding the conference for the 6th year running, in partnership with the Global Wind Energy Council (GWEC).
Sponsors of this year's Windaba include: Enercon, Nordex, Acciona, Goldwind, Siemens, Vestas, General Electric South Africa, Mainstream Renewable Power and V-Bar.
Windaba will run from 2-3 November and will form part of Wind Energy Week which also includes an inaugural academic conference for the sector named 'WindAc-Africa' (31 October to 1 November) and a community outreach day which will offer members of the wind energy industry to enhance the community of Atlantis in the Western Cape in a number of ways (4 November).
About SAWEA
SAWEA is a non-profit, industry organisation representing the wind industry in South Africa. Its members include both national and international entities active in the entire wind energy supply chain. Its aim is to promote the sustainable use of commercial wind energy in South Africa; to contribute knowledge and human resources to the streamlining of the policy and regulatory framework for wind in SA; to facilitate synergy between the growth of the industry and the achievement of the broader socio-economic aims of Government (including training, job creation and localisation); to disseminate information; to act as a focal point for discussion between members, government, the media and the public. www.sawea.org.za
Windaba 2016
Windaba is the annual, official wind industry event hosted by the South African Wind Energy Association (SAWEA) in partnership with Global Wind Energy Council (GWEC). The annual conference and exhibition will take place on 2-3 November 2016, at the Cape Town International Convention Centre. For further information, please visit www.windaba.co.za
WindAc-Africa
In its inaugural year, WindAc-Africa is positioned to become the leading academic wind conference on the Continent. The event, which will be held at the South African Renewable Technology Centre (SARETEC) in Cape Town, aims to be the platform for an international high-quality academic exchange, which will cover the entire wind-power value chain from wind resource to policy making for wind energy. An impressive international steering committee has been established to develop the programme content.  For the latest information on the programme visit: www.windac-africa.com