SODEX will bring together the HVAC-R Industry in Izmir and Ankara
1 min read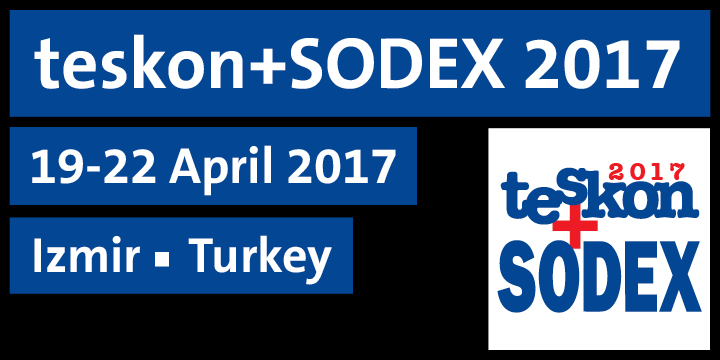 TESKON + SODEX (April 19th – 22nd, 2017 – IZMIR)
SODEX ANKARA (May 10th – 13th, 2017 – ANKARA)
SODEX will bring together the HVAC-R Industry in Izmir and Ankara
Hosting the most important meetings of the HVAC-R industry, SODEX Exhibitions are preparing to bring together the industry with the TESKON + SODEX (April 19th – 22nd, 2017 – IZMIR) and SODEX Ankara (May 10th – 13th, 2016 – ANKARA) exhibitions following the ISK-SODEX Istanbul show which achieved significant success with 1,293 exhibitors and 83,764 visitors. Set to be organized by Hannover Messe Sodeks Fuarcılık, the events will bring together various product groups such as Natural Gas, Heating, Cooling, Air-Conditioning, Pump, Valve, Plumbing, Water Treatment, Geothermal and Solar Power Systems under a single roof and allow visitors to discover the innovations in the industry. Exhibitors will be able to reach their existing and potential customers directly.
TESKON + SODEX: Exhibition and Congress Altogether!
Set to be held in Izmir Tepekule Congress and Exhibition Center on April 19th – 22nd, 2017,
TESKON+SODEX is housing the National Sanitary Engineering Congress (TESKON) which will be held by UCTEA (TMMOB) Chamber of Mechanical Engineers. Organized for the first time in 1993 and executed by the Izmir Branch on behalf of UCTEA Chamber of Mechanical Engineers and continued simultaneously with SODEX for 10 years, the congress brings together many prominent academicians, architects, engineers, project company officials and professionals in the industry under TESKON+SODEX and allows them to share notable knowledge.
Held in Izmir biennially, the show took place on April 8th – 11th, 2015 last and the main topic for the congress in 2015 was "Thermal Comfort and Indoor Air Quality for Health". Offering theoretical and applied scientific and technological developments in both sanitary engineering and in other disciplines, TESKON Congress will feature "Integrated Performance" in 2017.
SODEX Ankara: Keep your finger on the pulse of the industry in the capital city
SODEX Ankara will take place in ATO International Congress and Exhibition Center on May 10th – 13th, 2017. Held for the first time in 2011 and achieving a successful 40 percent growth in 2013, SODEX ANKARA allows its exhibitors and visitors to keep their finger on the pulse of the industry in the capital city. Intensely visited by the public authorities who are an important part of the industry, the event steps forward as the most important event where the industry meets public institutions and organizations. The most important HVAC-R meeting of Ankara allows visitors to have direct access to the newest products and services.
SODEX Exhibitions are organized by Hannover Messe Sodeks Fuarcılık, the Turkish subsidiary of Deutsche Messe which is among the world's top 10 exhibition companies. Attended by the leading companies of the industry as exhibitors, the events host not only local visitors but also many buyers from Europe and Middle East under the International Hosted Buyer Programs. This way it makes major contribution to the HVAC industry with its business volume. The sales that began last month for 2017 for the two exhibitions continue at full speed. Companies who'd like to attend need to be quick, considering the limited available place.