Sacramento Geothermal Events Gathering Steam!
1 min read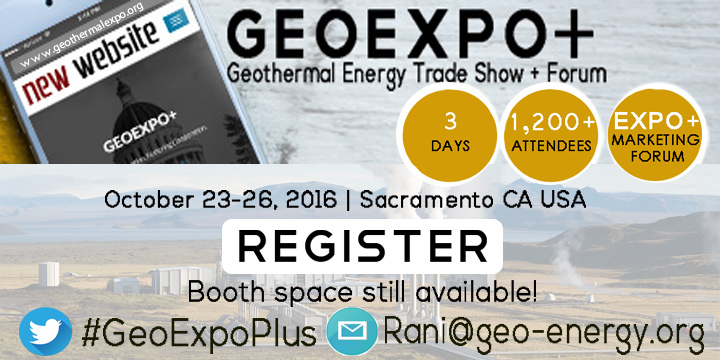 Sacramento, CA (October 3, 2016) – From October 23-26, the dynamic GEA GEOEXPO+ and GRC Annual Meeting and will take place in the City of Trees – Sacramento, CA where geothermal leaders, developers, and exhibitors will congregate to exchange expertise and take part in sessions geared towards geothermal development, education, and expanding opportunities at home and abroad.
A new exciting feature of the GEA GEOEXPO+ is the industry-tailored Marketing Forum organized by the Geothermal Energy Association (GEA). Sessions, led by key players like the IADB, KfW Development Bank and Global Geothermal Alliance, cover everything from development operations in nations with high geothermal potential to Agency Briefing Sessions with the US DOE GTO, USAID, IADB, USTDA, Ex-Im Bank, World Bank-ESMAP, and OPIC. Mark your calendars for the Exhibitors Leading Innovation Session and the topical USEA-East Africa Geothermal Partnership Event.
GEA's Trade Show Hall will feature roughly 100 diverse exhibitors spanning the range of geothermal interests – from developers and drillers to environmental services firms and government agencies . New technologies and emerging opportunities in the industry will be on display.
The home state of the GEA GEOEXPO+ and GRC Annual Meeting, sunny California, is in many ways the American frontier of geothermal thanks to Obama's recent Salton Sea Initiative and California's new 50% RPS. Building on this, GEA is hosting a dynamic GEA Roundtable entitled "Geothermal in CA – the Path Forward" at the 2016 Annual GEA Members Meeting. With new opportunities arising for geothermal yet remaining challenges to be overcome, how can California put this valuable renewable to work for the power system and society?
GEA's GEOEXPO+ is also facilitating Agency Matchmaking Sessions! Agencies in attendance are the IADB, USTDA, OPIC, Ex-Im Bank, and ITA. In this unique opportunity, company representatives can meet with agency officials one-on-one to discuss opportunities available. The goal is to bridge the gap between private sector needs and available agency support. The Agency Matchmaking Sessions will take place October 24-25 in GEA's Trade Show Hall A, Sacramento Convention Center. Individuals or companies interested in attending should RSVP to Rani@geo-energy.org as meetings will be arranged prior to the event.
Only twenty days left to register for the largest annual gathering of geothermal stakeholders in the world! Register here and don't miss out on this exciting opportunity to forge industry connections that will last a lifetime and discover new opportunities to expand your geothermal business, knowledge, and network.
For more information including questions about registration please contact Rani Chatrath at rani@geo-energy.org. To request press credentials, please contact Allie Nelson at allie@geo-energy.org.
About the Geothermal Energy Association:
The Geothermal Energy Association (GEA) is a trade association comprised of U.S. companies that support the expanded use of geothermal energy and are developing geothermal resources worldwide for electrical power generation and direct-heat uses. For more information, please visit www.geo-energy.org. Subscribe to GEA's newsletter here. Follow GEA on Twitter. Become a fan on Facebook.