European Mineral Fertilizer Summit 2016, 14-15 Sep. London, UK
2 min read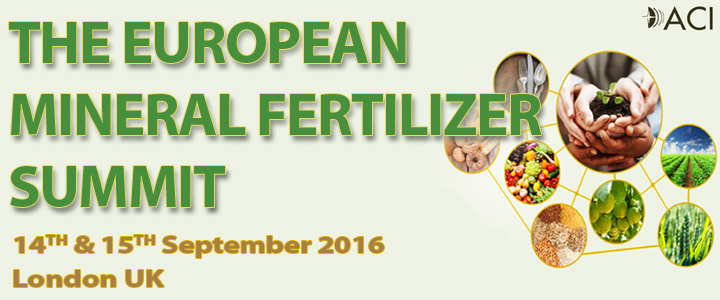 European Mineral Fertilizer Summit 2016, 14 th – 15 th September 2016, London, UK
Representing the Future of Sustainable Farming
ACI's European Mineral Fertilizer Summit will be taking place in London, UK, on the 14th  &15th  September, 2016. The two day event will provide an exclusive senior platform for collaboration and discussion between a variety of industry perspectives including manufacturers, suppliers, distribution/logistics, regulators, and academia, all joining the pursuit as the demanding change of European agriculture looks to pick up the pace ahead of the carbon emissions race. There will be an emphasis on the latest opportunities arising from supply side reforms and the best practices within operational production. We shall be addressing how to remain competitive, the latest efforts to recover sustainability of the sector and reaching the goal of combating hunger.
The main aim is to harmonise and restructure the supply side for the fertilizer of the future. We look to identify potential solutions, future work programmes and productive partnerships that overcome the key regulatory challenges and facilitate minimizing risk within the supply chain promoting access to safe, profitable, and more efficient food security in the EU.
Key players of the Fertilizers Industry will present and discuss with the senior level audience through the Panel Discussions the most important topics of the market. Join us in London to exchange your point of view with your peers and engage in excellent networking opportunities. Topics that we willcover include:
cover include:
• Redesign of the agricultural system in the EU and implications for fertilizer demand
• Future manufacturing: the best operating models for process efficiency, and minimising production cost
• Discover the latest efforts in sustainable soil management and biodiversity
• Hear from the VFRC a department of International Fertilizer Development centre
• A scientific review from Microspore SPA: The innovation in soil fertility with the use of microorganisms – Examining the fast growing multi-nutrient sector
• Minimizing risk across the supply chain through digitalization and lots more…
ACI will bring together the right type of companies and the best professionals to share their "job stories", delivering an exceptional value for the players of the industry. We are proud to announce that in our Mineral Fertilizers Forum, we are going to examine a variety of market aspects in practical terms.
Register today for the opportunity to gain useful industry insights and network amongst the leading industry professionals.
With an investment of £1,495 (ex. VAT) only you can benefit from becoming a part of the story and gain valuable experience and priceless expertise. As the number of attendees is strictly limited, please register as soon as possible to avoid disappointment. Also, benefit from generous group discounts, where the second delegate from the same company will receive a 10% discount and the third 15% off.
Who Will Attend?
You will be joined by Senior process engineers, Director of supply & logistics, International product managers, Head of Marketing/sales, Business development managers, Head of speciality products, Senior operations managers, Commercial Directors, Purchase Directors, Heads of raw materials – sourcing, Heads of export, Commercial directors – shipping, storage, logistics, Heads of supply/logistics, Product managers – fertilizers, Heads of product development & technology, Board members, Heads of Import/distribution, Agronomists, Market Analysts, Scientific product development analysts, Plant nutrition specialists and many more.
Join us on 14 th & 15 th September 2016 in London, UK at this interactive conference in order to build strong relationships and maintain competitive advantage in the marketplace.
Confirmed Speakers Include:
Jan Lampke, Engineer, HAVER Engineering GmbH
Prem S. Bindraban, Executive Director, VFRC (Unit of the IFDC)
Bartolomeo Pescio, Head of Business Unit Europe, Yara International
Peter J.Leggo, Department of Earth Sciences, University of Cambridge
Andre Damon, Global Head of Operations, Ameropa AG
Leo Li, Project Director, China National Chemical Information Center
Neil Fleishman, Head of Research – CPA, Kennedy Information – A Bloomberg BNA Business
Tim Gerdes, Haver & Boecker OHG
Jacob Hansen, Director General, Fertilizers Europe – Chairman of the event
Tassos Haniotis, Director, Economic Analysis, DG Agriculture – European Commission
Alexandre Le Vernoy, Water Risk & Food Resource Analyst, SHB Miller
Darren Cooper, Senior Economist/Commodities Analyst, International Grains Council
Michele V. Sellitto, Marketing and Trials Worldwide Manager, Microspore
Edward Cocking, Professor Nottingham University, Azotic Technologies
Evgenia Apostolopoulou, Senior Consultant, IHS Chemical
For further information or to register, please contact:
Marketing Department
Mado Lampropoulou, ACI
T: + 44 (0) 203 141 0607
E: MLampropoulou@acieu.net
We welcome you to join our leading experts at Europe's cutting edge Mineral
Fertilizers Summit!
Please click on the link below to view the latest agenda:
http://www.wplgroup.com/aci/wp-content/uploads/sites/2/2016/02/CMFe1- MKTG-Agenda.pdf
Readers/ Subscribers are entitled to a special discount on registration – to claim please contact Mado on MLampropoulou@acieu.net or +44 (0) 203 141 0607 quoting CMFe1D10.