Renewable Energy Desalination as a Step Towards Better World
1 min read
Fresh Water Scarcity
Shortage of fresh water is quickly spreading around the world and desalination of seawater is becoming more and more popular. The biggest users of desalinated water are located in the Middle East – Saudi Arabia, Kuwait, the United Arab Emirates, Qatar and Bahrain, so called MENA region. Its sea water consumption counts up to 70% of the worldwide capacity. California is the world's largest desalinated water producer among the industrialized countries.
Salt water is clearly the water resource of the future as there is more and more shrinkage of fresh water supplies worldwide. The costs of desalination process are deterrent from spreading it into more areas. Using energy supplies from fossil fuels makes the desalination a very energy intensive process. Based on the information from IRENA and ETSAP report, only 1% of total desalinated water is based on energy from renewable sources.
Launch of Masdar Project
According to words by Crown Prince of Abu Dhabi and Deputy Supreme Commander of the United Arab Emirates Armed Forces, His Highness Sheikh Mohamed Bin Zayed Al Nahyan: ""Water is more important than oil for the United Arab Emirates. We have to come up with ways to meet future demand and preserve natural resources for coming generations".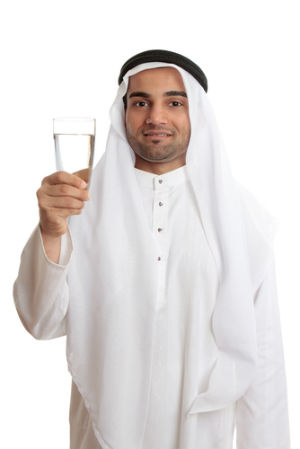 Saudi Arabia is a country that is the most relied on desalinated water resources and is now in the middle of building a huge solar energy powered desalination plant. It is a project where a new technology is being tested and deployed. The innovation lies in using solar power to cut the greenhouse gas emissions. The plant in Masdar is planned to be finished in 2017 and four companies have been awarded contracts to support the development of the project. The plant is to produce 1,500 cubic metres of water per day.
According to a report by World Bank Group, Saudi Arabia currently uses 1.5 million barrels per day of crude oil for desalination, which is making a huge negative impact on the environment. By 2050 the unmet water demand in MENA region will have increased from the current 16% to 51%.
The newly implement Masdar project should help to close the water demand gap while reducing the greenhouse gas emissions and improving water security.
Generally, implementing desalination water plants could be a valuable investment in the long run. In addition to that, it is a step towards reduction of social and environmental costs.
You might be also interested in Solar Energy Conference in the Middle East